Perfect packaging
API's brand enhancement products and solutions take inspiration from the newest trend predictions across consumer products to ensure packaging meets the latest in design needs
API Group Plc is a leading manufacturer and distributor of foils, laminates and holographic materials, which provides exceptional brand enhancement for consumer goods and printed media worldwide. The company operates across 13 locations within Europe, America and Asia, working with companies across a number of industries, including premium drinks, confectionery, tobacco, perfumery, personal-care, cosmetics and healthcare. Central to any marketing strategy and product image is how it is designed, and API is the company that helps to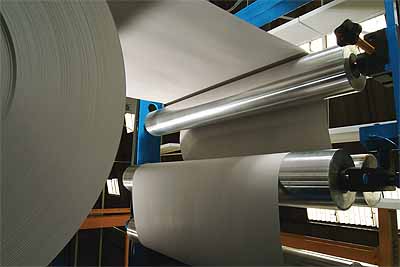 achieve this. The company plays an essential role in how a product is perceived by consumers, and is the first point of contact that most people will have with the goods, and API works with its clients collaboratively to ensure the very best outcome is reached.
An important factor within any manufacturing company is its facilities, and president and CEO Dino Kiriakopoulos provided some detail about API's: "We have a mix of manufacturing and distribution sites across Europe, North America and Asia, strategically placed to serve our customers and other stakeholders. In 2015, we invested in a significant increase in production capacity in Europe relating to both our foils and laminates product lines. This included upgrading and commissioning a new transmet module on one of our state-of-the-art laminators at our Poynton manufacturing site, and in both coating and metalising capability at our Livingston plant." Dino continued: "In August this year, we completed the acquisition of Hazen Paper Company's paperboard lamination facilities and business in Osgood, Indiana. Not only did this give us access to the North American lamination market locally, mirroring what we have in Europe, it also enabled us to provide a combined foils and laminate offering to our global customers which is becoming more important. Last, but not least, we are investing very heavily in people and process, adopting our parent company's continuous improvement programme, in order to ensure we continue to offer the best products, quality and service to our customers."
API is a leading producer that help to increase a brands marketability and visual appeal to customers, and Dino was able to elaborate more specifically about what the company makes: "As the standard of luxury packaging goes ever higher, brands increasingly use foils and laminates to give consumers a multi-sensory experience. Across every consumer goods market, inks, laminates, foils and coatings – aided by new print techniques – impart texture and interaction with packs, meeting the trend for sophisticated, haptic packaging – that provides a sense of touch." All of which is important to consider when trying to create a brand that stands apart from its competitors, or one that adds to the customer's experience, as the packaging is the first interaction a consumer has with the product.
API understands that brand packaging must evolve and transform to appeal to changes in customer preferences, as an out of date product image means that it is less likely to attract new sales. Some of the recent developments and approaches taken by API were discussed by Dino: "Whilst using laminates and coatings to produce multi-functional packaging products is very well established, more demanding production environments and more discerning buyers continue to drive development in this area for manufacturers and converters. Tight registration of lenses and bespoke holographic patterns are an increasing trend and this is allowing packaging to be tuned to be more specific to brands needs and enable greater consumer interaction with the final pack solution."
Dino then went on to talk about the environmental angle: "Another important aspect is delivering products with an environmental focus, this is still a key trend in new product development for converters and manufacturers. As an example API's recent investment in its transmet laminate production capacity was driven by the increasing demand for a film free finish that provides brand owners with a fully recyclable material. Also, customer environmental demands have also led us to move our popular OneBoard product to be FSC certified. Rather than making to order as we usually do, OneBoard is a product that we hold in stock and enables us to react quickly to customer demands with its fast-track processing typically delivering finished laminated or coated product on an environmentally approved board base within days."
API's successes have been recognised in recent years, which Dino laid out: "We were again shortlisted in the Luxury Packaging Supplier Category for the 2016 Luxury Packaging Awards, following on from our Highly Commended award win in 2015 and this means a lot to us. Luxury brands demand packaging that reflects their position as leaders in their category and we work exceptionally hard to understand the specific needs of each individual brand within every project brief."
The coming years look likely to see an increasing demand for high-end luxury finishes to packaging, in laminates, foils and coating, as well as haptic, all to make sure that the packaging conveys the brand's values. There also will likely be an even greater importance placed on ensuring that packaging is using optical effects, holographic, bold and bright colours and metallic finishes that require the latest print technologies, so that a brand can set itself apart from others in the market. Therefore, for any company that wants its brand to stand out and attract a customer's attention, in addition to the packaging sending a message of quality – then API is the name to remember
API Group Plc
Products: Foils, films and laminates are used to add metallic and holographic finishes and effects