Applied Component Technology (ACT)
Applied expertise
Collaboration and innovation combine with Applied Component Technology's expert production capabilities, resulting in it occupying a leading position in the UK's automotive, and now aerospace, supply chain
Despite being a relatively young company, formed in 2012 from the assets of a previous company fallen into administration, Applied Component Technology (ACT) has quickly proven itself to be a key partner to the UK's growing automotive industry. "Essentially we are an automotive Tier 1 and Tier 2 supplier of interior components and systems," begins Managing Director, Dermot Sterne. "Our focus in this industry is on lightweight materials, and we have a UK-leading capability in structural composites for interiors, which is a real advantage. The core products include loadfloors, safety nets, roller luggage covers and a variety of plastic trim components, both for interior and exterior applications."


However, with 60 highly skilled employees working from a single 2700 square metre site, complete with in-house design and engineering competences, ACT has established itself as an agile, quality focused and highly innovative manufacturer. AS such it has begun to set its sights beyond the automotive industry and into new markets. "We have very recently moved into the aerospace interiors market as manufacturers of a novel sustainable, lightweight, high security aircraft galley trolley called SmartCart," Dermot continues. "Manufacturing exclusively for Flightweight Ltd, we are the first to market in this industry with a new product that uses an electronic seal (from Security Seal Technology Ltd), novel natural fibre and bioresin composite panels and is modular for easy repair."
By working closely with Flightweight, ACT has illustrated its ability to add value right through both the design and development stages in anticipation of manufacturing and launching a product. "This was a short project in terms of its timeframe so we have embraced help from a variety of sources," highlights Dermot. "Firstly, we are grateful to the Welsh Government who provided support with capital investment for the high quality, error-proofed production line – with full traceability of raw material, back to the harvest from where the natural fibres came. This support will also help to create around 20 new jobs once SmartCart is in full production.
"We have a highly skilled team of engineers and product development people here at ACT. However, at key points in the project we supplemented that team with staff from Jigsaw Business Group, who provided specialist skills in a very flexible arrangement. Furthermore, as we enter production we are working very closely with Percival Aviation Ltd to handle the aerospace production approvals necessary to launch the product into the global market. Other suppliers such as EcoTechnilin, the supplier of the innovative raw material, also readily joined our team to add their expertise when required."
What resulted was a highly collaborative development process allowing ACT to become a fully integrated member of a supply chain in a new and opportunity-rich market. Combined with the expertise and commitment already held within the firm, the final product has been awarded 'Smart Product of the Year 2016' by EEF – a recognition which, as Dermot points out: "Is a real pat on the back for the team here. The collaborative nature of the project is reinforced by the EEF accolade being a joint award with Jigsaw."
The SmartCart project undoubtedly brought with it a wealth of potential for the future success and continued growth of ACT and Dermot is keen to point out the advantages that can now be applied to its automotive offering. "This new expertise in sustainable composites and the associated capital investment mean that we can also offer such materials to vehicle manufacturers and suppliers who value sustainable components as part of the vehicle's overall 'life cycle analysis' approach to energy use," he says.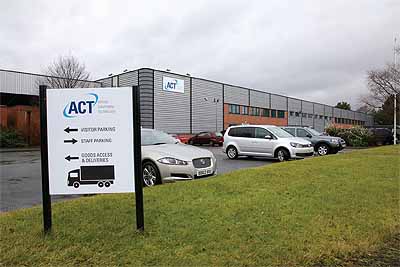 In terms of quality, the new production line for SmartCart implements a new benchmark for assembly processes, revolving predominantly around the 'no-fault-forward' principle. With the aim to replicate its approach in future projects, it adds significant value to a range of capabilities that already includes compression and injection moulding, die cutting, high frequency welding, automated gluing and sewing, as well as general assembly.
With such significant development on-going ACT looks set to experience a strong future within two industries that are showing positive signs of growth. Despite some uncertainty around the UK's position in the EU, Dermot is generally confident, saying: "With the UK hopefully set to reach the milestone of manufacturing over two million cars in the next few years, the future for us in that sector is very promising. The trend for the large vehicle manufacturers to use very large global suppliers who can support them across different continents is here to stay. So, whilst ACT continues to supply to OEMs directly with some products, we predict that in future years our client base will become dominated by the large Tier 1 suppliers, who require manufacturing and/or design support local to their UK customers.
"In terms of aerospace, we supply exclusively to just one customer, who sells the SmartCart to airlines and catering companies around the world. However, it is a well known fact that the aircraft industry is also growing fast, driven by emerging market activity, so the future for Flightweight and ACT looks very promising here too."
In this respect then the next 12 months, and indeed beyond, will be focused very much on building upon recent successes and general market positivity. "Our attention will be on the launch of the SmartCart and growing our automotive business," concludes Dermot, speaking about the short-term goals. "We are really well placed to supply the UK automotive sector and are already working on some exciting new projects both in the car segment and also in the bus and coach segment, where we have recently won a large piece of interiors business." In the longer term combining this strategy with a fresh approach to lightweight and sustainable 'green' materials will be key as it looks to expand its footprint.
Ultimately, ACT is a glowing example of a UK manufacturer able to combine leading expertise and production capability with an open, innovative and, critically, collaborative approach to both new and existing channels. It is with this in mind that the future for the company, no matter what the market may try to throw at it, looks set to be very fruitful indeed.
Applied Component Technology (ACT)
Products: Leading manufacturer of interior components