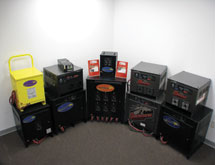 Some firms limit the autonomy of their workers, but not Applied Energy Solutions (AES). Instead, President Vern Fleming says the company gives them the opportunity to make important decisions on its work floor.
"This allows us is to have a flexible work force," he says. "If we get a bubble of business, the operators can [efficiently] move that bubble throughout the factory."
The Caledonia, N.Y.-based AES designs, manufactures and sells industrial battery chargers. The company originally started operations in 1949 as Caledonia Transformers, which manufactured transformers and power supplies.
Throughout the years, the firm branched out into making power conversion equipment for military and commercial applications. By 1979, the company had changed its name to Chloride Electro Networks and manufactured industrial battery chargers for forklifts, pallet jacks and other types of transportation equipment.
In 2000, Fleming purchased the company and changed its name to Applied Energy Solutions. Today, it manufactures its own electronic circuit boards and transformers, which sets it apart from other battery charger manufacturers.
"We've become much more of a lean, efficient organization," Fleming says, explaining that the company usually has a lead-time of two days. "It's been reduced [to] a quarter of what it used to be."
AES' main customers are warehouse and distribution centers throughout North and South America who often choose the firm because of its reliability, Fleming says. "Sysco Foods is a large user of our products," he states.
Strong Resources
A longtime veteran of manufacturing, Fleming's previous experience includes working at Peko Precision Products in Rochester, N.Y., as a manufacturing engineer and quality engineer, production manager and plant manager. In addition, he worked at Enbi, a Netherlands-based public company, as a plant manager and engineering manager for new product development.
He originally came to AES in 1997 when it was known as CEN Electronics. "It was always in my career plan to own my own business," he recalls. "I bought this one when I was 37."
To this day, the company still employs a strong staff, which includes several longtime workers. This includes Vice President Tom Bell, who has been a colleague of Fleming's since 1997.
"We work very closely together," Fleming says, noting that he personally manages the financial side of AES, while Bell oversees its shop floor.
Fleming also praises Service Manager Ken Selbig. "[He] has been here 30 plus years and is a tremendous resource," Fleming raves. "Our competition calls him when they can't figure things out.
"It is a family business as well," Fleming adds, noting that his son, Andrew Fleming, coordinates the company's national accounts, while his daughter, Jennifer Morgan, is its public relations and marketing coordinator. Additionally, his daughter Katelyn is involved in the IT side of the business.
"This family environment transcends throughout the company and to our customers as well," Fleming says. "We try to treat everyone with a very high level of respect and let them know they are important to us. It allows us to communicate better and more efficiently."
Weathering the Recession
AES has coped well with the economic downturn, Fleming says. Last year, the company had a 36 percent increase in sales, while this year, it is already up five percent more.
Initially, when the recession occurred, AES' sales dropped. "We had put in place [initiatives] that helped us weather it," Fleming says, noting that this included streamlining its operations.
One way the company has made itself more efficient is the use of lean manufacturing philosophies to re­duce setup times and waste. While Fleming himself is trained in Kaizen methodologies from the Toyota Production System, Bell was trained with the methods of Shigeo Shingo, an expert in set-up reduction.
The company since has trained its employees in lean, and managed to reduce the footprint of its facility. "By reducing the footprint, you're taking steps out of the process and being more efficient," Bell says.
Additionally, as some staff members have retired, AES has saved money by not hiring replacements. To adjust, the company changed its operations "so we wouldn't have to add additional labor," Bell says. This allowed AES to increase its efficiency by a compounded annual rate of 5 percent minimum annually, as well as a reduction in its energy usage.
Scoring High
Fleming predicts more growth in AES' future. "Next year, we're forecasting about 10 to 16 percent growth over this year," he says. "It wouldn't surprise me if we double the business in the next three to five years."
Recently, he explains, the company won praise by one of its clients, which performed an audit of AES' quality systems. "They had never been in a company that embraces lean and has such a streamlined operation," Fleming recalls.
AES also scored an 86.2 in the audit, while most of the client's suppliers usually score in the 70th percentile. "They had never seen anything so simple [in] the [production] process," Bell says. "That's what we strive for. We believe in common sense manufacturing."