From R2-D2 to Transformers, robots are beloved the world over. Now, when a robot can actually perform a task nobody wants to do, such as vacuum the carpet, wash the dishes or even clean a swimming pool, people really sit up and pay attention.
Aqua Products Inc. has developed the most comprehensive lines of robots that are able to scrub, power wash and vacuum floors, walls, waterline and even most stairs and waterlines of any type of dirty swimming pool. The company's self-contained robots work without the hassle of hoses or the cumbersome and often costly use of the swimming pool's pump and filter, saving customers energy and time.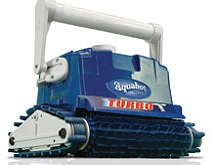 Gil Erlich, vice president of sales and marketing, says the robotic swimming pool cleaning solutions the company manufactures are essentially mobile vacuum and filtration systems that enable swimming pool owners to decrease the run time of their swimming pool's main filtration system by, sometimes, as much as 70 percent.
"Traditional [pool] cleaners are highly inefficient and are taxing on the environment," he explains. "Per swimming pool, each year our robots can save as much as 10,000 gallons of water, potentially save up to $2,500 in energy and they protect the environment by reducing upwards of 80 percent of chemically treated water from being backwashed."
Aqua Products is proud of its "eco-efficient" tag and that its products are "Made in the U.S.A." Erlich hopes that customers will recognize the importance and the benefits of these key elements.
"These days, there aren't too many products made in the U.S.A.," Erlich says. "The environmental benefits help too. In Europe, they want it high-tech. Here, they want to know that it works first."
Erlich says the public just needs to be educated on the products the company offers. He claims there are 4 million to 5 million swimming pools in the residential market. The great initial success of the company has stemmed from good old word-of-mouth advertising. Today the company has employed target marketing and relationships with energy companies, municipalities and the like to get its message out.
"For commercial markets, our product is a need as the labor savings alone pays for the investment in a matter of months," he notes. "For the residential market, it's a want. When people see how it works and how much time and money you save, they say, 'It's costing me more by not having this,' and they tell their friends about it, too."
Building a Better Robot
For almost 30 years, Aqua Products has been working to engineer the most reliable and effective pool cleaning solutions. "We have more R&D people than salespeople," according to Erlich. "We must constantly remain innovative to maintain our leadership."
Aqua Products currently has 12 pool-maintenance robots for its residential users, including above- and in-ground models, and 27 in its commercial arsenal. "We offer the most comprehensive line of aquatic robotic cleaners, so that a customer doesn't buy a product – they invest in the appropriate solution for their needs and budget," Erlich claims. "The upfront investment is quickly returned within months through labor savings, including chemicals, water, time and providing the healthiest and cleanest facility for their bathers."
Weather Permitting
The summer of 2009 was the first year in well over a decade that Aqua Products experienced a slow down in sales, which was attributed directly to a number of key domestic and European markets that were impacted by an unusually cool and overwhelming rainy spring and summer. He adds that in 2008, the company saw a 50 percent growth in sales and this year he anticipates 10 to 15 percent increase in sales.
"There's a national optimism out there," Erlich says. "People believe we're getting there in terms of the economy, and there's a lot of pent up desire to buy something, especially something that makes sense, both because of the conservative budgeting consumers have implemented and the loss of last year's swimming season in many areas."
He's optimistic that with warmer weather, people, this year, will opt for "staycations" and enjoy the swimming pools in their own backyards. "In this industry, the weather dictates a lot, but market expansion through education of our products benefits helps weather even the toughest storms," he adds.
People, not Robots
Erlich says the people who work at Aqua Products are the company's greatest resource. He notes that it may take up to three seasons to truly understand the industry, the stages of a season and the breadth of its operation. After first spending up to a week working on the production lines and then another week or more working hand-in-hand with service technicians in the technical repair department, followed by a few weeks of listening in on customer service calls, only then are new hires even considered ready to start handling calls with supervisors at their side coaching them through.
"Every person is charged with the responsibility to ensure that at every stage we are doing everything necessary to do a great job. Any failure in any department by anyone affects every other department," Erlich says. "We get it. We too are customers. We strive daily to recognize where our customers are coming from and work diligently to provide them with the best support, in a courteous, expedient and professional manner."
Each week, Erlich asks employees about their personal experiences with customer service. He says they discuss good and bad service training with each person to help recognize the difference between the two and how to incorporate those good aspects into their interactions with customers daily.
Erlich adds that a company is a living, breathing animal that must grow and adapt to the environment around it noting, "To succeed, you must do more than just survive," he says.
"It's easy to be good," Erlich explains. "It's difficult to be great, as greatness is achieved in the details. It's that collective effort of every individual in the company striving for greatness that makes a great company."
?