Cleaning up the market
With a new bathroom now the UK's most popular home renovation, Aqualisa has optimised all aspects of the business to ensure it is ready for product launches and anticipated rapid growth
Beginning operations in 1977 as a manufacturer of its revolutionary patented thermacoil shower valve, Aqualisa has been a supplier of market-leading British showers for four decades. The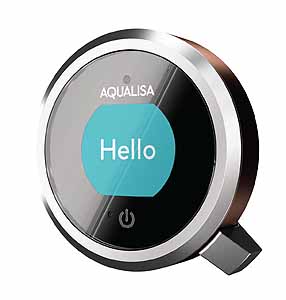 company has remained committed to innovation since its inception – a strength that has enabled it to approach the market with new designs that can harness the most cutting edge technological developments. Once utilised, this ultra-modern digital shower technology helps ensure Aqualisa's customers are provided with the best shower experience on the market.
Keeping product development and customer satisfaction at the heart of the company has proven fruitful for Aqualisa, particularly when it comes to trends within the bathroom market, as David Hollander, CEO of Aqualisa, comments: "A new bathroom is now the UK's most popular home renovation and high spec, high tech bathrooms are a key selling point for new build homes. British bathrooms are playing catch-up to the rest of the house in terms of design and technology. As part of this trend, consumers want to create a personal oasis in the bath or shower room that reflects their own style and design preferences, from colour choices to the ability to personalise the way products work."
Aware that it is not only providing a shower to customers, but also helping to build a home that suits their exact needs, the company has developed new innovations that complement its already impressive portfolio. One such product is Q™, which made its international debut at a press conference in Batibouw, one of the largest and most sophisticated home renovation trade fairs in Europe, in 2017. "It was the hero product of our Belgian retail partner's Smart Home display and we were almost literally swamped with visitors over the four-day show. Q™ has also attracted attention in the United Arab Emirates and is now being displayed in Bagno Design's flagship showroom in Dubai," says David.
The reasons for the intense interest in Q™ are clear when a closer look is taken at its cutting-edge features. With personalisation and finely-tuned control for an enhanced user experience setting Q™ apart from competitors, the product has a choice of pre-set shower settings to suit the user's mood and lifestyle as well as the option to create and save more personalised showering experiences; these are based around combinations of temperature – checked 100 times per second by the built-in processor – flow, outlet and time.
"Q™ is available with a choice of bold and exciting colours for the bezel and there is also a luxury version, Q EDITION™, with more pre-sets and a choice of metallic finishes such as Rose Gold, in line with consumer trends. This is a category changing product that features landmark technology, including a bathroom industry first: a proximity sensor that reduces flow to save water, activates the power-on mode and even greets you with a friendly 'Hello'. It is easy to operate via a full colour, 2.4-inch display screen that gives visual feedback, or from a specially designed ergonomic remote control that sits neatly in hand," highlights David.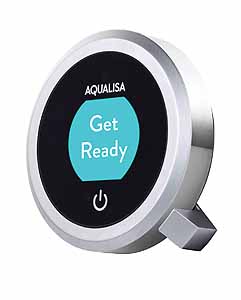 Using Aqualisa's research and knowledge of consumer trends, Q™ was designed by the company's in-house R&D team, with every element of the product extensively tested. "Tests include life testing, 100 per cent humidity tests, chemical, impact and water ingress tests. Once the initial tests were completed to our satisfaction, we conducted field trials on 61 sites."
The successfully launched Q™ and Q EDITION™ range joins such innovations as the revolutionary thermacoil shower valve, which continues to be a popular product for Aqualisa, as well as the digital Smart shower, which was patented in 2001. With development of the ground-breaking Q™ completed, stock availability is anticipated by the end of the third quarter of 2017 for the range, which includes dual and single outlet models and a bath fill. Pre-set experiences created by Aqualisa for Q™ include Eco, Sport and family, however, My Q™ also gives customers the option to create and save their own showering experiences so they can repeat the perfect shower every time.
Other benefits of choosing Aqualisa's Q™ include ease of installation and a five-year guarantee from a company that is known to deliver products of a high standard and customer satisfaction, as David notes: "Customer reviews and feedback are increasingly important, so I'm delighted that our NPS and Trust Pilot scores have not only exceeded targets for service, but have steadily increased since the start of 2017. The fact that we have these strong customer metrics gave us the confidence to benchmark ourselves against other industries, for example, we have just heard that we have made The Times Top 50 Business Awards for both Live Chat and Voice."
As it continues to build on its already stellar reputation for customer service and high quality, impeccably designed products, Aqualisa has prepared for upcoming demand following a process of optimisation in all areas of the business. On top of this, the company has undergone a restructure, which includes the appointment of Wendy Bennett as Customer Experience Director. Under this role, Wendy will ensure Aqualisa continues to put all customers, whether it is owners or installers, at the heart of the business.
"The last four years have seen great change in our organisation and our positive revenue performance. Of course, we could not have achieved this without our own people, all of whom are shareholders; however, we are also grateful to the support of our customers and suppliers, whose partnership we greatly value," David concludes.
Aqualisa
Products: Designs and manufactures electric, digital and mixer showers