The perfect package
Proud to be responsible for crafting metallized paper to provide premium brands with high-end packaging and labelling solutions, AR Metallizing is now entering an exciting new phase of its evolutionary journey
Sustainability has always been something of a buzz word within the manufacturing industry, however it has arguably never been so hot of a topic as it is today. Whether it be the influence of ground-breaking documentaries such as Blue Planet II highlighting the scourge of plastic waste or the record-breaking heat waves experienced in Europe during the summer of 2018, people and businesses are becoming ever-more aware of their impact on the environment and of ways to reduce this.
Where AR Metallizing comes into this topic of conversation is the fact that for a number of years now it has been one of the world's leading producers of metallized packaging and labelling solutions, supplying its customers within the food, beverage, entertainment and consumer packaged goods industries with a sustainable alternative to foil or film. Today, its four manufacturing facilities around the world, in Belgium, Italy, Brazil and the United States, and 450 dedicated employees help to make it a flexible and reliable supply chain partner to a great many of the largest multinationals and reputed brands around.
When we last spoke to Chief Executive Officer Bart Devos in the summer of 2017, he explained how the company had worked hard to solidify its global footprint ahead of suspected growth in the sustainable packaging market. "Since we previously spoke, while we have seen some challenges arise in different geographic regions that we are present in, we have been satisfied on the whole with how the business has performed and how we have continued to develop our long-term strategy, which is based around of core values of intrapreneurship, sustainability and leadership," he explains.
Bart and the team he has built around him recognise that as a market leader, AR Metallizing has a responsibility to constantly challenge itself, and he has endeavoured to keep this thought at the forefront of the business by adopting the motto, 'Listen, Learn and Lead'. "We listen intently to what our customers and suppliers tell us, gaining a detailed understanding of what their needs are, and then leading the market in that direction," he continues. "It is becoming increasingly clear that companies want to find alternatives to traditional plastic-based concepts and we have the perfect products to replace these concepts, such as our award-winning SilberBOARD metallized paper range."
A particularly important development for the company, which Bart has also overseen, has been its gradual move away from its historical outbound marketing approach to an inbound approach. "When I first arrived at AR Metallizing, I would describe it as having been a classic example of a 'buy and build' business," he states. "Since then, we have worked very hard as a team to reposition the company, targeting various different business areas and markets in order to diversify our offering."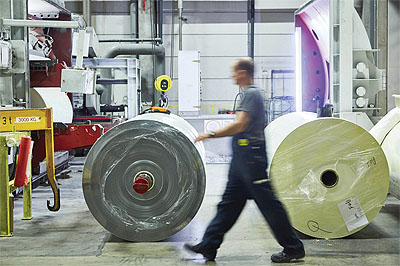 One element of the change in approach taken by AR Metallizing has been the establishment of a small start-up enterprise called Packle, which itself will host an inbound marketing platform. This platform will be targeted towards not only potential new customers, such as brand owners, marketers, and design and packaging agencies, but also existing customers in order to promote plastic-free solutions. "What we are doing here, which is essentially delivering a complete digital transformation of how business has been done in the past, is revolutionary in our industry, but it is something that we have complete faith in when it comes to its potential to better demonstrate the benefits of our products and why they are a fantastic alternative to plastic. This, in turn, will help to reinforce our own position as a leader within our field," Bart adds.
Bart's own career has been built around overcoming complex challenges, and he is in no doubt that there will still be some to navigate as AR Metallizing continues to evolve. What he has behind him however is an energetic, passionate team that has the drive to achieve the company's goals. "I like to think of our people as the oil that makes the engine of the company work, after all without strong people we would get nowhere," he enthuses. "We have created a diverse, international team here at AR Metallizing and that allows us to have a unique understanding of our customers' needs wherever they are in the world. Much like a good football team, it is not only about having individual stars, but about having a team of people who complement one another and that has been a big reason for our success."
With AR Metallizing's global R&D teams working around the clock on a pipeline of new product developments and innovations, Bart is understandably excited about what the future has to hold for the business. "As well as furthering our existing core business, we will put even more energy into bringing our inbound marketing approach to life by targeting new customers with our latest concepts and ideas," he details. "Surrounded by so many positive people makes it easy to feel part of a winning team, and they help to make me more convinced each day that the future of AR Metallizing is a very bright one indeed."
AR Metallizing
Products: Metallized packaging and labelling solutions