Tapping into opportunities
In its latest discussion with Dr Bart Devos from AR Metallizing, MTE learns about the company's new acquisition, its strategy for the continuous improvement of staff and its journey from a straight supplier to a vital support partner for its clients
When it comes to the metallized paper industry, AR Metallizing Group is not only the top global manufacturer in the sector, but also renowned around the world for its approach to sustainability. By listening to customers to find out what they need, and dedicating expertise and investment to research and development, over the years AR Metallizing has created ground breaking products such as its award-winning SilberBOARD metallized paper range, and innovative concepts such as ZERO% films. These are all designed to supply its customers within the food, beverage, entertainment and consumer packaged goods industries with a sustainable alternative to foil or film.
With the capacity to produce over 50,000 tons of metallized paper from its four production sites in Belgium, Italy, the US and Brazil, AR Metallizing is able to work with clients wherever they are based. When MTE caught up with him recently, Dr Bart Devos, CEO, described the business as 'truly global' and this means it is well-placed to take advantage of any opportunities as and when they come up, with the support of its shareholder, Nissha.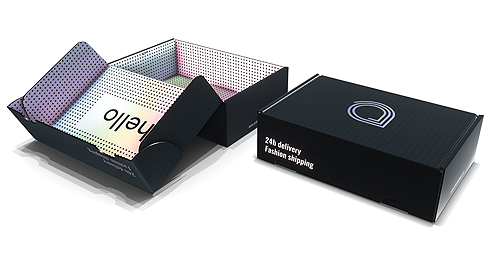 "This is a very fortunate position to be in, and for the moment, we don't have any concrete plans for further geographical growth," he added. "What we are doing though, is looking at global trends and thinking about markets – particularly in developing regions – where we can leapfrog from our current plants in Europe, the US and Brazil to develop further, building solid foundations for the future."
He continued: "AR Metallizing tries to maintain a geographically global outlook. Sometimes, particularly in Europe and the US, we can get caught up in the regions that we know, and not look further afield. Take Latin America, East Asia and Africa, for example.
"They are oftentimes overlooked and, if they are considered, it is as a vast, single market, rather than thinking about the very different countries, each with unique needs that can present very different opportunities. So, we're trying to stay ahead of the curve in geographies like this, and explore how we can grow our client base on the continent and where and how we can add value to a growing number of interested parties there."
At the same time as expanding its markets, AR Metallizing Group is also keen to strategically integrate new acquisitions into its business. Bart gave some more details about the decision-making process behind company purchases, and the latest business to be amalgamated into its operations, Eurofoil Paper Coating GmbH in Berlin. "We collaborate and liaise extensively with our partners and customers, learning about their challenges and what products they'd like to see from us, and a more significant portfolio of direct food contact products was something that came out of those discussions," he said.
As Eurofoil Paper Coating GmbH is a leading European manufacturer of laminated and metallized inner liners, the acquisition will help AR Metallizing to further develop and serve its customers with an increased number of products for direct food contact, which is something Bart is 'looking forward to.'
"It also further compliments AR Metallizing's goal of becoming the 'go-to' partner to support leading, global brands make a smooth transition to sustainable and recyclable packaging," added Bart. "We're not just on hand to present a sustainable packaging material, instead we're working with the aim of collaborating with these brands to help them understand the proven science, technical features and characteristics behind our paper-based products, as well as providing practical support to help make a change to our products' cost and time-efficiency.
"I think this is where we come into our own, and we aim to be unique in our industry. We understand these organisations: they are very large, highly matrixed, international companies and a lot of different factors are at play as they look to shift towards sustainability. Change doesn't happen overnight for these firms – multiple factors have to be addressed before they can physically change suppliers or materials: these are companies with numerous stakeholders, compliance processes, testing and approvals to undergo before change can be a reality. It's therefore our aim to step up in the space, moving away from simply being a pure play 'supplier' and instead having our experts on hand to support these businesses at all points in the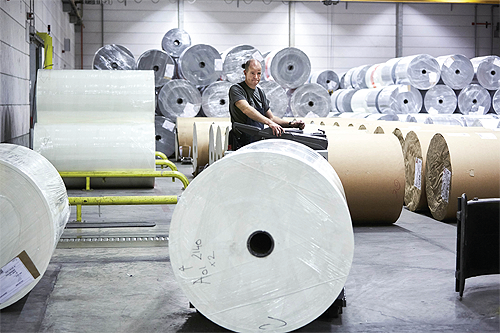 transition process – be that sharing our ideas, experience or science, all in addition to our actual products. To this end, 2019 saw us successfully launch Packle, AR Metallizing's newest brand which aims to connect and support brands and multinational businesses directly."
MTE has been privileged to feature AR Metallizing in previous issues, and in the 2018 article, Bart highlighted the company's team of staff as pivotal to the success of the business; 12 months later he again saluted their efforts, and noted that their dedication and long service records were of prime importance going forward: "We are lucky to have a very loyal and dedicated workforce; it's a norm that the majority of our global team has been with us for a long time – in many cases even several decades isn't unusual. In today's landscape, where it's much more usual to change jobs every few years, I'm very proud that we have such longevity within our staff. I believe that you only really get this sort of long-term dedication from employees when they feel that you care about their wellbeing with real authenticity.
"I'd say that as a company, part of this core authenticity is to recognise and honour the extensive experience our team has built up. After all, wouldn't it be such a waste to let all that go because we didn't think about knowledge succession and sharing the skills we already have in-house? As a result, we are very focused on personal development and career progression – we want to see people move onto positions with more responsibility over time.
"To help my staff reach their full potential, I try to be accessible. Especially for the younger generation (millennials to some extent, but thinking towards Generation Z who are already joining the workforce) leadership has to evolve. I think CEOs and senior management need to become more available and be a more integrated part of the team. This is also crucial in attracting and retaining talent.
"My vision for the company is that anyone within AR Metallizing can ask me questions, give suggestions, present ideas, talk about improvements we can make and tell me how I can support them in their development journey.
"I don't want to be a mysterious man who sits at a computer making big decisions and yet who isn't in touch with what's happening on the factory floor. AR Metallizing is guided by making sure leadership is human, with the goal that this will translate to an engaged workforce. Practically, I make it a personal goal to get to know the global team, talk with them, be transparent, visit plants regularly and engage in discussions."
Alongside the support of the more experienced team members, AR Metallizing is also very focused on bringing in fresh talent. "We spend a lot of time mentoring, training and accompanying our newest team members as they learn the ropes and discover first-hand about our products and manufacturing processes," added Bart.
With the end of 2019 fast approaching, Bart acknowledges the year has had its trials, but describes himself as a 'believer in seeing the bigger picture and addressing challenges directly'. "I think the manufacturing industry as a whole cannot ignore that we are all undergoing some challenging times. AR Metallizing is in a strong position for 2020 – our recent growth of Eurofoil Paper Coating GmbH Berlin, underlines this, but we are also cautious: there may well be further headwinds ahead," he stated.
"That said, what is less talked about are the opportunities that these challenging times bring. As an example, we're seeing some exciting new trends: we are getting new enquiries from new markets, so we are actively pursuing growth in these regions.
"For 2020, we will be listening carefully to what our customers want and in parallel, developing our product portfolio to keep up with evolving demand. So, all in all, I think it's going to be an interesting year. For the companies that can retain agility and know what customers want and where they want it, there continues to be enormous untapped opportunity."
AR Metallizing
Services: The leading global manufacturer of metallized packaging and labelling solutions to premium brands