The complete package
An innovative world leader in the production of metallized papers, boards and films for flexible packaging and labels, AR Metallizing provides customers with high quality products, excellent service and expert knowledge
A sustainable alternative to foil or film, metallized products are used in the production of functional, cosmetic, barrier, labelling and promotional packaging for major brands across the globe. Serving industries such as food, beverage, entertainment and consumer packaging goods (CPG), AR Metallizing supplies innovative products to customers from its production sites in
Belgium, Italy, Brazil and the US.
Although the company's core focus is on labelling and flexible packaging, which is comsupplied to an array of clients that includes printers, laminators and converters as well as top tier brands in a number of markets, AR Metallizing also develops complex speciality products such as metallized textiles and substrates for the automotive, sports gear and equipment, medical and construction sectors. With a vast range of products available, the company works closely with customers to help develop the best possible solution and also helps clients in the designing of labels and packaging. Making this possible is an in-house creative services department, complete with a marketing design specialist who helps both new and existing customers to design specifically on metallized paper.
AR Metallizing's ability to respond to market trends with an expanding range of innovative solutions is just one reason for its ongoing success. In 2015, the company became a full subsidiary of the Japanese multinational Nissha, which is listed on the Tokyo stock exchange and is well-reputed for its leading technological capabilities. "Since 2016 we have further solidified our leadership position in terms of growth and product diversification. With help from our Japanese shareholder, Nissha, we have been able to tap new markets in the MetallizingAsian region; we have also further successfully integrated our Brazilian acquisition into the company, which has enabled us to rapidly serve the South American market with high quality products," says Bart Devos, CEO of AR Metallizing.
In addition to these developments, the company has expanded its product portfolio, which has enabled AR Metallizing to grow from a more traditional industrial B2B supplier to also serve the B2C market with customised and extended packaging and labelling solutions. "Our metallized envelopes for direct mailing purposes, for example, have been a big hit," says Bart. "Thanks to our attractive envelopes response rate, direct mailings have increased significantly, and customers from many different sectors that have loyalty programmes are keen to try out our products."
Delving more deeply into the evolution of the company, Bart continues: "From an industrial manufacturer of metallized paper for the European market that is active in a B2B supply chain, we have transformed into a global customer-focused market leader that offers customised, environmentally friendly packaging and labelling solutions. Our activity in the B2B and B2C supply chain is the result of our business strategy, which is based around our competent and passionate employees. Personnel from production, logistics, sales and marketing, HR, finance and R&D are all working closely together in international teams with a focus on passion and a customer and service-orientated approach. They are speaking the language of our customers, listening to them and picking up on trends and customer requirements before working as a team to turn what they have learnt into innovative products. To make this development possible, we invested significantly in both people and technology."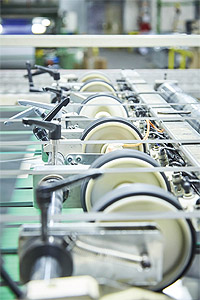 In line with these investments, the company paid particular attention to its R&D department, which today boasts an unprecedented size and quality within AR Metallizing's niche market. "We are currently using our advanced technology to make ecological food packaging, for instance, for fast food chain restaurants and have recently developed metallized packaging for baby food after a customer in Argentina wished to replace metal cans with environmentally friendly and more flexible to produce composite cans with metallized paper. This has not only been released in Argentina, but has also successfully been launched in Europe," highlights Bart.
This steadfast commitment to delivering environmentally friendly, innovative products has not gone unnoticed in the industry, with AR Metallizing being named as one of the top ten companies in Europe for environmental sustainability, as Bart elaborates: "Driven by the belief that we have an important role to play in ecological footprint reduction, we develop ecological and sustainable papers and boards for labels and packing, which, unlike conventional products, do not use any plastics.
"We recently extended our product portfolio with a special metalized paperboard for folding boxes, called SilberBoard, which enables premium brands to get rid of plastics while still offering consumers glossy and aesthetically appealing packaging. In total, five different types of SilberBoard have been developed; it is a 100 per cent paperboard product that is an environmentally friendly alternative to laminated metallized polyester films because it is recyclable and contains no plastic whatsoever."
As AR Metallizing continues to invest heavily in new product development, the company anticipates increased demand in products such as SilberBoard and holographic metallized envelopes over the coming years as brands in Europe shift to a more environmentally conscious way of operating. "The market for sustainable packaging is expected to grow globally and we have anticipated this by solidifying our global footprint. It is our objective that all premium brands get rid of plastic packaging and our aim is to supply our customers with the highest quality and to continuously surprise them with new offers," Bart concludes.
AR Metallizing
Products: Metallized papers, electronics, entertainment and consumer good sectors