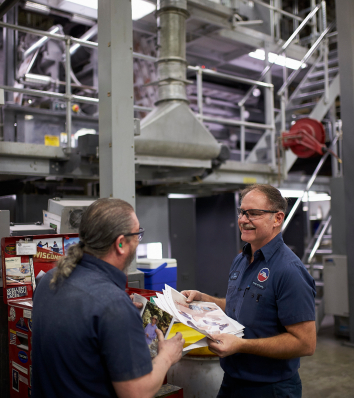 A premier printing solutions provider with the one of the largest web offset catalog production facilities in the United States, Arandell Corporation is expanding its footprint even further.
In a move to add new capabilities to its portfolio of services, the Menomonee Falls, Wis.-based company established operations in Walton, Ky. It purchased a new 225,000-square-foot facility this year to expand its services into capabilities like double web and tabloid-size printing in order to serve more complex customer demands.
"We are a paradigm in the industry," says Jake Hoffman, director of data solutions. "Some of the other printers are either closing or consolidating but we have continued to grow and thrive. The Kentucky facility is another example of how we have continued to expand to meet the growing needs of our customers."
Although already operational and stocked with a number of printing presses, the new facility still has lots of open space and gives the company the flexibility to install more equipment in the future. This facility adds to the company's existing 550,000-square-foot building in Wisconsin.
Expanding to Kentucky also allows Arandell to deal with increased demand and tap into another labor market as skilled, local labor grows increasingly more difficult to find.
Press Lineup Improvements
Aside from the new facility, the company added a sixth Goss Sunday Press to its stock last year, further expanding its market-leading production capabilities to service new business.
The new 57-inch, 24pp five-unit Sunday 2000 has enabled Arandell to increase its production capacity. The Goss Sunday Press is a high-speed press that features two pioneering innovations – gapless blankets and pinless folders. Gapless blankets eliminate print defects such as bump streaking, doubling and web flutter, allowing faster printing on wider webs with premium quality.
"As a long-standing Goss customer and early adopter of the Sunday technology, adding another Goss Sunday press to our extensive pressroom line-up was a natural step as demand for our products grew again last year," stated Brad Hoffman, Arandell's president and CEO. "Our clients require exacting color and it is our experience that the Sunday Press is one of the few presses in the world that can deliver precise color at the speeds we require."
In the near future, the company plans to take another step towards improving its pressroom lineup. This will be in the form of another capital investment.
"We're looking to further expand our capabilities through the addition of resources across the entire production process," Jake Hoffman says. "As we continue to grow, we're facilitating that growth through strategic investment."
Powerful Solutions
Printing has been at the heart of Arandell's business since the company first opened its doors more than 95 years ago. Today, it is known as the nation's single largest web offset catalog production facility that offers services that range from pre-media to finished product.
Its offset printing process involves a continuous roll of paper that is fed through the printing press. Pages are separated and cut to size after they have been printed.
In general, web offset printing is used for high-volume publications such as mass-market books, magazines, newspapers, catalogs and brochures. Arandell focuses solely on catalogs.
"We've established ourselves as experts in the catalog space," Jake Hoffman says. "We produce and mail over 1 billion catalogs per year."
Its customers range from Fortune 500 companies to some of the top retailers throughout the United States. "Fashion, clothing and apparel is where we have really established ourselves as a dominant player," he adds. "One of the things we can do better than anyone else is produce thin, perfect bound books with a straight back. This format has become extremely popular and fits into the branding objectives of high end retailers across the country."
Unlike some of its competition, Arandell has continued to grow since its inception. A part of the company's growth is due to its ability to be innovative and agile.
"Our success is dependent on our customers," Jake Hoffman says. "We built our service model around providing a 360-degree experience for our customers. We've always been good listeners and our solutions stem from that ability. We strive to become a valued partner that consistently delivers powerful solutions to our clients."
As the company listened to its customers, it expanded its services to include database marketing, logistics, pre-media services and mailing and distribution solutions.
Delivery Methods
Arandell recognizes that behind the scenes of every successful catalog and direct mail piece is a detailed plan for delivery – like making sure the right person sees it at the right time.
"A catalog is only going to be as successful as the data you are using to drive it," Jake Hoffman says. "In order to maximize the effectiveness of a catalog, we utilize robust data to ensure our customers are mailing to the best possible name and address."
A brand's ability to define its audience and use analytics to its advantage is equally important to how its catalog appears. Arandell offers marketing and data services that include building audience sets, circulation strategies and will help its customers leverage their databases to find direct marketing opportunities and make impactful marketing decisions.
"This year, we started getting a lot of traction for our ability to identify anonymous browsers on our clients websites and matching them to a mailable name and address," Jake Hoffman says. "It's essentially tapping into a  new highly engaged audience that was previously unknown. It then becomes a matter of engaging this audience through the offline channel. It's a new part of our data solutions."
In addition, Arandell offers logistics delivery and mailing solutions to save its customers on shipping and postage. For example, Arandell can build custom co-mailing pools for its customers by merging individual mail pieces from multiple mailing streams into a single mailing stream.
"It allows us to take all our clients and their files and we sort it and combine it into a single mail stream," Jake Hoffman says. "We do this so that it can be entered into the postal process further downstream. This generates  bundles that will get to a high density mail carrier route which is imperative for postal savings."
Even though the company has been offering the co-mailing solution for many years, it keeps investing in improvements to make the solution better, he adds.
Furthermore, Arandell offers dropship solutions and advanced tracking and validation throughout the distribution process. The company leverages its longstanding relationship with USPS and other postal associations to find the most cost-effective methods for delivery.
"When it comes to mailing and logistics, 50 percent of the cost of a catalog program is going to go toward postage," Jake Hoffman says. "So, we came up with ways to mitigate that cost and maximize the savings."
Digital vs. Print
The debate between physical and digital mediums is the never-ending great debate. Digital is fast and instant. But it's also somewhat impersonal and the amount of digital clutter most people receive daily can be desensitizing.
"I think that digital is getting to the point where there is so much congestion that consumers are almost becoming numb to it," Jake Hoffman says. "But when you receive a printed piece, it breaks through that clutter."
On the flipside, print publications take time to attain. One must either travel somewhere to pick up the publication or wait to receive it by snail mail. However, one of the most common arguments in support of print publications is the tactile feedback they provide.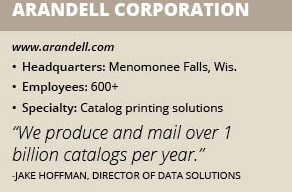 It's the experience, and perhaps even nostalgia, associated with turning the pages. Even the smell of the paper can evoke memories that add a nostalgic feeling to the reading experience.
"I also think that there's a certain amount of trust that comes with a printed piece," Jake Hoffman adds.
However, digital has changed the printing industry. It's a veiled threat that lurks in the shadows of every printer's mind. But Hoffman says that it doesn't have to be that way.
"We have found a way to leverage the digital landscape," he says. "We are starting to understand how to combine the best parts of both mediums to deliver the most effective marketing solution."
This is evident in Arandell's many data solutions for marketing and mailing strategies. "We continue to innovate and adapt to our changing world with digital and social media," Jake Hoffman adds. "At the same time, we never lost track of our roots as a printer. That's what our foundation was built on and we've always stayed true to that. It's allowed us to grow into an industry leader."
Eco-Friendly
Environmental sustainability is an important issue for Arandell. The company has positioned itself as an environmental leader in the printing industry by working in partnership with its customers, suppliers and dealers to promote sustainable forest management, the protection of endangered forests, eco-paper development and responsible environmental practices.
Arandell recognizes that business leadership and long-term success must consider the environment – and that includes the world's forest ecosystems. Although final paper selection is determined by its customers, the company is positioned to influence both supply and demand in the market and thus contribute to environmental solutions that conserve the climate, protect ancient and endangered forests and restore natural forests.
The company encourages its suppliers to promote the responsible use and conservation of materials and long-term sustainability of resources, including taking actions to reduce waste and encourage recovery of recycled materials.
To hold itself to higher environmental standards, Arandell adopted an Ancient and Endangered Forest Conservation Vision and Eco-Paper Procurement Policy. It outlines the company's environmental goals and defines the types of measures it will take to maximize recycled content.
"We've really taken that to heart," Jake Hoffman says. "At every point of the printing process, we have cut down on our environmental impact. We use water-based ink versus chemical. Any extra catalogs or paper is shredded into bundles and sold back into the aftermarket. We even sell scrap paper back."
According to the policy, all hazardous materials are very closely monitored. All hazardous waste is disposed of through safe and environmentally friendly method by third parties that specialize in hazmat procedures.
Waste paper from all of Arandell's presses is separated, shredded and baled onsite for recycling. White waste is delivered directly to a recycling plant where it is processed back to be reused and recycled.
White and mixed recycled paper bins and boxes are located throughout Arandell's offices and the company encourages all of its employees to recycle paper.
In addition, employees are encouraged to use email whenever possible to cut down on paper usage. Waste – such as corrugated cartons and roll and skid wraps – are collected and sold for recycling into bags, wrapped paper, placemats and chipboard.
The company promises to develop and maintain its paper recovery programs to facilitate the use of higher levels of recycled fiber, to capture paper after use and to support entry into the recycled stream.
"We work with a number of highly visible outdoor retailers and have aligned ourselves with their environmental policy programs," Jake Hoffman says. "For example, the way in which we source paper and materials, there's a long chain of custody and we recycle every part of the printing process."
Arandell strives to recycle 100 percent of the process wastes it creates. That includes hazardous materials, oils, paper, paper roll cores, pallets, saddle wire cores, bands, shrink and stretch wrap, aluminum and other operating resources.
In addition, Arandell is certified by three of the world's most distinguished forest management programs: Forest Stewardship Council (FSC), Sustainable Forestry Initiative (SFI) and the Program for the Endorsement of Forest Certification (PEFC). These forestry certifications are only awarded after an intensive third-party audit of a company's environmental practices and purchasing behavior.
Deep Roots
Founded in 1922, Arandell started as a multigraphing and envelope addressing shop called R&L Lithography Inc. It was established by Ernest F. Riedelbach and George F. Lorio in Milwaukee. In 1949, the company was acquired by F. Edward Treis. A few years later, in 1953, the company changed its name to Arandell Corporation.
It kept that name for a few decades until changing it again in 1981 when the company merged with E.F. Schmidt Company and entered the four-color web offset industry under the name of Arandell-Schmidt. That same year, its headquarters moved to Menomonee Falls.
Three years later, the printing company acquired its first major client, Neiman Marcus, and entered the catalogue marketplace. In 1994, the company reached another milestone. It acquired and installed the first 24-page M3000 Sunday press in the United States.
In 2000, Arandell's pre-press went 100 percent digital. This allowed the company to provide full pre-press services that ranged from scanning to computer-to-plate (CTP). It also launched Customer Connect, an electronic gateway to a collection of digital files, services and information that is accessible to its clients through a web browser.
In 2014, the Treis family sold ownership to Bradley J. Hoffman, the company's current president and CEO. Two years after Hoffman took over, Arandell made history. The National Postal Museum (NPM) selected the company to be featured in a special partnership project for the Smithsonian Institution that highlighted the United States Postal Service and America's mailing industry/private sectors.
The Smithsonian's NPM launched a new virtual exhibition, "America's Mailing Industry," which told the story of the partnership between the U.S. Postal Service and the private mailing industry – the story of a partnership that helps people shop, ship, deliver, communicate and conduct transactions.
"Arandell has been the trusted leader for assisting major brands with their catalog and mailing needs," stated Richard L. Kropski, Arandell's senior vice president of supply chain and logistics. "Our partnership with the USPS allows us to help clients enhance the way their business interacts and engages with consumers through mail."