Arc Specialist Engineering Limited
Ahead of the curve
By focusing on the needs of its customers and developing a collaborative approach to business, Arc Specialist Engineering Limited is setting a solid foundation for continued success
Formed a mere two-and-a-half years ago in March 2013, Birmingham headquartered group Arc Specialist Engineering Limited is a group of four small to medium sized niche engineering manufacturing businesses within the metal processing sector. Born from the collapse of Metalrax Group, Arc Specialist Engineering enjoyed steady trading in its early days through its subsidiaries Cooper Coated Coil (CCC) in Wolverhampton, Western Body Hardware in Redditch, Luton based Toolspec and US-based business Post Glover Lifelink Inc.


However, keen to continue profitability and to target a specific customer base, Arc Specialist Engineering made the strategic decision to sell two of its companies and to acquire two new companies that were more relevant to its future ambitions, as Andy Richardson, CEO at Arc Specialist Engineering Ltd begins: "Arc Specialist Engineering is an ambitious business that is owned by a private family office. Our purpose is to grow and develop the businesses that we have under our umbrella while also acquiring complementary organisations as opportunities arise. Since our inception we have sold two of our original businesses; one of which sold electronic safety equipment for medical institutions, which didn't fit in with metal processing. The other was more of an assembly company that assembled locks, hinges and latches, which left us with Cooper Coated Coil Ltd and Toolspec Manufacturing Co Ltd. Meanwhile, during this time we acquired Tube Bend Form International and EWS Manufacturing, the latter of which we acquired in September 2015. Following these developments we are now a more structured group that is focused on metal processing. This falls into two categories, coil processing and metal tube processing. The coil business is based on the operations of Cooper Coated Coil and EWS, while the metal tube processing parts of the business are Toolspec and Tube Bend Form International."
With four niche businesses under its belt, Arc Specialist Engineering's goal is to continue growing, both organically and through further acquisition of organisations that complement the group's operations. This was indeed the case with the 100 per cent acquisition of Tube Bend Form International's shares, which was brought to complement Toolspec with access to new products, processes and customers that would ultimately result in stronger revenue growth and an expansion of its customer base.
Moreover, the group's strategy is to focus on niche markets as opposed to competing in very high volume commodity products, as Andy states: "We look for specialist companies that will give us the capability to have a dominant position in our sector. Additionally, as a UK manufacturer facing overseas competition, we look for manufacturers of products that won't travel well as items that are easy to dispatch overseas are hard to compete against areas such as China. Cooper Coated Coil is a strong example of the niche focus, as there are lots of coil coating businesses that are much bigger than CCC; our competitors may coat 100,000 plus tonnes of metal per year, while we will coat just under 20,000 tonnes per year. Because we manufacture relatively small amounts of coil we are good at changeovers and can therefore access a market that the larger competitors wouldn't bother with; such as the pre-coated non-stick bakeware market. We have a dominant position in this market."
Another example of this is the company's acquisition of EWS, a cold roll forming business, from international door and window components supplier Tyman, for approximately £7.25 million in September 2015. Coinciding with Tyman's strategy to focus on supplying components to the door and window industry on a global scale, Andy notes that the arrival of EWS within Arc Specialist Engineering will enable the group to strategically access the relatively niche PVCu window and door reinforcement market: "EWS is a rollforming company, however Hadley Group is the biggest rollforming company in this country and we don't try to compete on many of the volumes it produces. Hadley will concentrate on giving customers good service in the very high volume markets; whereas we can give outstanding service and value to markets such as PVCu window and door reinforcement where customers require lower run quantities, more frequent deliveries and more product variety than other applications that Hadley focuses on. This is our strategy really, to differentiate our services, find niche markets and deliver truly good value to our customers."
Keen to provide a superior customer service to clients, Andy is committed to creating a creating a management process and system that enables the managing directors of each business to be close to customers and to employees within the business. "Key to providing good value is not only to provide customers with the product itself, but also to deliver knowledge, advice and an excellent service, which will lead to strong long-term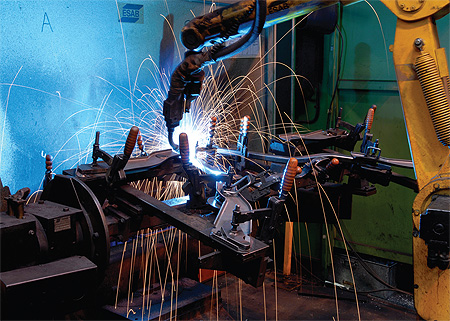 relationships. I believe the people in charge of a business should be as close as possible to clients and to those that deliver the service and products to the clients. Because of this, we delegate authority down heavily, we don't have matrix type structures or corporate policies; the managing director instead sets his own agenda and journey while using our system as a template. This provides our subsidiaries with top-class management that punches above its weight in terms of their size; it is unusual, but is also an integral part of what makes us successful. It would be easy to centralise many of our actions, but taking these responsibilities away from the people serving our customers removes accountability, ukwhile also removing authority, passion and the ability to do the right thing for the customer."
This way of operating also enables Arc Specialist Engineering to be agile when its comes to making acquisitions, confident that the managing directors of its subsidiaries are delivering optimum service to customers and maintaining strong relationships with employees.
With a solid foundation for future growth in place, the future looks positive for Arc Specialist Engineering as it continues to develop a more traditional way of working with customers through the delivery of a transparent, open and mutually beneficial service. "We would like to be seen as partners to our customers; I want our customers to make more money so we can make money, it's a pretty simple way of forming long-term collaborative relationships. CCC has been doing this for years and it is a business that knows its customers so well, it really is phenomenal; we now want to create this same way of working with EWS. Our financial goal is to get to £100 million in sales over the next three to four years, and at least £10 million in profit will be done through organic growth and acquisitions. The other goal is to ensure people enjoy what they do, which may sound trite, but we want our employees to get more out of working for us than just a paycheck," concludes Andy.
Arc Specialist Engineering Limited
Services: Group of niche metal processing companies