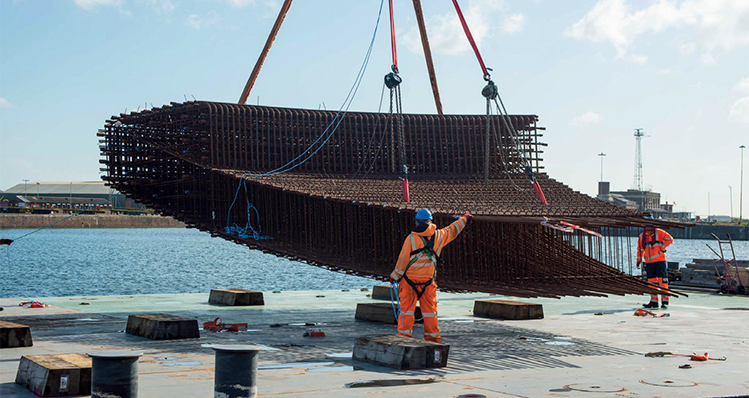 Local leaders of industry
Since 1987, ArcelorMittal Kent Wire has pioneered safety and integrity as a leading producer of steel fabrications across the UK; now, the company fights to preserve the local industry upon which it was built
Chatham-based steel processing company ArcelorMittal Kent Wire (Kent Wire) is a key component of the world's leading steel company, the ArcelorMittal group. With operations in over 60 countries, the group provides steel to the automotive, construction, household appliance and packaging industries. Known for sustainability, quality and leadership, the company has been active in the UK steelwork industry for over 30 years.
"ArcelorMittal Kent Wire was formed because, as a business we consumed a lot of the wire rod produced by ArcelorMittal in Hamburg," explains Phil Taylor, the company's Chief Executive Officer. "We are based in Chatham, so as to receive vessels from Hamburg directly into the Chatham Docks. An operation called Total Ship Services is a subsidiary of ArcelorMittal Kent Wire, and it provides services in unloading and transporting raw material, primarily steel and wire rod, directly from our quayside to the factory. In terms of efficiency and carbon reduction,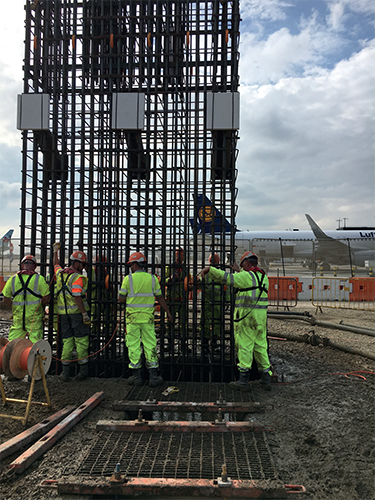 it's the most effective way for us to move large quantities of raw material," he continues.
Using these sustainably sourced raw materials, automation technology and a highly skilled workforce, Kent Wire can produce a multitude of different steel fabrications. "We take a mild steel wire rod mesh grade, and cold reduce it to increase the material's tensile strength," details Phil. "At the same time, we put a profile on the bar so that it adheres to concrete. The main volume of our production is fabric reinforcement, meaning the large sheets of reinforcements that you see laid into concrete slabs. In addition to that we manufacture bespoke, prefabricated rebar elements, particularly for infrastructure jobs."
Much of the metal fabrications produced by ArcelorMittal Kent Wire are one of a kind, meaning the company relies heavily on its all-important team of engineers: "We have got a number of fully automated machines, however, because each product is quite bespoke, there is still a lot of manual work required," Phil reveals. "Unique designs are difficult to fully automate, and it's especially hard at the moment because of difficulties in getting hold of labor. Like most companies, we are currently struggling to find trained workers.
"That being said, we do have a lot of automation in the organization. The fabric welding machines that produce our fabric reinforcements are fully automated and computer controlled. In addition, the prefabrication is automated to the best of our ability. It is important to have a combination of both skilled labor and reliable automation," he adds.
People centric
Keeping at the cutting-edge of industry demands means that Kent Wire has seen steady success. Its recent projects include 4000 tonnes of prefabricated reinforced cages for the new American Embassy in London, the Thames Tideway Super Sewer, and the burgeoning HS2 project, which the company has booked around £30 million worth of contracts.
This success is bolstered by a local community, to which Kent Wire and other local businesses provide around 800 jobs, with a further 1400 being implicated in broader supply chains. However, this monument to local industry has recently been threatened by the proposed closure of the Chatham Docks. "In the 1990s, the Secretary of State and Defence assigned the port as a working port site for 999 years; the belief was that the area would remain a working port and employment site for all of that time," details Phil.
"Since then, the site has changed ownership, and it's currently in the hands of a property developer who recognizes that he can secure significant return on his investment if he is allowed to build luxury apartments. This would destroy hundreds of jobs, and so we are reminding the council of their obligation to protect local assets from property developers. If they destroy Chatham Docks, there is no suitable alternative location for us, and many other businesses," he continues.
Demonstrating the absolute dedication ArcelorMittal Kent Wire has to its people and community, Phil and his team have been out protesting a local council meeting, at which cabinet members will discuss the looming problem of whether or not the docks should be closed. As Phil asserts: "It's likely to be a bit fiery, but I have an obligation to protect my workforce.
"One of the questions from our team is what is happening to the docks, it's a big concern for everyone. We have been really fortunate with the workers we've got; they join us and tend to stay a long time, so it's not uncommon to have people working with us for more than 30 years. This would be disastrous for them."
Kent Wire's open and community-driven company culture makes this issue even more serious. As Phil states: "Our people are our most valuable asset, and we never forget that. Even as CEO, I spend an awful lot of my time each week on the shop floor talking to people, and making sure that I listen to their concerns; I also ensure that my management team does the same.
"Making people feel loved, respected and valued in the business is of absolute importance. We certainly hope to make our people feel empowered in their ability to raise concerns with us, if they have any. We make sure they have close contact with the management team at all times."
Exciting time
With the UK's manufacturing industry facing turbulence due to lockdowns and supply chain issues, there remains a wealth of innovation and progress to be made. In reference to this potential, Phil affirms the importance of young people entering the sector: "I would like to say to young people that there is a fabulous opportunity for you to come into manufacturing and engineering.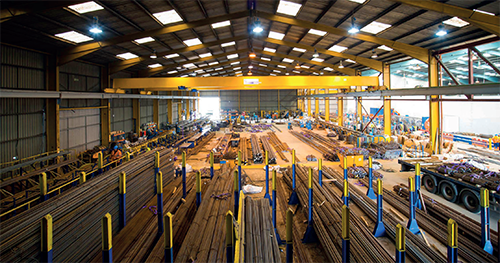 "It is certainly an exciting industry to be in, and you really can create a lifelong career for yourself. That's my background; I served an apprenticeship and ended up becoming CEO of a company. I am sure my schoolteachers would be incredibly shocked if they found out the successes I've had.
"I think it's important to instill that confidence in young people, because it creates wonderful opportunities. I would encourage any young person to move into engineering and manufacturing; it is really full of reward. I am personally passionate about taking a raw material and adding value to it, I know others are too," he continues.
It is clear that this dedication to local people and resources has been a key element of ArcelorMittal Kent Wire's success, as the company's turnover has increased from £50 million to £60 million over the last 12 months. Looking toward the future, Phil hopes to see this success through to less turbulent times for the manufacturing industry: "I would hope to see more stability in the next few months, rather than further growth. It does put a lot of pressure on the supply chain when increases move so rapidly, so I hope that things level out a bit."
Companies like ArcelorMittal provide an example of exactly what the manufacturing industry stands for, and what it can become. With its dedication to high-quality work, sustainable practice, and feeding back into the community, it comes as no surprise that Phil hopes to see the company continuing to thrive in the Chatham Docks for many more decades to come: "In addition, I would like to see it continuing to be the leader in supplies of prefabricated reinforcement products for a number of significant infrastructure projects that are being planned across the country.
"It's an exciting time for our business, as there are a number of infrastructure opportunities that we are likely to be involved in; for example, Crossrail 2 is currently being discussed, and as we were heavily involved in the initial Crossrail project we have high hopes for what we can contribute to that going forward," he summarizes.
In sympathy with the people of Chatham and Medway, we wait with bated breath and crossed fingers on the council's final decision regarding the future of Chatham Docks. The proposed closure is emblematic of numerous tensions playing out across the industrial world on a global scale, and ArcelorMittal Kent Wire's dedication to the preservation of this area illustrates the absolute importance of local manufacturing. "People have put their life and soul into making this business successful, and making Chatham Docks the place it is today," Phil reminds us. "They want their work to continue for generations to come, and they have the right to see that happen."
ArcelorMittal Kent Wire
www.amkw.co.uk
Services: Manufacturers of steel fabrication products