Arjowiggins Creative Papers
Living the ream
Through recent investments Arjowiggins Creative Papers, a world leading manufacturer of creative and technical paper, has been able to increase output and broaden its manufacturing capabilities at its Stoneywood mill in Aberdeen to serve its global customer base
With a history dating as far back as 1770, Arjowiggins Creative Papers has mastered the craft of making fine papers, the craft of giving life to paper for those seeking to give life to ideas. Today the company has perfectly adapted its range of papers to the most demanding printing and finishing techniques, whether it is brand identities, corporate brochures, high-end labelling, luxury packaging or security documents that is required by its global customer base. Arjowiggins Creative Papers division forms part of Arjowiggins Group, owned by Sequana, and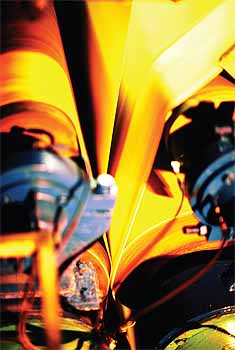 comprises seven business units, five production sites and one R&D centre.
Within this division, the Stoneywood mill focuses on the manufacture of business stationery and corporate communications, advertising and promotion, luxury packaging, labelling and security documents. Alongside these activities, the company is also a world leader in speciality businesses such as tracing/translucent paper, bookbinding and passport covers and is a pioneer in paper for printed electronics,
"Arjowiggins Creative Papers is a world-leading manufacturer of creative paper, offering the broadest range of applications marketed under well-known brands," says Angus MacSween, General Manager of Stoneywood mill. "We are world-renowned for our long tradition of high quality manufacture and market-leading brands that are led by innovation, which thus offers customers a wide choice of products to meet their needs."
He continues: "Our products are available worldwide in well over 120 countries via reliable, long-standing distributors; we employ just under 1000 personnel operating across the globe and have production facilities in the UK, France, Spain and China. Our largest mill is Stoneywood, with four paper machines, a coater and embossing and finishing equipment. Our other mills are single paper machine mills as well as two coaters and numerous embossers in our mill in Gelida, Spain. In addition our Priplak, France, based facility has polypropelyne extruders and finishing equipment."
Following an announcement by Sequana on a refinance of debt and an operational restructure at Arjowiggins in 2014, the group has undergone a number of changes with the goal of significantly reducing Arjowiggins' exposure to the standard coated paper segment while also strengthening its position in the recycled paper and creative papers sectors.
This development resulted in the closure of the company's Charavines mill in France, which focused on the production of premium fine papers and security documents, in June 2015 and Stoneywood becoming the main European site for the production of Arjowiggins Creative Papers. It is also here that the company has a thriving watermark business; with its flagship Conqueror brand still its best-selling paper, having first been produced in 1888.
"Overall we invested over ten million euros which enabled us, in record time of just over a year, to increase our output and broaden our manufacturing capabilities in order to accommodate approximately 20,000 tonnes that had to be transferred from our French mill following its closure," says Angus. The investment is certain to complement the company's lean manufacturing principles and continuous improvement in all areas.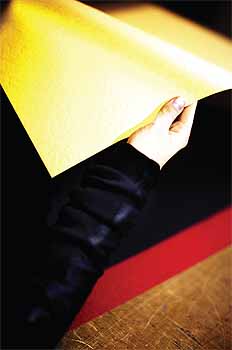 The bulk of the investment was focused on upgrading its PM8 machine to efficiently produce heavier papers used by both graphic and packaging clients who demand a high and consistent quality; the machine was previously capable of making paper up to 160 sgm, but can now handle up to 400 gsm at 165 m per minute. With the rebuild of the PM8 completed in 2015, the company is now focused on completing some modifications to its PM9 and PM10 machines, which is anticipated to be complete by the end of the first half of in 2016. Following this significant upgrade, the mill's four paper machines, one tandem coater and 20 finishing machines can produce just shy of 70,000 tonnes of paper per annum.
While Arjowiggins undergoes an operational restructure, Angus provides some information on the market developments of the three areas Arjowiggins Creative Papers operates in: "Overall printing and writing paper is suffering from a structural decline in the market, however we are seeing a resurgence in the use of creative papers in the graphic communications sector as brands and advertising agencies are returning to paper as a powerful element of integrated multi-channel campaigns. Luxury packaging is also a growing segment and is a market that we have been supplying to for many years, however because we are growing geographically we will broaden our range and support our customers with global availability and service. Meanwhile, commodity security grades such as cheque paper are also suffering from a rise in digital solutions, but sectors such as identity verification are providing growth."
Moving forward, Arjowiggins aims to remain a worldwide leader in the sectors in which it is present through the delivery of high quality products and services to customers, however, in the near future the company will be focused on product developments and strategic partnerships, as Angus concludes: "We will be driving our strategic alliance with Mohawk Fine Papers, notably through the digital itone range, and will also be moving forward with a new product development that will be launched with the next volume of the PaperBook for 2018. Ultimately, we want to continue to be recognised as valuable partners to our customers, developing business together."
Arjowiggins Creative Papers
Products: Graphic and speciality paper, creative paper and security paper