Arjowiggins Creative Papers
A clean sheet
Paper manufacturer Arjowiggins not only brings to market an extensive range of quality products but also a long history steeped in tradition and innovation.
Arjowiggins can trace its origins back to 1492 with the birth of Arches paper mill and after a long history of global division acquisitions and sales, the company is today a world leader in creative and technical paper. Courtesy of its 4000 employees spread across 19 production facilities, in 2014 the Arjowiggins Group turned over one billion euros in sales. Despite being heaped in history and tradition, the modern Arjowiggins is committed to continuous innovation, using cutting edge technologies to provide clients with pioneering solutions to a range of specific demands and challenges. Parallel to this the company has also been at the forefront of the move towards environmentally friendly paper.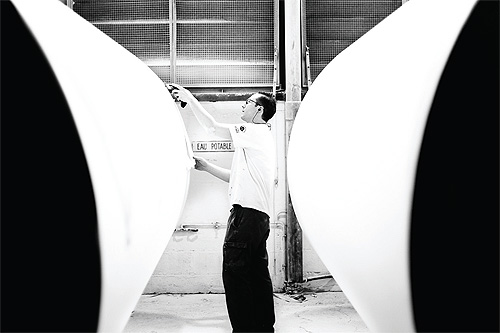 Arjowiggins' portfolio offering can be split into three pillars: graphic and speciality, creative, and security. The graphic and speciality division offers coated and uncoated papers, recycled papers and pulp, niche demands such as playing cards, transfer papers and tissue, and medical papers including sterilised packaging and compresses. Its creative and fine paper division specialises in corporate communicaztion and promotion, luxury packaging, bookbinding and official documents among other applications. Finally, its highly technical security division possesses expertise in banknote and secure papers, as well as brand and consumer protection solutions. Supporting this wide offering is a dedicated commitment to working closely with its clients to develop bespoke solutions for a range of unique demands.
At the heart of the creative paper range is the company's Conqueror brand, which began production in 1888. The Conqueror brand is trusted worldwide for its quality and offers a complete range of corporate needs from sheets to envelopes in a variety of different textures. Next is the Curious Collection, the most innovative range of papers offered by the company, which consists of six unconventional and cutting-edge papers: Metallics, Translucents, Cosmic, SKIN, Touch and the newest addition, Curious Matter. This latter product has a touch between silk and sand and is already a success, being used by major luxury companies and innovative designers. The Collection is available from 82 to 380 gsm in 52 different colours. The Keaykolour range introduces the company's more rigid products with a range of high quality textured papers and boards in a range of vibrant colours. Demonstrating Arjowiggins' environmental reputation, the Keaykolour range is available in both 30 per cent and 100 per cent recycled variations.
Next up is the Rives brand, which is a fully FSC-certified and includes 100 per cent recycled options in its range of highly textured paper available in eight special textures, ten colours and from 80 to 350 gsm. The paper is perfectly suited to a range of applications including litho, screen printing, UV varnishing, blind embossing, laser cutting, film laminating, foil blocking, folding and creasing. Rives is then accompanied by Rives Sensation, which utilises a patented surface treatment to combine Rives' delicate textures with the print performance of a coated paper.
Furthering the range with a more vibrant offering is the Pop'Set brand, which reflects the whole colour spectrum. Using 100 per cent virgin pulp and available in a choice of 31 shades, Pop'Set papers are available up to 400g and are perfect for a range of corporate communications, advertising, promotional print, direct mail and luxury packaging applications. On the opposite end of the scale to Pop'Set is Arjowiggins' Opale range, which presents superior ultra wove whiteness for the perfect corporate letterhead solutions. This is complemented by the fresh and simple yet comprehensive range of white premium offset papers in the Inuit brand, ideally suited for corporate communications, promotional print and high-end publishing.
Completing the extensive paper offerings by Arjowiggins Creative Papers is its Creative Labels range, available in sheets and self-adhesive reels, and its digital solutions perfectly suited for both dry toner and liquid toner technologies.
In keeping with Arjowiggin's leading commitment to environmental responsibility the entire range of its creative papers has been FSC-certified since June 2008 and many of its products are available in varying degrees of recycled materials up to 10 per cent. In an attempt to reduce the carbon footprint of its products in 2007 the company launched carbon-neutral versions of its Conqueror branded papers in the UK, with Germany following suit a year later. Elsewhere in the company, in February 2014 its graphic papers division successfully implemented ISO 50001 certification for energy management across all of its sites. This allowed Arjowiggins to take a more consistent and systematic approach to its already careful and responsible use of energy, which has been a central driver in the company for much of its history.
Active throughout the globe in both a sales and production capacity, Arjowiggins is truly a world leader in its field and its approach to manufacturing a range of quality products and brands in a responsible way is central to this.
By continuing on this innovation driven journey to serve its clients with the very best paper solutions the future for the company looks positive in a challenging and highly demanding market.
Arjowiggins Creative Papers
Products: Specialises in the manufacture of high quality added-value papers
Production sites: 7