Paper Pioneers
Setting international standards for creative and technical papers since the 17th century, Arjowiggins is an independent paper manufacturer powered by people, passion and pioneering spirit
A specialist in the manufacture of a range of paper types – including creative papers, technical papers and security papers – Arjowiggins has gone through a number of developmental changes through the years. A historical papermaker with Anglo-French roots, the company was originally the product of a merger between French firm Arjomari and British company Wiggins Teape.
"The oldest paper mill we have dates back to 1698, so we have been in the industry for a long, long time," says Christophe Jordan, the company's Managing Director of Translucent Papers. "We now have four paper mills around the world – two in the UK, one in Spain, and one in China."
In 2019, Arjowiggins endured a number of shareholder difficulties, leading to a breakup of the group. As a result, Christophe banded together with seven other former employees and teamed up to buy out a part of the old Arjowiggins Group and the brand Arjowiggins. "Though we are a much smaller group than we once were," he declares, "we continue the Arjowiggins story as an independent firm with around 800 employees and 150 million euros' turnover."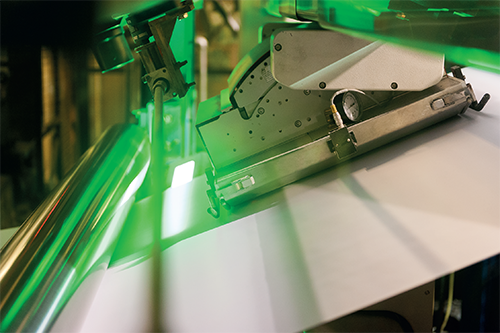 Continued heritage
Benefitting from a global reach and the latest technology, Arjowiggins has firmly established itself as one of the world's foremost producers of creative and technical papers. Marrying experience, knowledge and skill, the company continues to be a first-choice for customers large and small – from start-ups to major corporations.
"The success we have had at Arjowiggins has come, predominantly, from the way in which we blend history and credibility with modern innovation," Christophe argues. "Our small world of specialty papermaking has always been known for its pioneering work, generally in the graphic segment, but now we are continuing this heritage in new areas, such as the replacement of plastics and the development of similar up-to-date products that can be a part of the solution to widespread global issues."
As Christophe suggests, Arjowiggins' most recent product development efforts have been geared towards Sylvicta, a translucent paper product impervious to oxygen, oil and grease. Suitable for a wide range of industries and applications, Sylvicta also offers huge capacity as an odour barrier, as well as being fully recyclable and compostable.
"Sylvicta is a real cornerstone of the developmental evolution of Arjowiggins," Christophe states. "It has helped take us from a business primarily devoted to specialty graphic and packaging applications, to a much more diversified operation."
One of a number of products the company has now developed to help replace plastics, Sylvicta is an example of Arjowiggins' ability to solve problems through creativity. "In a lot of ways, Sylvicta is really unique," Christophe asserts. "It has a similar transparent look and feel to tracing paper, but we have been able to embed many of the barrier properties of plastics into that sheet.
"Sylvicta paper has the highest possible barrier to oxygen, making it more effective in that area than any plastic in the world. For instance, Sylvicta is 50 times better as a barrier to oxygen than PET, as well as being an excellent barrier to grease, mineral oil and aroma. When you blend all those qualities together, you have a 100 percent fiber-based innovation that is not only recyclable, compostable and marine degradable, but that can also outperform – and therefore replace – single-used plastics in many applications."
Innovative portfolio
Under development for some time, Sylvicta has been a major commercial success since its official launch in 2020 – even in spite of the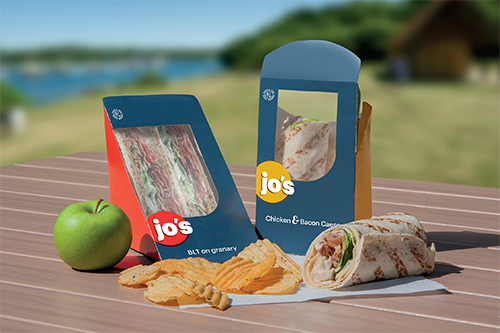 difficulties presented by Covid-19 – with hundreds of tons sold by Arjowiggins over the last 24 months. According to Christophe, this is just the beginning. "Sylvicta is doing well, but we have the opportunity to sell thousands of tons," he remarks. "There is still nothing like it on the market right now."
Another key battleground in Arjowiggins' quest for sustainability is heat transfer products – a category for which the company has developed plastic-free papers for use in the printing of names and numbers on sports jerseys, as an example. The organization's growing portfolio is thanks, in large part, to its commitment to innovation. Even in 2019, when Christophe and his partners took over a business in great financial difficulty, they still refused to cut Arjowiggins' innovation or R&D budget.
"Based in France, our central R&D team works in conjunction with more localized teams in each paper mill. As these highly-skilled teams come together to devise the products of tomorrow, we aim to support them with regular investment – some of which comes from EU programs and projects – as well as pilot equipment and a large, modern lab."
Power of partnerships
Along with the efforts of its resilient workforce, Arjowiggins' ability to overcome numerous challenges over the last three to four years has been boosted significantly by its long-standing relationships with partners, customers and suppliers. Christophe explains more:
"Back in 2018/2019, when we were enduring a great deal of upheaval, it would have been very easy for customers and suppliers to just run away and drop us, but we have built really strong, lasting relationships over the years and they have stayed very loyal to us as a result, supporting the company. These partner businesses have been a true part of our success in turning Arjowiggins around.
"When you are in specialty papers like us, you require a high level of technicality across the supply chain. Equally, you don't necessarily want to switch your supplier day to day. Loyalty on both sides has really helped Arjowiggins stay afloat. When times have been tough, the power of partnership has enabled us to look positively towards the future."
With the worst of the Covid-19 pandemic now, hopefully, in the rearview mirror, Arjowiggins has begun to enjoy the return of many of its customers, including those in the hospitality and luxury sectors. In fact, in the words of Christophe, as we approach the end of 2021, the market is 'buzzing'.
"Business has really picked up over the last few months, and though there are still issues surrounding increased costs, we are very positive about the year ahead," Christophe notes. "As far as our plans for 2022 are concerned, Sylvicta is already a success with hundreds of businesses, but we now aim to develop business with some of the world's large FMCGs, which could be a real turning point for us in terms of increased uptake and success in this new segment. It would be proof that our diversification is truly working.
"Beyond that, in the next three to five years, we have a clear strategy to help reduce our reliance on the graphic segment and increase our share in packaging – most notably, in the food packaging or barrier paper segments, where we hope to become a leader. If all goes to plan, then I think we can expect to increase our capacity in line with growing demand. We might be members of a heavy industry with historical mills, but that doesn't mean we are fixed in our history. We are evolving, and that is a core part of our vision."
Arjowiggins Group
www.arjowiggins.com
Services: Specialty paper manufacturer