Straight to the point
By creating eye-catching, innovative designs, and bringing them to life at its Newmarket factory, arken has established itself as the UK's leading manufacturer of point of purchase (P-O-P) displays
A little over 35 years ago, a patent application was filed for what was, at the time, a revolutionary wall mounted poster holder known as the clip frame. Designed and developed by UK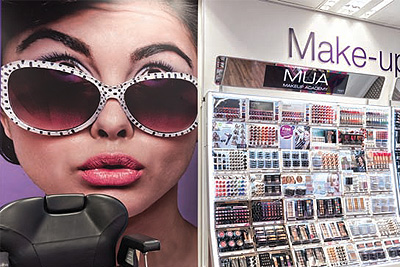 company, arken, the clip frame system would quickly become the most commonly used wall mounted poster holder for advertising and commercial displays, with its basic system also delivering flawless quality.
Founded in 1948, arken has since been designing and manufacturing point of purchase (P-O-P) displays and bespoke poster display solutions to suit the needs of its customers, which predominantly includes consumer electronics, health and beauty, automotive, tobacco, and food and drink brands. "We are very much creative-led manufacturers with a strong creative arm that is comparable to that of a design agency," explains Kristian Munt, Business Development Director for arken. "In addition, we possess the unique capability to manufacture our designs in-house, which has given us the grounding to move into more bespoke areas of business and innovation over the years."
In addition to this offer, arken also provides a range of off-the-shelf products such as poster frames, lightboxes, poster hanging systems, pavement signs, forecourt signs and literature dispensers. Working in close co-operation with both brands and retailers, while also conducting detailed market research, arken's aim is to drive increasing footfall and sales, and encourage interaction at the P-O-P for its customers.
"As a business, we are fairly diverse when it comes to the industry sectors we work within, with particular areas of demand in recent years coming from the cosmetics, health and beauty, and the consumer electronics sectors," Kristian continues. "No matter the customer, we apply the same robust process to ensure their project is a success. The two most important elements of this is the research we carry out prior to undertaking the project, and the revisiting and reviewing process at its conclusion. We find there are always lessons that can be learnt and we are able to take these and apply them to future projects. The processes we have in place allows us to be flexible enough to scale up or down depending on a customer's individual needs, and to turn our hand to whatever work is thrown our way."
The hub of arken's operations can be found in Newmarket, Suffolk, which for the best part of three decades has been home to its offices and its 65,000 square foot factory. Accredited to ISO:9001 standards, the company applies a regimented process to its manufacturing operations, while retaining a high level of flexibility in order to take on tasks with short or challenging
lead times. In the last few months, the company has also introduced a new warehousing system to its Suffolk factory in order facilitate the increased amount of raw materials coming into the business as demand increases for its services.
Away from its main factory, arken also operates out of a smaller building, which exists exclusively to supply a multi-year contract with the cosmetics, health and beauty chain Superdrug to supply items including its make-up carcasses. "From the offset, we treated the Superdrug contract as a special project," Kristian says. "It is sizeable enough so that, if we were to have kept it in-house in Suffolk, it had the potential to inhibit our ability to supply our other customers. As such we decided to ring fence the contract, take out a short-term rent on the factory and recruit contractual staff. While we took steps to ensure that, should the contract come to an end, we could move on with no knock-on effects to our other customers, the plan is most certainly for it to continue and all signs at present suggest that this will be the case."
Awards are a marker for the success of any business and arken certainly has its fair share of accolades and trophies in its possession to make a strong case for its expertise. "We are obviously proud of every award we win, and they are a testament to our design skills, innovation and the way that we ensure our customers a return on their investment," Kristian comments. "There is, however, a bit of a misconception that these awards are given solely on the basis of the look of the display. What we are in fact judged upon in our industry is the complete package of services we provide and whether we utilise this appropriately in order to meet the customers brief, remain in budget and deliver a profitable outcome. To that end, we have clearly been very good at meeting the expectations of our customers and the industry at large. We have also recently submitted 12 entries for the 2017 awards season and we hope to receive a number of nominations later this year."
Kristian admits that the last couple of years arken has focused primarily on looking after its existing customers, ensuring that their loyalty is rewarded with a healthy return on their investments, while also growing organically themselves. "The growth we have experienced within the cosmetics and electronics industries suggests that our actions have proven fruitful to date," he conclude. "As we now look towards 2018, we will start increasing our search for new customers and new relationships where we can partner businesses and brands, passing on our specialist knowledge and skills in order to achieve further growth for all parties involved."
arken
Products: Point of purchase and poster displays