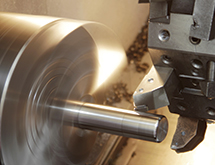 Thanks to its more than three decades of experience in oilfield manufacturing, Armor Machine Ltd. is comfortable working on one-off prototypes or large-scale mass productions. The company says it takes a flexible approach to its in-depth development process, which allows it to find the right solution for its customers.
Located at the center of the oilfield industry in Edmonton, Alberta, Armor Machine has been machining and custom-manufacturing oilfield products since 1982. The company combines state-of-the-art technology with the experience and expertise of its team. It is this extensive experience in machining and the oil and gas industry that has allowed the company to create a track record for assisting clients with the development and implementation of down-hole drilling components needs.
Armor Machine understands that each job has unique challenges that need customized solutions delivered on time and on budget. The company melds experienced workers and state-of-the-art machinery in ways that allow it to meet expectations. The company works closely with clients' engineers to identify the requirements for each project so it can devise the appropriate solution, whether building prototypes or developing manufacturing processes for one-off items or mass production.
The company works with an array of approved vendors from Canada and the United States. This helps Armor Machine turn engineering drawings into finished products. Long-term relationships with a variety of well-qualified vendors is critical to the company's ability to provide processes such as laser harden and laser carb; carbide, chrome sulfamate nickel and various other coatings; welding and hardfacing; heat treating; step drilling; and honing and grinding.
Armor Machine says it has the resources to manage these subcontracted processes to complete all of its clients' manufacturing requirements.
Fully Stocked
In terms of its state-of-the-art tools, the company boasts more than 50 machines in its inventory. This gives Armor Machine access to the equipment needed to meet customers' needs. The company says it constantly upgrades its in-house equipment and capabilities to stay ahead of the market requirements and provide customers with new solutions.
The company's arsenal of CNC mills includes two conventional CNC mills with a table size of 30 inches by 98 inches, as well as three medium-capacity fifth-axis CNC mills with a table size of 30 inches by 78 inches. It also has six large-capacity fifth-axis CNC mills with a table size of 36 inches by 165 inches and an extra-length fifth-axis CNC mill with a table size of 39 inches by 315 inches.
Armor Machine also has a number of CNC lathes, including two small-capacity CNC lathes with a 16-inch swing by a 46-inch travel and seven-medium capacity CNC lathes with a 22-inch swing by a 120-inch travel. It also has seven large-capacity CNC hollow spindle lathes with a spindle bore size of 10 inches and a 33-inch swing by 120-inch travel.
As for electrical discharge machines (EDM), the company has two sinker EDMs with a tank size of 43 inches by 29.5 inches by 14-1/2 inches, as well as a wire EDM with a tank size of 41 inches by 25 inches by 16.5 inches. Armor Machine also has four shapers that are capable of a stroke up to 36 inches.
Armor Machine says its portfolio also includes a number of manual machines. These include eight conventional manual lathes with an 18-inch swing by a 120-inch travel, as well as four hollow-spindle manual lathes with a 12-inch bore size and a 36-inch swing by a 120-inch travel. The company also has four conventional manual milling machines with a table size of 16 inches by 50 inches.
In terms of welding, the company has three fully equipped welding bays with fabrication and coating capabilities, staffed by highly qualified and trained welders. As for material preparation and finish equipment, the company has two NC saws that are capable of cuts up to 12 inches in diameter. Armor Machine's drilling capabilities include offset boring. It also has a shot peen room and a KemPlate tank that allow it to create products to customer specs.
Quality Commitment
An ISO 9001-2008-certified company, Armor Machine says it is committed to being a high-quality organization that devises quality solutions. The company relies on quality craftsmanship and a strong quality-control system.
Armor Machine's quality management system is constantly reviewed to find areas where the company can continue to improve. In addition, the company's components are manufactured to meet precise industry tolerances, and Armor Machine uses a unique set of KPIs and goals to measure quality performance.
Thanks to its more than 30 years of experience, Armor Machine says that it has grown and improved in ways that allow it to reach the highest expectations of its customers. The company believes in total quality management and has a proven quality record to meet client needs.