Thomas Broadbent's exceptional subcontracting services are opening the business to wider demographics
Next year, Thomas Broadbent will celebrate 160 years of operations, during which it has supplied its international customer base with the very best in centrifugal solutions. From its UK headquarters in Huddersfield, West Yorkshire, where the organization was founded by Thomas Broadbent himself, the company has expanded its geographical footprint across the US, Thailand, China, and, recently, India.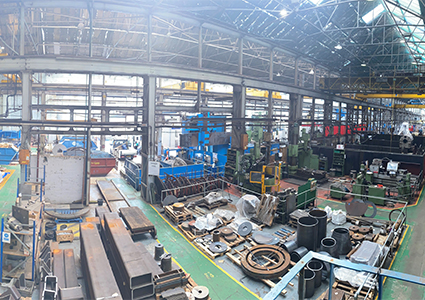 In 1870, the business produced its first centrifuge for the extraction of liquid from washed wool and cloth. From these humble beginnings, it has gone on to be a major player in the chemical, mining and minerals, pharmaceutical, sugar, and Geotech industries, whilst keeping the laundry sector close to its heart.
"Thusfar," begins Toby Farrington, Subcontract Operations Coordinator, "we've developed and sold more than 10,000 centrifuges for a wide array of sectors, right across the globe. Whether they're for cleaning clothes or aiding a university in recreating the atmospheric conditions that rockets experience, we're there for our customers. Our UK site is an 85,000-square-foot facility and our primary manufacturing plant, and our other locations across Asia and the US are in place to support our clients local to those regions.
"We've found it hugely beneficial to be able to offer people a more personal approach with these subsidiaries, and we intend to develop each of our sites over time, so that every part of the business can scale up to be self-sufficient. Thailand's another big manufacturing facility for us, but as I say, the UK plant is our main one.
"It's designed for heavy industry applications," he adds, "and hosts a fabrication and welding department that features 25 welding sets, a submerged arc welder, huge CNC machining capabilities, from large borers to VTLs, and much more. All of our centrifuges tend to be on the large side, which is reflected in the size of the kit, and we have four overhead cranes in each of our bays that can lift up to 25 tons. Then we have assembly, balancing, blasting, painting, and testing facilities too."
To leverage its manufacturing expertise further, Thomas Broadbent has recently invested heavily in its subcontracting services. In playing to its niche specialty, the business is steadily welcoming more and more custom from a range of new sectors.
"It's going really well," Toby comments, "the subcontracting side has already generated 12 new customers for the business. Our incredible manufacturing site is instantly appealing to potential clients, as we can offer a lot of services that our competitors can't. Besides growing rapidly, it's creating new jobs, which is great, and is enabling us to continue in our venture to scale up the entire organization. I would urge members of any relevant industries to reach out to Thomas Broadbent, to see what we can offer them. The possibilities are endless!"
Besides his involvement with the subcontracting side, Toby also plays a key role in coordinating the organization's apprenticeship scheme. A process that he is particularly familiar with, having started his own journey with the business in that exact way.
"We've felt the labor shortage just like everybody else," he explains, "so one of our initiatives has been to invest a lot more into our apprenticeship scheme. We typically take on three or four new apprentices each year, however this year we had a huge influx of applications. Unfortunately, we couldn't take on the entire crowd of 30 applicants who were keen to join the business, however we were able to extend the program to include seven people this year fresh out of high school, more than ever before.
"We really try to encourage bringing the younger generation into the industry and training them up to exactly what we want our employees to be. We hold a strong belief in promoting people from entry level positions, all the way up through the ranks. As the apprentice coordinator, I look for candidates who hold a genuine interest in engineering. We've got a great four-year program, at the end of which we typically offer full-time contracts.
"I remember the first time I stepped into the facility, and as soon as I entered the workshop, I knew it was where I wanted to be," Toby continues. "As long as you're willing to put in the hard work, Thomas Broadbent will match your efforts and do everything it can to tailor your experience to lead you into the area that you're most interested in, whether it's production, sales, or design.
"It really is a great company to be a part of," he concludes. "That's the reason I've stayed for the last 11 years. Everybody is here to work, but they're also here to help, and there's such a wealth of talent and skills among the workforce for trainees to draw upon in the earlier stages of their careers. There's a real difference when you work for a business that wants you to succeed and actively guides you in the right direction to achieve your goals. I believe it plays a huge part in attracting and retaining customers, as the spirit of teamwork and professionalism is entirely reflected in our sterling offering."