After nearly half-a-century, Arrow Storage Products has become one of the leaders in its industry through hard work and by paying close attention to costs, Vice President of Operations Craig Kass says. Based in Breeze, Ill., the company manufactures steel storage units.
Arrow Storage Products began op­erations in 1962 as Arrow Group Ind­ustries, a carport and awning manufacturer. Eventually, the company changed its focus to sheds, when the market for affordable, do-it-yourself metal storage buildings grew. After all these years, it has sold more than 12 million sheds around the world.
"We sell to all the do-it-yourself, big box and small hardware stores," Kass says, adding that the company also employs a staff of approximately 220 workers. Arrow Storage Products has kept successful by maintaining vertically integrated operations.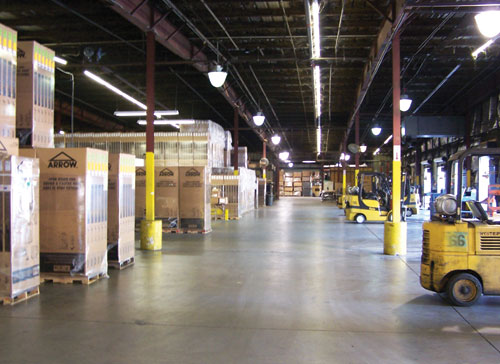 For instance, "We coat our own steel," Kass explains. "That has help­ed us stay competitive, [and] we are able to control our costs."
Plant Manager Kevin Boewe says the company also maintains quality through routine system inspections and fool-proofing fixtures. "We [also] utilize a lot of dedicated tooling that only allows a part to be made one way," he says.
For instance, production lines are tooled up or set up to run one to three parts, without every having to make a major tooling changeover. This eliminates down time.
Stepping Up
Kass and Boewe are longtime em­ployees of Arrow Storage Products. Kass, who joined the company in 1974, says he has enjoyed the opportunities the company has given him. "I've had a lot of opportunity," he says. "I started at the ground floor and worked my way up."
Boewe, who joined the company in 1999, agrees. "I've had different opp­ortunities over the years, and the company keeps changing," he says. "That keeps it interesting."
Kass notes that Boewe is a key member of Arrow Storage Products' leadership team, as well as the materials manager, Ted Urban and the Canadian operations plant manager Steve Power.
As part of the company's continuous improvement program, these three have focused on eliminating waste and reducing costs in its manufacturing process through automation or process changes. "[Arrow] is the kind of company where everybody steps up," Kass says.
Adapting and Adjusting
Arrow Storage Products has not let energy efficiency pass it by, Kass says. "We [recently purchased] equipment to really increase our throughput," Kass says.
For instance, the company has automated its material handling pro­cess to eliminate manpower, which has reduced its headcount by more than 10 percent.
In addition, the company installed a regenerative thermal oxidizer. "In our Haskell, N.J., [location], this reduced our gas consumption by 50 percent," Kass says.
Arrow Storage Products also has evolved its operations to meet the de­mands of its customers. Currently, "They're pushing more of the responsibility onto the manufacturer and re­quiring a rapid, [quicker] response," he says.
To become  more responsive, "We meet with two of our top-three customers weekly to review [their de­mands]," Kass explains. "We try to keep the communication open and stay very close to what's going on in the marketplace."
With this process, Arrow Storage Products can schedule production to meet actual demand and it helps keep its inventories on track.
Stable In Its Segment
Kass sees a strong future for Arrow Storage Products. "We are in [a] stable market in [our] product segment," he says, adding that it will grow. "I think some of it will be related to the economic recovery."