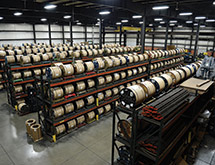 Arrowhead Industries Corp.
Without Arrowhead Industries Corp.'s products, the flexible rubber and plastic weatherseals that keep air and water out of automobile doors, windows and trunks would simply fall off the flanges. "Our products give weatherseal the structural integrity to grasp onto the flange of the car door or trunk or any areas that weatherseal goes on," CEO and owner Alex Scovil explains.
Arrowhead's lanced and stamped metal carriers for rubber and plastic weatherseals and glass run and trim products are extruded by Tier 1 weatherseal manufacturers inside the rubber so they are not seen by the average consumer. The core metal inserts can be manufactured from cold-rolled, stainless or electrogalvanized steel, aluminum and all types of adhesive-coated steel and aluminum. They are manufactured from coils of aluminum or steel that are slit by Arrowhead instead of by a supplier.
"Of our competitors in North America, I believe we're the only one that has slitting in-house," Vice President Alec Scovil maintains. "We also have a bit of vertical integration. We can keep our inventory low by buying coils of different grade and gauge combinations. We might have 150 different products, but only 15 or so different grades and gauges. We can buy wide master coils of material and slit them, so we can stay leaner and react more quickly as we get orders. We also have a bit of horizontal integration by having our own tool room where we make and maintain the vast majority of our machining and tooling."
Arrowhead Industries Corp. has always made its own manufacturing equipment. "Our lancing equipment – which manufactures the vast majority of our products – is all custom-made in our Cleveland plant," Scovil continues. "We also make our own winding equipment, which takes the material from the line and winds it onto spools." The company offers returnable and disposable spools.
Single-minded Dedication
Scovil emphasizes that Arrowhead Industries specializes in a single type of product. "Where we differentiate ourselves from our competitors is that we service our ccustomers and react more rapidly than our competitors do," Scovill asserts. "A big reason for that is we are the only one of our competitors that concentrates strictly on these metal inserts or carriers, while for our competitors, that is one of the several product lines they have. Our entire company is focused on making sure that we react quickly and get high-quality product to our customer on time."
Sometimes employees of Arrowhead Industries Corp. provide design-for-manufacturability input. "We get the designs from our customers, but they work hand-in-hand with us as they look for new and better ways to do things," Scovil says. "The final design comes from the customer. We advise them on what we think the design should be like and how it will best work in their specific application."
Scovil emphasizes that the expertise in product design and manufacturing of Arrowhead Industries comes from its employees. "Our expertise comes from experience," he stresses. "We're not inventing the design. We tweak existing designs in order to improve their performance in specific applications."
Arrowhead Industries' engineering manager is in charge of the company's tool room. "Another part of our competitive advantage is our employees," Scovil continues. "Several operators and set-up people have been here longer than 20 years, and lots of our improvements have come from their experience and the suggestions of those employees." The company believes in promoting from within. "Several of our managers started on the production floor and now are managers in our front office," Scovil says.
Because Arrowhead Industries manufactures its tools in-house, it can offer its customers several advantages. "We have much shorter lead times than our competitors do," Scovil declares. "We can react quickly and shift around priorities in our toolroom. If something is urgent, we can make it immediately. Because we have some flexibility – we have nine stamping lines, 11 lancing lines and two slitters at our Cleveland facility – we can slit the material that day and produce the product and have material ready in one shift because we have such vertical integration."
Lead times vary based on whether a product requires new tooling or unusual raw materials. "If we get a drawing that needs 100 percent new tooling but uses standard raw material, we say two to five weeks delivery to the customer for sample quantities, but typically, we can deliver it before that," Scovil says. "If the customer specifies non-standard raw materials, lead times can increase to 12 weeks or more."
Arrowhead Industries' annual production is in the hundreds of millions of feet of carriers. "Our lines can produce product at up to 750 feet per minute," Scovil asserts. Each spool typically holds approximately 20,000 feet of product. "We sell by the foot – different designs use different quantities to fill out a spool," he says.
Production Line
Metal that was slit to width in-house is sent through lancing equipment, where it goes through rotary-style cutters and is pulled through coining and/or flat rollers to produce its design. Then it is oscillate-wound directly onto spools. Stamping presses also can be used to produce the carriers, but it is a slower process, running from 50 to 100 feet per minute. Arrowhead Industries offers stamping for carrier designs that cannot be lanced, but it has been able to convert most carriers that previously were stamped into lanced ones. Lanced designs also use up to 50 percent less raw material.
Arrowhead Industries has a 70,000-square foot plant with two slitting lines, nine stamping lines, 11 lance and stretch lines and a toolroom and warehouse at its headquarters in Cleveland. That plant is ISO/TS 16949:2009-certified. Its plant in Mexico, which has three lance lines, measures 26,000 square feet and is ISO 9001:2008-certified. By the end of this year, Scovil anticipates having a manufacturing facility in the Shanghai, China area.
He estimates approximately 75 percent of the company's business is in the United Staes and Canada and most of the rest in Mexico, although the company also ships to customer locations in Brazil and China. Approximately 95 percent of its business is for the automotive industry.
For the future, Arrowhead Industries plans to diversify its product lines and customers, especially since its move of many of its products to lancing has freed up the company's stamping lines. "We have experience using high-speed presses and carbide dies and maintaining them, which is something that a lot of stampers might not have," Alex Scovil points out. "We will be looking to find a market that can use that type of capability. It would be outside the weatherseal market and possibly outside the automotive market."
Alec Scovil emphasizes the family culture of Arrowhead, which is family owned and managed and also employs several groups of family members. "We're a customer-centric business," he emphasizes. "We have long and strong relationships with our customers and suppliers. We'll bend over backwards to make sure we get our customers whatever they need when they need it."