Lighting the way
The science behind the right lighting solution has been developed and honed by experts for decades, and with the advent of new and exciting LED options, today's buildings can be lit in such a way that they can lift a mood, enhance efficiency, increase safety and conserve energy.
These state-of-the-art solutions need to be carefully designed and created in order to produce attractive, hard wearing products, utilising practical and time saving installation features. One
company at the cutting edge of this industry is ASD Lighting, an innovative designer, developer and manufacturer of lighting products, which has been working in the UK from its main site, the 200,000 sq ft Rotherham factory, for over 35 years
At this facility,ASD Lighting has invested £5m capital spend on additional state-of-the-art equipment, including robotics, further injection moulding capacity, product design, software, testing equipment and expanded its base by another 45,000 sq ft to accommodate extra production space and warehousing.
ISO 9001, ISO 14001, and OHSAS 18001 certified,ASD Lighting strives to use the latest manufacturing techniques, and is capable of creating its own injection-moulded products, which adds an extra dimension of quality control throughout the production process. In order to meet the exacting demands of customers and the latest building regulations requirements, ASD Lighting provides a comprehensive range of operating options in all its products; and this lighting range is extensive, featuring interior and exterior, street, amenity, lanterns, security, industrial, illuminated handrail, utility, emergency, and secure environment lighting.Applications for these products include healthcare, social housing, education, rail and student accommodation, to name a few.
It is clear from this broad product range thatASD Lighting offers a solution for every requirement, and clients also benefit from the years of knowledge it has accrued in the industry, making it an expert in LED lighting. Indeed, many clients approach ASD Lighting's dedicated Lighting Specifications Department for advice and assistance on schemes ranging from large new developments to small existing room refurbishments.
The LIF & ICEL qualified team of specialist designers is always ready to start creating a solution and can base this on a simple phone conversation or a more high tech format, such as PDF, or AutoCAD DXF/DWF.
Using the latest software, the team will produce 3D visualisations of its lighting plan, incorporating furniture and colour schemes to produce lifelike images of the finished environment. Furthermore, it can create designs for interior and exterior areas, such as student accommodation, apartment blocks, healthcare units, schools etc, as well as utilise the team's superb design skill for stairwells. Once the lighting scheme is complete, it marks the luminaire positions on the drawings along with the emergency luminaire requirements, and the resulting 3D image is the perfect illustration for clients of the lighting requirements for a specific project.A formal quote will follow, itemising the products, costs, energy and carbon savings, and return on investment, giving clear payback results.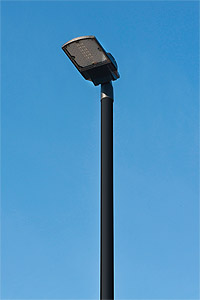 Alongside the Lighting Specifications Department,ASD Lighting also dedicates a lot of focus to Research and Development. Recognising that maintaining a market leading position requires vigilance, innovation and continuous improvement, ASD Lighting currently brings up to eight new products to market every year.
One of the most recent new releases occurred in February 2018, when ASD Lighting launched the all new Stealth Elite range.This high-performance wall mounted LED luminaire not only looks modern and stylish, but produces quality uniform LED lighting suitable for use in a number of applications, including education, commercial, rail, retail and car parks.The luminaire comes as standard in 4000K neutral white and has a number of lens distribution options. Made from powder coated die cast aluminium, the Stealth Elite features the latest generation of LED chips, and a DALI driver and anti-tamper screws as standard. It also offers emergency and PIR/Photocell options, and comes with a five-year guarantee.
The Stealth Elite, along with the rest of ASD Lighting's range is available across the UK and also worldwide – the company exports ten per cent of its products, with the main markets being electrical wholesalers, education authorities, local authorities, football stadiums, the NHS and so forth. In fact, local authorities are a big client for ASD Lighting, as most authorities are now replacing old inefficient sodium street lights with energy efficient LED units. So far,ASD Lighting has supplied over 100,000 new LED street lamps to local authorities across the UK, and is seeking export potential. Previous clients on this type of project include major UK Borough Councils.
Products from the new Highway Diamond Elite range are popular with this sort of client. This completed range of luminaires promises an unsurpassed flexibility of lumen outputs, optical distributions and specification features. It is suitable for use in a multitude of locations, from rural villages through to modern 24 hour smart cities, main roads, motorways and infrastructure projects.
A truly British company,ASD Lighting prides itself on its reputation for innovation and quality and has continued to uphold a strong performance, increasing year-on-year revenue by 20 per cent and now employs over 220 people in various positions around its facility.
By using its skills and expertise to design and manufacture a unique portfolio of products, and combining this with expert customer service,ASD Lighting has illuminated a path of success for the past three decades, and looks set to continue on this road well into the future
ASD Lighting
Services: Designs and manufactures lighting products