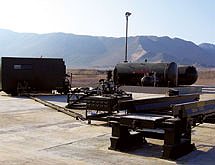 Just like the engines tested with its facilities and equipment, ASE Holdings delivers its services as the sum of its parts. ASE Holdings functions in three unified product lines – FluiDyne, AeroSystems and Celtech – which combine to serve as a one-stop shop for airframe and engine OEMs, maintenance companies, the domestic and foreign militaries, and research institutions that must test their engines under the most realistic conditions possible.
Through the years, President and CEO Tom Moll says ASE Holdings has become a trusted partner for aerospace manufacturers who rely on its capabilities to ensure the products they make meet the strictest quality standards of their clients. "We have an outstanding reputation throughout the world based on consistent performance, strong relationships and a focus on our customers," he says. Moll credits the company's employees for nearly 50 years of success in this arena.
"We are fortunate to be able to attract and retain talented people," Moll adds. "The average employee has over 15 years in this highly technical business, yet our growth has allowed us to shape a healthy mix of experience from entry level to 40-plus years at ASE. This assures we can efficiently meet our customer needs and manage continuity of knowledge for the future."
ASE Holdings was founded when Lars Broberg and a couple of coworkers left their employer to launch AeroSystems in 1967. They began creating test cells to test engines for large-body aircraft like the DC-10 and 747. Soon, the company moved into testing facilities and equipment for other types of engines.
In 1993, the company purchased FluiDyne, which offers aerodynamic testing solutions including wind tunnel design and related components. This company was founded as an aerodynamic research laboratory in 1952. That laboratory continues to serve organizations throughout the world that rely on its engineering.
ASE Holdings expanded its offerings again in 2007 when it acquired Celtech, an industry leader in delivering turbojet and turboprop mobile engine test systems for the military.
Above the Recession
Despite air travel decreasing during the recent recession, ASE Holdings managed to weather the storm. That's because aerospace manufacturers were planning for customers to return after the recession by maintaining existing products and developing new technologies that would launch when the economy returned to normal, according to ASE CFO and Secretary Steve Hedberg. "We weathered it because a lot of what we do is maintenance, or involves the future development in the aerospace industry," Hedberg says.
It also helps to maintain close relationships with some of the biggest customers in the aerospace industry such as Boeing, GE, Rolls-Royce and military clients in the United States and abroad. Hedberg says these relationships proved vital during the recession as both sides of these partnerships relied on one another.
"We've always valued our long-standing relationships with engine manufacturers, and we've been committed to strengthening those relationships in recent years," Hedberg adds. "As they grow and their technology evolves, we have adapted to fit their business needs – that has been our instrument of success."
The recession also prompted many manufacturers to improve on existing engine designs, especially with regard to fuel consumption. Vice President of Product Man­agement and Development Grant Radinzel says airlines' needs for fuel economy is being met with new engines.
"Engine manufacturers spent quite a bit of time the last several years developing more efficient engines, which was beneficial for our business because it resulted in new testing," Radinzel says.
As a result of all these factors, Moll says ASE Holdings revenues have nearly doubled in the past eight years.  "With our strong capabilities, history, and reputation, new market opportunities abound and continued stable growth is on track," he says.