Redefining furniture
Since 2005, Ashwood Designs Limited has been producing bespoke upholstered furniture in the picturesque Welsh valleys. Today, its talented and passionate team remain at the heart of a company with significant future growth potential
Both designers by profession and with extensive backgrounds in the UK's upholstery manufacturing space, Richard Smart and Stuart Youngs came together in 2005 to establish Aberdare, Wales-based Ashwood Designs Limited (Ashwood). Invited to join AIS – the UK's largest furniture buying group – in 2006, within five years of its founding the company had achieved a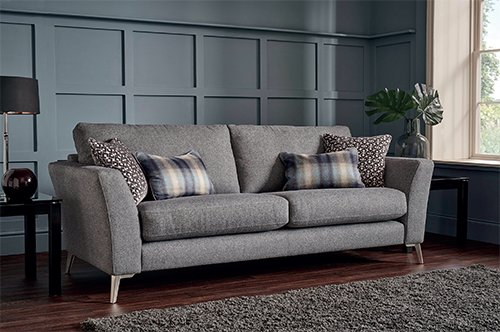 turnover of £10 million. Now, in 2021, Ashwood is well and truly among the leading UK furniture manufacturers, supplying market leading retailers as well as independent buying groups.
The company has very much been built upon an ethos of innovative design and using high quality materials, with its furniture combining technical prowess with a bespoke approach. "From the conception stage onwards, we constantly strive to come up with new and exciting products that incorporate the very best in both existing and new fabrics," Richard – Director and Co-Owner of the business – begins. "Whether it be our collections of loungers, twisters and swivel chairs, our Forever range of 100 percent recycled fabrics, or our revolutionary Aquaclean Technology that allows you to clean everyday stains using only water, at Ashwood we have been pioneering products since our first day in existence!"
While being a trusted UK manufacturer comes with a degree of in-built reputation for quality, Richard goes on to point out that carrying a strong level of innovative flair and creativity goes a long way when a company is effectively competing for market share against the rest of the world. "Since we introduced the likes of Forever and Aquaclean, others in the industry have subsequently come to market with their own sustainable fabrics or similar technologies," he notes. "What we continue to find, however, is that one of the first things that draws a customer's interest is the color or fabric of a piece of furniture. As such, it is more important than ever that Ashwood remains wholly in tune with current trends and fashions, and that we apply these to products that are reliable and offer value for money."
Ashwood's designs constantly evolve to reflect how people live today, whilst continuing to reflect the company's quality and craftsmanship. "One of the things that we are always looking to do with our products is reflect the choices and styles that the UK public like," fellow Director and Co-Owner Stuart adds. "For every customer who is drawn to more contemporary ranges, there will be those that are interested in the more traditional, classic options. So, in order to cater for all groups, and to match all manner of tastes, we have cultivated a diverse range of upholstery."
It is clear from the above, therefore, that innovation is a key word to use when explaining what makes Ashwood unique, but as Stuart goes on to state, there is much more to it than just that. "Guided by a truly high-quality product portfolio, we are always looking for opportunities to target new market sectors that we believe we can bring good value to. We then combine this with a fantastic, highly-skilled workforce, who we continue to invest heavily in via advanced training and development, and equipping them with the latest in CNC and cutting technologies."
Product showcases
The company has similarly made it an area of considerable importance to maintain strong, mutually beneficial relationships with its suppliers. "A high percentage of those businesses that make up our supply chain today have been partners of ours for a considerable length of time," Richard says. "As a rule, we work with people that we can trust, after all with each Ashwood product we sell, we are at the same time selling our reputation, so it is imperative that we have complete confidence in every party involved. On the flip side of the coin, our relationships allow our suppliers to bring forward innovation to us, which we can potentially make greater use of, so it is very much about creating a two-way street between us and them."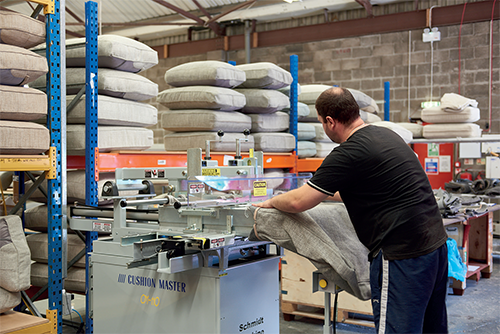 Since the turn of 2020, Ashwood's business – like every other – has at least in some part been impacted by the Covid-19 pandemic. Initially shutting down virtually all of its operations at the onset of the first UK lockdown in March 2020, production activity recommenced in May 2020 in line with a number of its key retail partners taking deliveries. "We were fortunate that even prior to the pandemic we boasted a very safe working environment in which our people carry out their jobs," Richard details. "Once we were able to bring our people back onto site, we did so in a gradual manner, building back up to full capacity over a period of time so as to allow everyone to maintain a safe distance. That, alongside with readily available PPE, helped to create an environment where everyone felt safe to be in."
Stuart also says: "The new working practices that we initiated in the wake of Covid-19 became the norm very quickly indeed, and have been accepted and embraced by everyone at Ashwood. In the time since reopening, we have gone on to experience a boom in business, with terrific order volumes right across our customer base, to the point where we have needed to increase capacity. We have in fact increased our production space by over 50 percent, to 80,000-square feet, including investing in a state-of-the-art woodmill, which sits within a new, additional, 20,000-square foot facility."
Ashwood's ability to "roll with the punches", as Stuart puts it, is clear to see, and having emerged from what is – hopefully – the worse of the Covid-19 crisis, its sights are now set on the months and years ahead. September brings it the seasonal exhibition calendar, starting with the Associate Independent Stores (AIS) Home show, before heading into Longpoint (The Long Eaton Guild of Furniture Manufacturers' bi-annual trade show), and then the Autumn Furniture Show at Stoneleigh Park, Warwick, in October 2021. It is across these events – and others – that Ashwood will be showcasing its latest products, observing the launches of its peers, and networking in order to get its name further out there.
Growth potential
"Beyond this, we are looking forward to things like increasing our exposure to the leather upholstery arena, by unveiling a new leather recliner product, as well as introducing additional new fabrics and models to our retail buying group partners," Richard enthuses. "We are actively looking to grow company turnover over the next three years. To make this a reality, we are pursuing an aggressive strategy of engaging with potential new clients and group accounts. We feel passionately that we can do a lot more here, and having increased our manufacturing space we have every intention of keeping that full, with the potential to re-site our cutting and sewing operations allowing us to plan for even higher levels of demand."
The last word is left to Stuart, who reinforces the above message. "We feel that there is a real opportunity to grow market share, on the back of which we believe we can increase production here at our facilities, as well as our design and sales functions. We also want to tap into more internet-based business, which will only become a more important area in the years to come. So, there are a lot of avenues for growth for Ashwood, and we will be doing our best to capitalize upon all of them."
Ashwood Designs Limited
www.ashwood-designs.co.uk
Products: Bespoke upholstered furniture