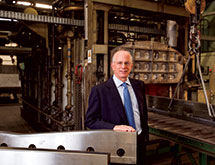 Asko produces a wide range of specialty wear-resistant tooling for the metal producing, metal processing and metal recycling industries. The company combines expert understanding of special tool materials, technology and tooling application requirements to create innovative solutions for shearing, slitting, side trimmer and wear liner needs. Its products are at work at thousands of metal-related companies around the world.
The company's expertise has been developing since its founding in 1933 through working with mills, processors, recyclers and manufacturers to understand what kind of products and services they need and what tool attributes work best for their applications.
"We make high-performing tools, and we adapt products to the evolving needs of the metal industry," President and CEO Bill Rackoff says. "We work with customers who partner with us to develop successful solutions that will give them the lowest total cost of tool ownership."
Sea Change
The metal production industry has gone through major changes in the last several decades, with the focus of production and consumption moving to Asia, primarily China and to a lesser degree, India. Steel is the basic raw material used in industry and construction, and its use reflects economic and infrastructure development. About 35 percent of Asko's revenue is generated overseas. The company ships to 55 countries.
"The growth rate in foreign markets is very high, and we are adapting to the globalization trend and following opportunities," Rackoff says.
In addition to its headquarters in suburban Pittsburgh, a plant in South Carolina and another facility in Illinois, Asko also has facilities in the Netherlands and Mexico.
Because of growing need and more demanding requirements for weight reduction to drive energy savings, stronger alloys continue to be developed by the industry. In fact, many of today's steel grades were not available even a decade ago. In turn, tools to cut them need to be improved as well – and Asko is among the innovators driving that development. "Asko is continually investing in the latest tooling technology and has a strong commitment to research and development," Rackoff says. "The new, advanced high strength steels look the same, but the properties are very different and they require totally different equipment and tools for cutting them."
Customer Focus
The metal production industry includes such heavyweights as Nucor, U.S. Steel and Steel Dynamics – all three of which are customers of Asko. Major metal fabricators and service companies include Reliance Steel and Aluminum, Steel Technologies, Heidtman Steel, Maverick Tube and Boomerang Tube – also all customers of Asko. In fact, Asko's client base is extremely diversified among thousands of customers, with no single account generating more than 5 percent of total sales.
Because metal is a price-sensitive commodity, the profitability of metal producers depends on efficiency. Economies of scale help drive down costs, so many large producers of fabricated metal products buy metal from large producers.
Asko serves the operators of the downstream metal production processes. Major products that emerge from downstream operations include bars, plates, rods, sheets, strips, wire, pipes and tubes. Demand for fabricated metal comes largely from manufacturers of durable goods such as automotive vehicles, machinery, containers and construction steel.
"Most of our growth has been organic," Rackoff says, "and we plan to stay focused on organic growth, taking existing products and adapting them to customers' needs."
Many of Asko's suppliers work with Asko exclusively. "We don't own each other, but many of our arrangements are proprietary because it creates competitive advantages," Rackoff says. "We like to work together to develop our tech know-how, and we don't want it to become available to competitors."
Asko maintains tight, collaborative relationships with customers, as well. "The process that we go through with customers, to really serve their individual needs, is to gather information upfront, define application requirements, identify materials and specifications, find out the requirements needed for their downstream process and what they consider to be the drivers of cost of ownership of this tooling," Rackoff says.
"We use our know-how and deep understanding of raw materials and their properties, and we select correct materials and heat-treat them to get the desired qualities," he adds. "We have the technology to convert those materials to obtain the physical properties required for the application. We also have the application knowledge on how to use the tools to the greatest advantage, as well as how to maintain and recondition tools to get maximum use out of them."