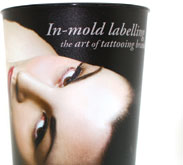 Aspasie Inc. was founded in 1971 by Maxim Gelinas' parents, Gaston and Nicole Gelinas, who built the company from a small concern into one with more than 200 employees, three locations and nearly $30 million in annual sales today. In recent years, the founders relinquished day-to-day control of the company to their three sons, Maxim, David and Antoine Gelinas.
"The vision of Gaston and Nicole, which created a manufacturing business supplying products to the personal care and beauty industries, has grown significantly, and its many global clients are well-known, multinational companies," Maxim Gelinas says. The personal care and beauty market is all about the individual image of people and the image and reputation of the world's international suppliers of these products.
Its 40 years of experience and continued honing of its core competences has allowed Aspasie to start supplying intricate highly decorated labels to the injection molding industry.
Aspasie's customers are international manufacturers of food products who require the same high quality imagines on their decorated food packages using the in-mold labeling (IML) process as the personal care customers that Aspasie serves.
Aspasie's story is one of consistent evolution, and the company's willingness to identify and embrace new technologies has kept it at the forefront of the industry. Gelinas says that as long as the company maintains its focus on continuous improvement, it should remain at the top of its game for decades to come.
New Developments
Gelinas says the company's manufacturing capabilities have developed as a natural outgrowth from its desire to help its customers succeed.
"With the growth of this business, Aspasie developed many manufacturing skills in new technologies, including in-house printing, hot stamping, silkscreen printing," he says.
"The IML labels are manufactured to very high standards and tolerances," Gelinas explains. "High-quality labels are mandatory for customers' production efficiencies."
Gelinas says Aspasie offers its IML customers in-house graphic design, technical design support, sample production runs for trials and field technical support. For the company, such attention to detail isn't just a bonus for customers – it's essential. "The customers in all markets require high-quality products manufactured to intricate standards," he says. This expansion of the products is an extension of the Aspasie's core competencies.
Green Initiatives
Although serving its customers ultimately comes first, Aspasie says it also recognizes the responsibility it has to the environment. The company's green initiatives span its entire operations. "We have implemented aggressive targets to improve environmental performance both for operations and product lifecycle," the company says.
The company's green efforts include the use of eco-friendly materials like low-VOC inks, water-based glues and recycled fiber paper. Also included are more active practices such as recycling waste, lowering water consumption and closed circuit power for its equipment. Because the company's manufacturing operations are fully integrated, Aspasie also reduces transport for its products.
"Aspasie has a 100 percent commitment to the environment, both within its own manufacturing processes and in the design of its products that are shipped to the market," Gelinas explains.
Moving Ahead
Just as continuous improvement carried Aspasie to its current position of strength in the marketplace, Gelinas says it will continue to be the foundation of what makes the company great. He says the company's employee development program focuses on improving the skills of all staff members, and says its training program for new employees is particularly strong.
The company's sales and marketing teams also work diligently with customers to understand their product requirements. Gelinas says Aspasie's employees work closely with customers to develop new products and analyze market trends.