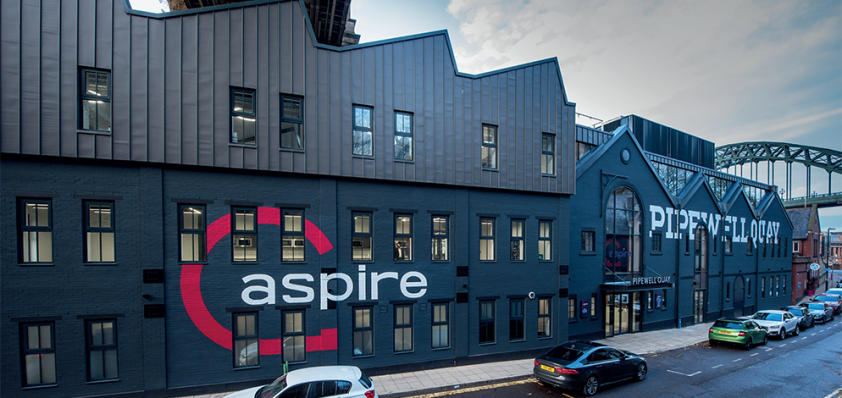 Aspire Technology Solutions
Delivering technology like no other
Dedication to customer service and aspirational thinking ensures the ongoing success of Aspire Technology Solutions; as it continues to grow and innovate, the company launches new hybrid cloud software, and extends its internet services in the public sector
As an award-winning IT managed service provider and internet service provider (ISP), Aspire Technology Solutions delivers leading technology solutions across a range of applications, including cloud, connectivity, technical support, cyber security and professional services. The company already has a large network of customers across the UK, and has seen significant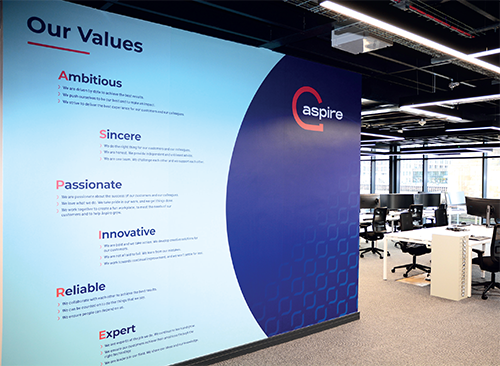 growth, as it assisted with the switch to working from home in 2020. Today, Aspire steps up its operations with a brand-new headquarters, and ambitious plans for the year ahead.
"The business was launched as a two-man operation back in 2006, by me and Nigel Begg," reveals Managing Director, Chris Fraser. "Over the last 15 years, we have gone from strength-to-strength, and we are now one of the fastest-growing IT companies in the UK, employing around 200 people across multiple offices," he adds.
Known for its dedication to each and every customer, Aspire ensures its services are second to none, through strategic investment and forward thinking. "One of the key drivers of our growth has been our multi-million-pound investment in a full fibre North East network, known as UDC (Ultrafast Dedicated Connectivity).
"UDC is a next generation leased line connectivity solution with dedicated bandwidth levels of up to 100 gigabits per second. We offer some of the fastest connectivity speeds available in the UK, combined with extremely low latency. We have also invested heavily in our cloud platform, a unique offering which bridges the gap between public and private cloud by offering a self-service, resilient and always available cloud hosting platform," discusses Chris.
Aspire's efficient use of the most cutting-edge technologies has won it a large and diverse customer base, as Chris details: "Our customer base ranges from SMEs and public sector to blue-chip organizations with global presence. We provide services across multiple industries, with a track record of implementing solutions for manufacturers and production companies. We support over 1500 customers, ranging from tens to thousands of end users."
Exponential growth
The company's dedication to its core values ensures it can deliver the best for its customers. "A motto everyone at Aspire has always lived by is to treat each customer as if they are our only one. What sets us apart from our competitors is our customer service; this is supported by our dedicated Service Management Team and underpinned by our focus on quality and compliance.
"We measure our performance using the Net Promoter Score (NPS) global measure. Our score averages above 82, which is deemed 'world-class', and is more than double the average score for the telecommunications industry," Chris asserts.
Also contributing to Aspire's rapid growth and success is its company culture, built on the foundation of six core values, as Chris confirms: "Our core themes are ambition, sincerity, passion, innovation, reliability, and expertise. These values are woven through everything we do, and ensure that our customer's experience is unparalleled."
Remaining dedicated to these values has helped Aspire Technology not only survive Covid-19, but thrive, as it offered innovative solutions for many companies transitioning to a work-from-home model. "We have also built a high-capacity network connecting Tyneside, Tees Valley and Yorkshire. Our network offers some of the best connection speeds across the UK, and has helped manufacturing customers to take full advantage of the remote working capabilities of Industry 4.0," Chris explains.
"We will continue to expand by bringing new locations into our network to ensure that all businesses have access to fast and reliable connectivity. Our company vision is to 'deliver technology like no other' and ensuring businesses have fast, reliable access to the internet is the cornerstone of that promise. In recognition of our UDC network, and other achievements, we won 'Company of the Year' at the North East Business Awards, 2020," he continues.
Working closely with a range of customers in the manufacturing sector has inspired Aspire to innovate further in this field, as Chris explains: "At Aspire, we have a large number of customers within the manufacturing sector, including Tolent, Hitachi, and the Hain Daniels Group which is home to brands including Linda McCartney's, Hartley's, and Robertson's. We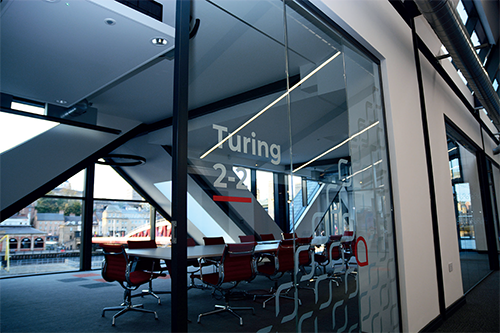 have extensive experience across both process and discrete manufacturing, and we understand what technology means for these businesses.
"Cloud services are transforming modern manufacturing. From enabling smart technology to facilitating innovation in the fields of industrial robots and artificial intelligence – the combination of our cloud platform and connectivity solutions is the enabler to digital transformation."
Expanding its services within the public sector, Aspire has teamed up with Newcastle County Council. "In February 2021, we were appointed to roll out full fibre connectivity across hundreds of public sector sites throughout the region," says Chris.
"As part of the multi-million-pound project, we will significantly grow our existing UDC network. The project will see vital public sector sites including hospitals, schools and government buildings benefiting from full fibre 100 gigabit connectivity. This is an important move, which will future-proof public services, and enable the adoption of new technologies that will improve how services are delivered for local residents.
"The full fibre initiative is supported by the government's Local Full Fibre Network program. Aspire have been awarded a 20-year contract to install the network by 2022 and provide ongoing support. Newcastle City Council will benefit from access to our in-house 24/7 IT support and service desk to ensure maximum productivity. We are particularly proud of this project, as it is set to deliver millions in local economic benefits," he adds.
With further expansion into the public sector, as well as innovations in manufacturing, it comes as no surprise that Aspire has seen exponential growth, and as a result, found a new home for its central operations. "As a result of further expansion plans, our new HQ is based at the 30,000sqft Pipewell Quay building, in Gateshead Quays," confirms Chris.
"Pipewell Quay was designed by award-winning Newcastle-based architects Ryder, and has undergone significant redevelopment by Adderstone Group. The building, which spans three floors, incorporates state of the art office space, break-out zones and meeting rooms.
"As innovation is integral to Aspire, all meeting rooms are named after influential innovators, including top floor meeting rooms titled Berners-Lee, named after the worldwide web tech inventor Tim Berners-Lee, and Turing, named after the brilliant codebreaker and mathematician Alan Turing.
"Our new office is perfectly geared to help us expand our nationwide operations and increase our 200-strong workforce in the process. As part of growth projections, we have plans to create over 150 new jobs," he elaborates.
Extended services
The new office space will be the perfect home for Aspire as it continues on its journey of expertise and innovation. As Chris comments: "In the coming months we will significantly expand our cyber security offerings. This new suite of products will bring together elements of the Aspire product range, with new pieces of software and solutions to provide customers greater peace of mind and responsiveness with regards to this growing threat.
"We will invest further in combating cyber threats with a Security Operations Centre (SOC), which can monitor customer networks for malicious traffic and cyber-attacks, whilst also identifying vulnerabilities. This will allow us to respond quickly to these challenges on behalf of our customers."
The company will also be offering extended cloud services: "We have invested heavily in our hybrid cloud platform. Partnering with industry leaders VMware, we offer a best-in-class solution that allows us to deploy the very latest cloud technologies. Running on an Active-Active configuration, the platform continues to function even in the event of a hardware failure.
"By partnering with Stellium, our cloud platform will be backed up by the UK's largest purpose-built data centre, with tier three technology that is moving the data centre of gravity out of London. Customers will benefit from this facility, ensuring low latency and connectivity levels unrivalled by any other location in the UK," Chris affirms.
As it looks forward to a bright future, Aspire shows no signs of slowing down. "Aspire has gone from strength to strength during the past year. We have continued to grow despite the pandemic – adding over 70 new colleagues this year alone.
"This is an exciting time for us, with high customer retention rates and rapid growth enabling us to invest heavily in technology for the manufacturing industry, we expect to fuel further growth. A huge thanks is owed to everyone who has helped us on our journey. Our success wouldn't have been possible without a great group of colleagues, customers and partners," Chris concludes.
Aspire Technology Solutions
www.aspirets.com
Services: Internet service provider and IT managed services