Assembled Products – A Division of Jason Inc
Assembled Products (AP) doesn't see itself as a product-driven company. The Buffalo Grove, Ill.-based company's focus is on engineered solutions – working with customers during product development to reduce costs and maximize the manufacturability of their components and assemblies.
AP engineers will look at a customer's product design and the number of components in the product, and work to redesign it using fewer components. AP's assembly lines are automated to tailor to the needs of each individual product it produces for clients, says Steve Carollo, vice president and general manager.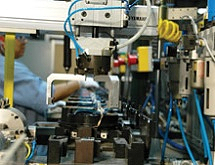 AP also operates a facility in Shanghai, China, and has a sister company, Metalex, in Libertyville, Ill. Both companies make up the Jason Components Group owned by Jason Inc., a major manufacturer that operates more than 40 facilities worldwide. Jason Inc.'s reach provides AP additional resources and investments to enhance manufacturing capabilities available to its customers, Carollo says.
AP produces mechanical assembles for the small gas engine, electrical, automotive and industrial markets. These include producing rope starters for small gas engines such as those found on lawn mowers, as well as fabricated filter tubes, wire forms and stamped assemblies. Recently, the company has worked on developing products for the emerging smart meter industry.
"Our focus is on providing value at the most effective delivered costs possible, this process begins with our engineering department," says Joel Kaslewicz, director of sales and marketing and a degreed engineer.
Assuring Quality
After the design phase, AP works with customers using advance product quality planning (APQP) and pre-production approval process (PPAP) to ensure the effectiveness of the product design. The company also uses the kaizen approach to continually improve process.
Carollo believes strongly in the lean manufacturing philosophy. "Lean manufacturing now is critical for survival in the economy; we need to continually look for better ways to manufacture any item," he says. "Lean is really a way of life now and no longer optional."
AP's manufacturing capabilities include large punch presses capable of using state-of-the-art electronic die monitoring, which uses little manual labor. The company's automated operations include spot welding, riveting, hardware insertion, bowl feeding, toxing, clinching, electrical verification, mechanical testing, dimensional auditing and product cycle testing.
AP provides manufacturing services including stamping, wire forming, die casting, plating, heat-treating, painting, polishing and welding, with focus on assembly.
Quality is assured during production through the use of inline checks. AP is certified ISO 9001:2008 and expects to be ISO 14001 certified by July, supporting its philosophy to eliminate waste. "Many of the products we provide are safety related and quality becomes extremely critical. We do quality checks on every product and automate wherever possible," Carollo says.
Serving as a resource
The company has been able to thrive during the recession by offering extensive services to businesses that may be operating with reduced resources and looking for engineering assistance.
"We are a low-cost option for companies that don't want to go to `low-cost countries' with their manufacturing; we can compete and offer an alternative," Carollo says.
"We treat our suppliers as partners to us," Carollo adds. "We know to be successful, we have to have good suppliers, the same way we are good suppliers to our customers."
Companies with limited resources of their own turn to AP to take advantage of its engineering staff and other capacities, Kaslewicz says. "[Clients] look to us as an extension of their own manufacturing," he adds.
One recent success for AP was its work with Landis+Gyr, a worldwide leader in energy management with more than 25 years experience in the meter industry and a leader of smart meter technology. Dan Majewski, Landis+Gyr's director of procurement, says the company originally contracted AP to stamp metal parts to be used in the base of its smart meters.
Once Landis+Gyr assessed the costs of transporting and shipping those parts and realized the potential cost disadvantages of shipping all the parts in specialized packaging, AP helped the company put more than 30 components together into a single assembly that was easier to produce and ship.
"Having AP coordinate and put it together saved us from an assembly time perspective and shipping and handling costs," Majewski says. "We worked together [with AP] to come up with savings and how to do things more cost-effectively and efficiently."
?