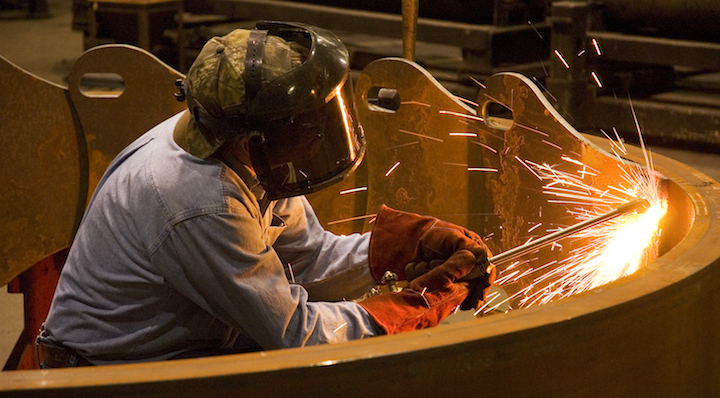 Since 1972, Astec Inc. has designed and manufactured continuous and batch-process hot-mix asphalt facilities and soil remediation equipment, becoming a market leader in the industry through its focus on customers. The company holds 53 U.S. and 20 foreign patents for its products and produces everything in its 440,000-square-foot manufacturing facility in Chattanooga, Tenn.
"We are known for our service," Vice President Manufacturing Michael Swanson says. "We're often not the low-price provider but our equipment is high quality and our service cannot be matched by anyone else in the industry."
Astec's service department offers its customers support 24/7. The service department is available for support from early morning start-ups to late nights, whether it is by phone or on site. Astec service technicians are knowledgeable, skilled and dedicated to providing exceptional service with the goal of maintaining a customer for life. The company says its combined experience in plant service, control service and burner service is unrivaled.
Additionally, Astec employs 29 field technicians – six of which travel internationally – to provide constant service and support. "Many companies talk about customer service, but no other company cares for its customers like Astec," Swanson says.
For the first eight weeks of every year, Astec hosts its customers in weeklong training classes at the company's headquarters with its top technicians and engineers called Astec Advanced Customer Schools. Through a combination of lectures and hands-on simulation, the goal for the course is for customers to learn the ins and outs of their equipment and cut down the need for service calls. Customers pay to attend, but Swanson says when it becomes available, it sells out immediately.
"It's invaluable from a customer-relationship, feedback and development point of view," he adds. "We find out what they like, what they don't like, how they want to see products develop and more. That's where we get some great ideas. It's a huge opportunity and we all realize it."
Increasing Efficiency
Astec mainly serves customers in the infrastructure industry, especially road builders and contractors that need asphalt production equipment. The first line of products is the asphalt plant and related equipment, which makes the hot mix asphalt that goes on the road. This constitutes the largest part of our business.
Another big part is relatively new, as the company recently delved into the wood pellet industry. Wood pellets are used for biomass energy primarily in European utilities, which are under regulations requiring them to use 20 percent renewable fuel by 2020. There is also some use in residential home heating in the northeast United States and Canada. Astec makes the equipment that turns the wood into pellet form. Many companies are transitioning away from coal, and wood biomass is a renewable energy form.
"The wood pellet plant in itself is a new product, so you have all the development that goes into new products," Swanson explains. "On the manufacturing side, we have undergone tremendous growth in the last 12 to 18 months. Something like a 60 to 70 percent increase in manufacturing capacity at that time. On the asphalt side, there's continual development on the design side, which gives manufacturing something to have a little fun with. We're changing products but that can bring some challenges as well."
Astec is building a 25,000-square-foot manufacturing bay to hold some of the new wood pellet manufacturing equipment. The $5 million expansion represents about a 10 to 12 percent increase in capacity for the company. The bay expansion should come online in October or November, and Astec already has a lot of work scheduled for it when it's ready.
"Some of the wood pellet equipment is really big and heavy and we needed capacity to handle that correctly," Swanson notes. "Across the board, there are many little initiatives [and] the mass of them together is projected to take our productivity up by about 30 to 40 percent, which will happen over the next four to five years. It won't be by adding floor space; it'll be productivity increases. Some of these other innovations may be difficult at first, but will all be beneficial both to the company and the individuals as we go. It'll be a better place for everyone."
Astec is always looking for better, faster more efficient ways to manufacture its products. It doesn't operate on assembly lines, so it never needs to shut down when a custom order needs filling, especially one that is very unique. Customers can customize a considerable amount of the product with Astec's guidance and just a few limitations. Swanson says it'd be easier to make everything uniform, but then the company wouldn't sell anything – customization is its bread and butter.
"We'll guide them towards things that make sense," he says. "Everything that comes down from engineering is subject to being slightly different than the thing before it. I know that from having been on the engineering side for a long time. That's our normal business model. Generally, we just roll with it and expect it as part of our culture and business."
Astec hopes to implement robotics in its manufacturing facilities to do even more product customization, while also increasing productivity, repeatability and the quality of the product. "Adding robotics doesn't mean that we need fewer people, it means we can do more with the people and manufacturing space we have," Swanson adds. "We're also planning on upgrading some equipment for faster, higher quality, production along with a little bit of reorganization to managing products.
"We strive for a just-in-time sort of philosophy. We're continually looking to push down inventory levels and keep them as low as possible while still being able to build equipment on time and service customers' needs."
Core Values
Astec's employees and management do their jobs every day on the foundation of a set of core values. These values are held in high regard and inform daily decisions, actions and how every member of the company treats each other and its customers. The values are:
* Continuous devotion to meeting the needs of customers;
* Honesty and integrity in all aspects of business;
* Respect for all individuals;
* Preserving an entrepreneurial spirit, innovation and focus through decentralization; and
* Safety, profit and growth as a means to ensure success
"That really is the culture, especially the first two," Swanson says. "We won't walk away from a customer in need.  And we will do the right thing, every time, no matter what."
Astec employs a lot of families, where one member came to work and another family member followed in their footsteps. Swanson says it really creates a sense of teamwork and a place for people to spend their entire career. "We've really built a great a company," he says. "With how we innovate and how reactive we are, not many companies our size can react as quickly as we do for a new product or innovation for the industry. That's a testament to our people."