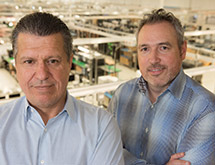 In today's climate, major electronic manufacturing services companies are often categorized like a wedding cake with several tier's defining the size and scale of the company. Asteelflash prefers to associate its identity not on size or revenue, but on its core strengths and capabilities on a global footprint. The company's core values and capabilities are geared towards supporting high complexity industry segments across a broad range of product volume, and not those such as the mass-market, extreme high volume consumer products such as cell phones, tablets, and personal computers.
Asteelflash focuses its efforts and value propositions to support industry segments such as aerospace, industrial, automotive, telecommunications, energy management, military and defense as well as medical. It has taken years for these markets to widely adopt outsourcing of their manufacturing. "Today," says Albert Yanez Sr., president of Americas and corporate executive vice president, "outsourcing has become a significant trend and offers tremendous opportunities for Asteelflash." These customers have a tremendous footprint locally in the United States and, given the size and complexity of their products and devices, there is still a strong desire to outsource and manufacture in North America in close proximity to their headquarters and R&D resources. This desire fits perfectly with Asteelflash's America's locations in California's Silicon Valley and Raleigh, N.C. "In addition," Yanez Sr. says, "the company is able to sustain highly skilled manufacturing jobs in the United States."
It is through that local manufacturing focus that Asteelflash builds an advantage over its competitors. The company has 19 production facilities across Europe, Asia, Africa and North America, including locations in Fremont, Calif., Raleigh, N.C., and Tijuana, Mexico. Asteelflash's global footprint is a key strength and differentiator not generally found with a company its size, but more often associated with large Tier I EMS consumer product oriented companies. Having the ability to nurture clients' product concepts from inception to complete deployment of manufacturing in a multi-regional business model is the ultimate journey and partnership, according to Vice President of Business Development Craig Young. Asteelflash customers take full advantage of the most common working model, which is to develop, qualify and introduce clients' products locally in U.S. facilities with a seamless transfer to one of Asteelflash's low-cost geography locations when the product is stable and mature. With a common and standard approach to equipment and processes, Young says this is a repeatable, scalable model and can occur within an aggressive time line depending on the customer's needs and once again emphasizes the importance of "local but global" service offering.
"We have had a long and solid relationship here in the heart of Silicon Valley with Asteelflash, who have worked with us on a new product introduction and supported us with volume manufacturing," says Bill Jamaca, vice president of operations of Imagine Communications, a global leader in video infrastructure, advertising systems and workflow management solutions that serve media networks. "Having a local partner that understands the demands of high-tech companies and can demonstrate flexibility in our fast-moving video content delivery environment is critical to our needs and is what makes Asteelflash Fremont stand out from the competition."
Asteelflash Group was created in February 2008 after Asteel, an EMS company based in the suburbs of Paris founded by Gilles Benhamou, CEO of Asteelflash Group, acquired Flash Electronics, a leading American EMS company founded in 1994.
Broad Capabilities
The company offers services that touch on every phase of bringing a product to market, from development to prototyping, manufacturing and postproduction support. Globally, Asteelflash's sales comes from industrial clients, such as makers of automation components, point-of-sale systems, GPS tracking and security devices. Other significant segments include energy management, data processing, lighting, power supplies, smart meters, solar electronics, broadband equipment and set-top boxes. Asteelflash facilities also produce data recorders for the railroad industry, infotainment systems for automobiles, surveillance monitoring and flight simulation systems for the defense and aerospace industries and glucometers for the medical industry. If it's a part of the commercial and digital livelihood, there is a good chance Asteelflash had a hand in it.
"Working with Asteelfash as our global manufacturing and distribution partner of both our PayShield and nShield product lines allows Thales to deliver world class levels of performance and customer satisfaction," says Mark Goodson, director of supply chain for Thales e-Security Worldwide, a global provider of data protection solutions.
To provide quality service to such a diverse group of clients, each Asteelflash facility has obtained a number of manufacturing certifications, including ISO 9000, ISO 14001, AS 9100 for aerospace, TL 9000 for telecom, ISO TS 16949 for automotive and ISO 13485 for medical. The three North American facilities offer additional advantages for Asteelflash customers. The Fremont location has approximately 200,000 square feet of manufacturing floor space with multiple surface-mount technology lines. It sits in the heart of Silicon Valley and is located 34 miles from San Francisco International Airport, 10 miles from San Jose International Airport and 21 miles from Oakland International Airport. The Silicon Valley site has a broad customer mix including transportation and data processing. In fact, this site has been the strong foothold for several years in servicing the industry leaders in the rapidly growing electric vehicle market. Capabilities include design for manufacturability (DFM), printed circuit board assembly with SMT, Selective Solder, AOI, X-ray, PTH, Flying Probe, ICT, FCT, IPC class 2&3, final system integration, burn in testing, reliability & environmental testing, press fit solutions and automated conformal coating. Additionally, they also provide CTO, BTO, repair and refurbishment and complete fulfillment, including reverse logistics.
Asteelflash Raleigh is situated in North Carolina's High Tech Research Triangle district and is only 1.5 miles from Raleigh Durham International airport. At just under 90,000 square feet, the facility offers a wide range of capabilities similar to Fremont, including PCBA and system integration, press fit solutions, four-wave soldering/selective wave, stencil design and HALT/HASS environmental chambers. Asteelflash's Raleigh location is also ITAR certified (International Traffic in Arms Regulations), which allows it to manufacture products used in military and defense applications.
The Asteelflash site in Tijuana, Mexico is conveniently located less than 25 miles from San Diego International airport and only 2 miles from the U.S. and Mexico border. This site caters to customers across a variety of industry segments. Situated in a trade free industrial zone, customers with headquarters in southern California take advantage of the proximity, low cost and ease of doing business with Asteelflash Mexico. Like the other facilities, it offers surface-mount technology SMT, PTH, selective wave soldering,, AOI, X-ray, ICT, FCT, box build, conformal coating and cable assembly. This location is one of only a few ITAR certified and approved manufacturing facilities in Mexico.
All these sites are capable and qualified to meet the production needs for a variety of companies and industries. "By design, each site is fully equipped, capable and certified to support all customers across every industry segment," Young says. "It's been a long standing strategic initiative to diversify and prevent over-reliance on any one market at any given time. This, of course, allows true flexibility as well as scalability to meet the peeks and troughs of the ever demanding EMS world," Young explains.
Still, the regional concentration of certain industries means that some Asteelflash facilities will naturally form specializations and become centers of excellence to meet local customers' production and technology needs. Being able to provide the best support through experience and value-engineering services requires expert knowledge and talented individuals cohesively working as one team. "It's about developing the proper pool of expertise in a single region that is easily leveraged and transferrable from site-to-site when required. This optimizes our efficiencies at the same time exceeding our customers requirements," Yanez Sr. says.
Serving Clients
"Asteelflash customers range from the top industry leaders to up and coming technology driven product category game changers," Young says. The majority of Asteelflash's clients have been with the company beyond eight to 10 years – a trend Young wants to see continue. "We are looking for long term partnerships with clear mutual benefits for each party," he says. "It's not just about the capabilities and service, it's equally important to develop relationships within all levels of our customers' organizations." These relationships often evolve into lasting friendships, Young adds. The customers that fit well with the Asteelflash family are those seeking design and manufacturing services for products across various volumes, high mix and complexity. Asteelflash Fremont in particular has a proven track record for choosing and working with selective startups over the years where Asteelflash has contributed to its clients' successes and growth. Many of these companies today have now been acquired by the giant original equipment manufacturers in their industry. "Flexibility, speed, nimble, initiative are all words often used by Asteelflash's clients – especially during the development and New Product Introduction phase of the manufacturing cycle," explains Suresh Chohan, vice president of program management and supply chain. Asteelflash has a flat organization from group-level down to the three regions of Europe, the Middle East and Africa, the Americas and Asia Pacific. This is unique in a company of Asteelflash's size but critical to succeed and to make quick informed decisions that ultimately benefit customers.
Beyond Just Manufacturing
Asteelflash offers a number of services aimed at making its customers successful. Through its joint venture and entity with Adetel, a leading global design services company with more than 600 design engineers worldwide, Asteelflash can fully support the early involvement of design and development from concept to reality. Another critical differentiator is Asteelflash's capacity to tap into the capabilities of electronic/electrical engineering, analog, digital, power electronics power supply, software and field-programmable gate array, electromechanical engineering CAD and industrialization, thermal analysis & robustness test and measurement engineering, mobile and embedded software and more.
For those clients who already have a sound mature design, Asteelflash can not only integrate the circuit board or electronics with mechanical components, but can help it to reach distributors or store shelves. In addition to its manufacturing capabilities, the company's Fremont & Raleigh facility also functions as a fulfillment service center bundling several components and configuring them as close to the end market as possible. From Fremont or Raleigh, Asteelflash can ship the finished products or bundles directly to distribution centers or the client's end-customers.
The company assures satisfaction for its customers through a corporate excellence system built on five key pillars: quality, human resources, lean manufacturing, technology/design and supply chain. Yanez Sr. says those standards are the backbone and foundation in all 19 of Asteelflash's facilities worldwide.
Although Asteelflash's strength is its local manufacturing services, the company understands that clients also have needs on a global scale. Through its North American facilities such as the Silicon Valley site, Asteelflash offers New Product Introduction (NPI) capabilities, a program that allows clients to develop, qualify, validate and stabilize before seamlessly transitioning to higher volume production at one of the company's low-cost locations such as Tunisa, North Africa, Pilzen, Czech Republic, Tijuana, Mexico or Suzhou, China. For example the Suzhou location has 14 surface-mount technology lines and seven plated-through-hole lines capable of producing 18.8 million placements each day.
The NPI environment offers a "safe launch" approach to a lower cost solution such as Asteelflash China, Young says. Because the Suzhou facility and all Asteelflash facilities use a common platform of equipment and processes, clients whose products have reached a critical mass in the market can move production from the local Asteelflash facility to one of the low cost locations such as China in a structured and timely manner. Further more, clients who adopt this working model shorten their learning curve and ultimately increase efficiency and productivity. Once the transition to the Suzhou facility is complete, the increased production capabilities allow clients to reach a global customer base while cutting manufacturing costs.
"Asteelflash is essentially an extension of our business," says Bruce Mobley, director of procurement for Anritsu, a Japanese company specializing in test and measurement equipment. "They deliver exceptional manufacturing services not only locally, but also in China. Utilizing their business model of FastTrack/NPI capability allows faster time to market of our products, increasing our competitive advantage."
New Markets
With technology constantly changing and new devices emerging nearly every week, Asteelflash is always seeking out new markets to serve. Given Asteelflash's relationships with automakers and the energy industry, the company is actively collaborating with its clients in the growth sector of electrical vehicles. The power sources derived from that technology will also converge with complementing customers in the energy storage space. This emerging technology and market is critical for many renewable energy resources; whether it is the conversion or storage of energy, the growth potential is enormous and Asteelflash is at the forefront of this manufacturing process.
One such client is Eguana Technologies, a Canadian company that designs intelligent power electronics for distributed smart grid and energy storage applications. To meet its rising production needs and the demand of the charge response market, Eguana this summer is transitioning manufacturing for the U.S. market to Asteelflash's Fremont facility.
"The partnership with Asteelflash will reduce our manufactured cost of the product in the two leading energy storage markets while at the same time allow our customers to participate in domestic manufacturing incentives for the Bi-Drex platform," Eguana COO Justin Holland says. "Asteelflash was the perfect-sized partner that provides a customer-focused local feel but global presence that aligns with our strategic growth initiatives."