A sign of things to come
Responsible for some of the most recognisable signage on the high street, Astley is continuously building upon its service offering in order to meet the demands of both new and long-standing clients
Sainsbury's, BP, The Co-operative, Hilton Hotels, Frankie & Benny's, SKY and JET. These are just some of the household names whose signage has become instantly recognisable amongst the general public. Whilst these companies exist in different spaces within the retail or commercial sectors, what they all have in common is the fact that they make up part of the customer portfolio of Astley, a creative, innovative, forward thinking signage and brand graphics company with decades of knowledge and experience under its belt.
From its manufacturing centre of excellence in Gateshead, a second production facility in Kettering, and its satellite offices and warehousing facilities in Leeds and Glasgow, Astley provides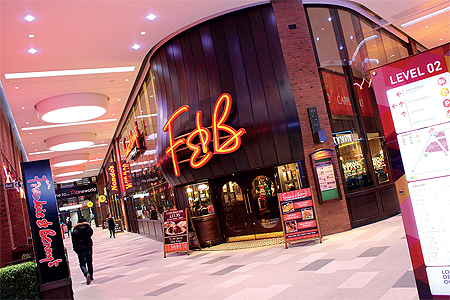 signage and brand graphics solutions to clients across the UK and Europe. Utilising industry leading manufacturing techniques, the company has the flexibility to adapt to the most difficult and intricate of projects. "What sets Astley apart, in my opinion, is its ability to offer a complete, end-to-end service that encompasses every stage of a project, from initial survey and design, through to final installation and ongoing maintenance," explains Managing Director, Gavin Redhead.
The company in its existing guise really began to gain traction around 30 years ago on the back of securing a sizable project with the then supermarket group Safeway. "Winning and delivering this contract was a big stepping stone for the business," Gavin continues. "The expertise we gained from this allowed us to go out to market and really show prospective clients what we could do, and that rather than being just a small sign company we were perfectly capable of delivering large roll-out programmes as well."
As Astley's relationship with Safeway developed, the company would become involved in projects for BP – which at the time had some joint venture sites with the supermarket – and later with the likes of Sainsbury's – who the company has served since 2003 – and other brands, the likes of which were mentioned at the top of this article. "Our reputation and track record in the years since has really been built on the back of repeat business with clients that have the utmost trust in us to deliver upon their expectations, and that has allowed us to build up a healthy portfolio of leisure, retail, financial and petroleum partners," Gavin enthuses.
When it comes to how it works, Astley has made every effort to ensure that it can manufacture virtually everything its clients require in house, with only specialist processes being subcontracted to a strong, local network of businesses. "We begin by taking the different raw materials that we require for a particular job and run them through our metal or steel shop, our assembly areas, our acrylic fabrication unit and our sanding bays, before being painted," Gavin details. "Upon their return, our assembly shop will put the signage together, our full vinyl and digital print facilities are put to work, and we can then install any illuminations ahead of sending the finished product out to be installed. By being able to do all of this in-house, we retain the highest degree of control over the quality of a project, and we have found that this gives our clients a lot of reassurance and confidence."
Astley has also led the way in the signage industry by being one of the first signage companies to attain the BS EN 1090 accreditation for steel fabrication. This ability to guarantee the safety of its product and stamp it with the CE Mark has proved crucial in being able to support its clients' reputation and has proven a valuable investment for the company.
In December 2016, Astley marked a significant moment in its recent history when it completed the acquisition of fellow sign manufacturer Sign of the Times. "Our interest in Sign of the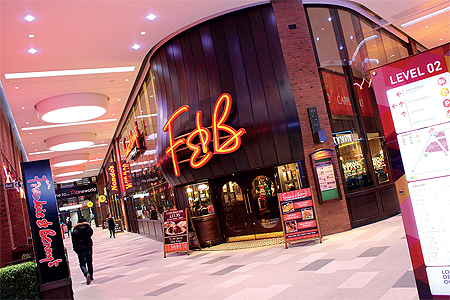 Times came about due to our own desire to expand our service offering," Gavin says. "In them, you have a business much more focused on the more bespoke, design and creative-led projects that we previously did not tend to approach. As such, bringing it into the Astley fold has enabled the combined company to offer every kind of branding solution to its clients."
The task in more recent months has been to increasing align Astley and Sign of the Times so as to deliver a cohesive approach across the company's manufacturing sites so that all of its clients – be they large or small – receive the same high levels of service going forward. This would culminate in an official rebranding of Sign of the Times as Astley at the beginning of April 2020, alongside a new brand identity for the whole company.
"One of the turning points in bringing the two businesses together was the appointment of our Kettering Operations Director, Neal McAllister," Gavin reveals. "He has helped drive things forward in terms of adopting shared processes and procedures, and in establishing a collective culture. These efforts have resulted in Sign of the Times' manufacturing operation in Kettering now being accredited to ISO:9001 and ISO:14001 standards, which is going to create even greater synergies between our various sites.
"The next phase of this integration that we are currently working on revolves more specifically around our people and our culture as a business. We want everyone that works under the Astley umbrella to feel that they belong and to be working from the same page going forward, and achieving this will give us a much stronger foundation upon which to grow. When we look back on the last three-plus years, we have already made hugely significant cultural changes, from becoming zero waste to landfill, to increasing employee engagement and developing our occupational health and wellbeing responsibilities, by working with the likes of the Mates in Mind charitable programme to promote positive mental health in the workplace."
By having a workforce that genuinely believes that Astley is the best place for them to be, Gavin believes the company is even better able to deliver the message to its clients that it wants to convey. "It is all about making clients aware of the added value that we can offer," he concludes. "For us, our work is about more than just making a sign, putting it in place and walking away. It is about forging lasting relationships that we want to nurture with clients that we hope to grow with in the future."#
Astley
Products: Innovative signage and brand graphics solutions