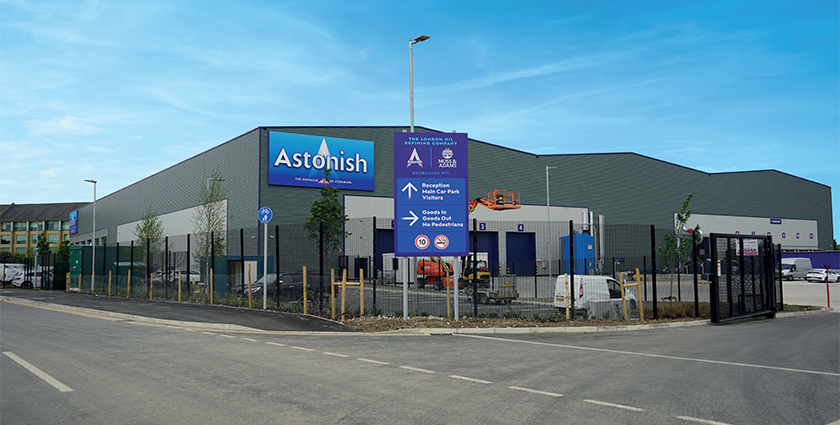 Always astonishing results
With a strong ethical code of practice, Astonish has already won the support of a dedicated UK customer base – now the cruelty free cleaning pioneer is looking to expand its export business following a high profile move to a staggering new facility
Astonish is a verb. It means to surprise or impress someone greatly. How fitting. As one of the UK's most preeminent manufacturers of cleaning products, Astonish is used to surprising and impressing people.
From humble beginnings, selling its original oven and cookware cleaner door-to-door, Astonish has since catapulted itself to the forefront of the household cleaning niche, distributing its products to more than 30 countries worldwide. Always best-in-class and delivering astonishing results, the UK-based manufacturer has garnered a strong reputation for its impressive performance-to-price ratio, maintaining high standards while keeping costs down to a minimum, across its vast range of ethical cleaning products.
When we last sat down with Howard Moss, Managing Director at Astonish, the pandemic had only just started to change the world as we once knew it. Now, speaking again with Manufacturing Today as the threat of Covid-19 begins to fade, Howard reflects on how the company, which was founded by his father some 50 years ago, has fared since we last spoke.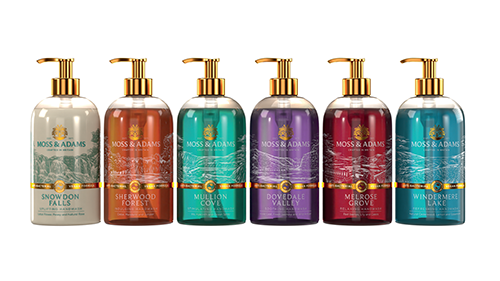 "The last two years have gone by in the blink of an eye," he begins. "However, we can also see that the business is demonstrably different in terms of its positioning, distribution, and depth of product in the marketplace. In short, we've been on a monumental journey. We saw record sales and profits during the financial year ending in 2021, with sales growing by 28 percent and profits doubling. The following financial year, which ended in May 2022, turnover increased by an additional six percent, and while profits shrank due to the external factors, including a deeply challenging supply chain, the fact that we've built on top of the extra business we gained at the start of the pandemic is really impressive.
"To manifest that growth, we had to adapt and evolve throughout the pandemic," he continues. "As things took a bad turn, we worked even more closely with our supply chain and procurement team. We're indebted to them; they supported us throughout the crisis and ensured that we were made a key priority. Fortunately, we didn't suffer as much as many of our competitors, especially in terms of packaging and the procurement of raw materials. That stands as a testament to the excellent suppliers we work with. But challenges do persist, and in all my 27 years of working, I can safely say I've never seen anything like the supply chain issues we're now experiencing. You can't even get a fixed quote for the day! However, unlike many other brands, we've never offloaded that financial burden onto the customer. Instead of hiking prices, we investigate how we can improve efficiency, taking costs out of the business without compromising our fantastic value for money proposal."
From general household cleaning products like disinfectant, floor cleaner, and grease lifter to more task-specific items like all-in-one dishwasher tablets, antibacterial handwash, and fabric stain remover, Astonish ensures that its customers have all the bases covered when it comes to cleaning – at a price everyone can get behind.
As Howard has pointed out, Astonish balances high quality and performance with very low consumer costs. However, amid the ensuing supply chain issues we have discussed, this must certainly prove a challenge to the company. "If I'm honest, ensuring the affordability of our products is incredibly hard at the moment," he reveals. "We're living in a world which is currently experiencing unprecedented increases to the costs of living. As a result, people will turn to Astonish and its products because they offer incredible value for money. We're always very confident that, once a customer switches to our brand, they will stay with us because of the unrivalled performance and affordability we have always stood for. When a company wants to lower costs, product performance can often be compromised. However, we will never compromise on the quality of our products. If we can't guarantee the best-in-class performance of a specific item, then you won't see it on the shelves."
Astonish is also known for its robust code of ethics, particularly its insistent refusal to test on animals and its commitment to achieving zero wastage throughout its entire manufacturing process. Indeed, today, the company remains the only UK-manufactured household cleaning brand to be certified by Cruelty Free International, the Vegetarian Society, and the Vegan Society. "We pioneered the ethics within this business," asserts Howard. "We've always been ahead of the curve; none of our products contain animal ingredients and we've never tested on animals. This isn't a new marketing spin we've suddenly come to the table with because it's on trend. These are well-established ethical codes that we've lived and operated by for decades, and that's something we're really proud of.
"We were manufacturing biodegradable products over 30 years ago," he adds. "We've a long history of saying no to materials that have an adverse effect on the environment – aerosols, corrosives, and toxic chemicals, for instance. In fact, just recently, we launched a new product: The Good One. As its name suggests, the multi-purpose cleaning paste is made from 100 percent naturally derived ingredients, and by harnessing the power of nature, it not only delivers high performance but also boasts an infinitely recyclable metal packaging. We're confident that this is a step forward for the industry. At Astonish, we're working incredibly hard to reduce our plastic content, especially in light of the new plastic tax laws that came into effect in April of this year. The Good One proves our commitment to eliminating plastic, and where we can't take out the plastic, we want to use 100 percent recycled versions of the same material."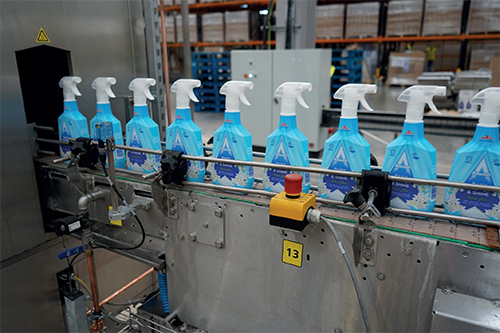 To stay ahead of the curve, Astonish recently invested £25 million in a staggering new production facility, increasing the company's manufacturing footprint from 52,000 square feet to a whopping 128,000 square feet. The bespoke, purpose-built premises will feature state-of-the-art technology, equipment, and processes to ensure the consistent and efficient delivery of high-quality cleaning products. Once more, Astonish has chosen West Yorkshire as the base of its operations – a place it has proudly called home since the company's inception.
"We're about to go live with the new site," Howard details. "The development started in November 2020. Though the actual building was completed late last year, for the past eight months we've been carrying out a complex and detailed factory fit out, and that's proved a challenge. For instance, many software and hardware parts have been delivered behind schedule, delaying the overall build, with a major supplier of our control panels going into administration at the beginning of the year. Naturally, we had to absorb quite a large deposit cost and start the process all over again. Yet, once complete, we've no doubt that the new site will be nothing short of magnificent.
"Across our seven production lines, three will be completely automated; everything, from filling and capping bottles to final packaging and palletization, will be controlled by automated processes," he elaborates. "However, we're not losing any personnel or making redundancies; skilled operatives are still integral, and consequently we're actually going to be increasing our staff by around ten percent, as we continue to develop our laboratory and research and development teams."
Along with its sister brand, Moss & Adams, Astonish was recently bestowed the prestigious Queen's Award for Enterprise in recognition of the sensational growth it has experienced across international markets over the last few years. Buoyed by 25 exclusive global partners, Astonish has demonstrated consistent, year-on-year growth in the UK and overseas, with exports increasing across markets such as Israel, Korea, and Pakistan.
"Winning the Queen's Award for Enterprise was a huge honor," reveals Howard. "It was magnificent not only for the company, but also for the international trade relations we aim to continue fostering. Currently, 75 percent of our business is conducted within the UK and 25 percent is through exports; however, over the next few years, we expect exports to grow significantly. Having previously prioritized our UK base due to Covid-19 and the restrictions it imposed upon businesses, we're really excited about the future.
"With our new manufacturing site, we can double our business," he concludes. "Turnover is currently just shy of £40 million, but within five years we genuinely believe that we can bring this figure up to £80 million. Our business is purely independent; we don't have any outside influences in terms of private equity or external shareholders. That means we're extremely agile and proactive in the type of decisions we make. We're currently channeling our direction far quicker than bigger and more corporate competitors. Without a doubt, that's our biggest asset: outside of the four walls of our business, nobody can influence a single decision we make."
Astonish
https://astonish.co.uk/
Services: Cleaning products