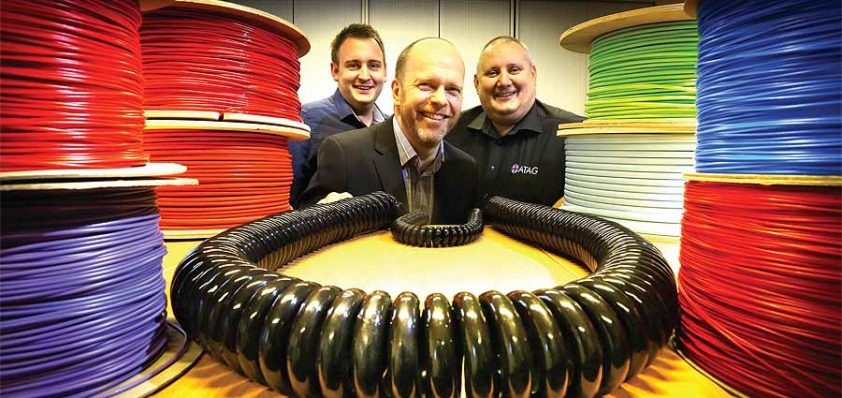 Dramatic growth
By investing in its people and focusing on quality, ATAG Cable Solutions has overcome a challenging market to achieve massive growth both in the UK and abroad
County Durham cable manufacturer ATAG Cable Solutions boasts a wealth of experience in the design, manufacture and supply of a broad range of high quality and high performance cables and assemblies for all types of industries. With all cables manufactured in the UK, the company uses high quality materials in a range of colours, sizes and finishes to meet the specific requirements of each customer. Standard and custom designed cable available from the company include bespoke cables, defense standard cables, solar PV cables, cathodic protection cables, curly cords and equipment wires as well as audio cables, tinsel wires, flame retardant and fire integrity cables, antimicrobial cable and low smoke halogen zero cables. Additionally, cable preparation available at ATAG Cable Solutions includes rewinding, twisting, braiding and hanking, and the company also boasts a full in-house design team and bespoke sensor and assembly solutions.
Although established in 2012, ATAG Cable Solutions has a wealth of experience and its history stems back to 2004 when Managing Director, Andy Graham launched his first company Cable Xtruders. After initial success the company was noticed by Clynder Cables and its wider group and acquired the company from Andy in 2009.
Andy went on to be the Operations Director for Clynder Cables (North East) and using his expertise, Andy played a key role in boosting the company's turnover from £600,000 to £2.4 million in the space of 18 months. However, when market challenges led to Clynder Cables going into administration, Andy believed the company was still viable and acquired the machinery and retained a percentage of the key staff before rebranding the firm as ATAG Cable Solutions.
"At the time of ATAG Cable Solutions' inception, we were predominantly focused on the manufacture of custom design cables; at this point in time we were growing gradually month to month and it was getting to the point when we were thinking about investment as we were in a relatively strong position. However, it was at this point in time that one of our key customers, APT Electronics went into administration. This left us with significant cash flow issues," begins Andy "Me and the wife made the strategic decision to purchase the assets of APT, which enabled us to diversify our business model to include bespoke temperature probes for the telematics industry and assembly solutions."
Indeed, with the skills of the former APT Electronics' staff and assets added to ATAG Cable Solutions, the company is able to add assembly to the custom cable design, manufacture and supply services it already delivered. Thriving on new product development and custom assemblies, ATAG Cable Solutions not only saves its customers money, but can also offer custom design; from the initial concept to prototype, right through to manufacture and assembly, each customer's unique requirements are taken into account. This commitment to customer satisfaction ensures optimum consistency and performance each and every time. Assembly services available include wiring harnesses, box build assembly, panel wiring, cable looms, control boxes, wiring looms, control panels, sub-assemblies, instrument panel building, custom overmoulded cables, coax assembly and mil spec soldered assembly.
Following the acquisition of ATP Electronics, Andy invested a significant amount of money into the company so assembly equipment could be brought and APT Electronics' customer base could be retained. This cash injection was also the catalyst in the company securing a six-figure investment from the Finance for Business North East Growth Fund through NEL Fund Managers in 2015; a development that has resulted in the company growing from a team of seven with a turnover of £600,000 to a team of 20 with a turnover forecast at £1.8 million for 2016.
"This money meant we could heavily invest in our people, plant and machines; we started with three employees on the assembly side and one small unit. Within two months we had five members of staff and two units, within three months we increased to seven staff and got another unit. We expect to continue this pattern for growth by adding another five or six people over the next six months at least," says Andy, who firmly believes people are key to the company's success: "We have built up a great workforce and have gone on from there; all of our personnel know how to use the machines and what the customers want, with no training required."
Mainly operating within the oil & gas industry, 95 per cent of ATAG Cable Solutions' customers are based in the UK, while the remaining five per cent are located in locations such as Canada, Turkey and Germany. Having invested in diversification of its products and quality standards, the company is able to meet the high standards of its customers.
Having enjoyed incredible growth in a short amount of time, ATAG Cable Solutions is focusing on consolidation over the coming years to ensure quality standards and customer expectations are maintained. "We want to continue looking after the customers who helped us through the rough patch and delivering the same level of quality, so instead of focusing on growth we have chosen to stop and evaluate what we have and to also implement and improve quality systems. We have gone from £600,000 a year to around £1.8 million this year so the three of us running the company want to make sure our development of the business is done right," concludes Andy.
ATAG Cable Solutions
Products: Custom designed cables and bespoke sensors and assemblies