Smarter safety
By constantly rethinking security solutions, the employees of ATG Access have repeatedly proven that no site condition is too difficult when it comes to creating safer spaces for everyone
Prior to 1992, ATG Access (ATG) existed as part of the Alan Taylor Group, designing and manufacturing small, security bollards for residential and commercial car parks. With this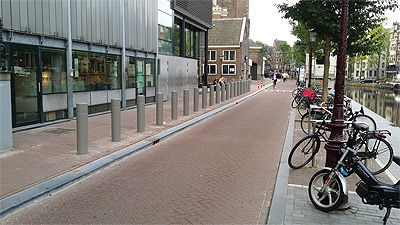 technology quickly appearing on the radars of British insurers and local authorities, it was not long before ATG was working alongside the Department of Transport, together with local automation company VPSP, to successfully design the first automated bollard system that was fit for use on a public highway.
Following a management buy-out in 1992, ATG was approached by the British government to work alongside it to design and certify automated bollard systems suitable for the mitigation of vehicle borne explosive devices. In the time that followed the company successfully developed a number of automatic bollard systems for highways use and in 2005 the first government certified system was launched in ATG's portfolio. "We have continued to be steered through both pioneering product development and growth through export markets," explains ATG Sales and Marketing Director, Gavin Hepburn.
ATG's main office and manufacturing facility can be found in Haydock, Merseyside, while its network of distributors can be found in 30 countries, four of which carry out manufacturing under license in the United States, UAE, Singapore and India. From these facilities, the company creates the widest range of bollards and barriers in today's security market. These range from simplistic, telescopic products to sophisticated automatic bollards. ATG has also invested in a large number of impact tests to certify high security perimeter security and access control products. With the largest range of impact tested products in the perimeter security industry, it is understandable that ATG is heavily involved in global product testing regimes including ASTM, PAS 68 and IWA 14.
"Our engineering and innovation team are working constantly to provide new and tested solutions to solve our client's problems," Gavin continues. "Several of these challenges have resulted in important, game-changing solutions for perimeter security, including the world's strongest bollard, which successfully arrested a 30,000-kilogramme truck travelling at 80 kilometres per hour, and the world's shallowest bollard, which is capable of fitting within a foundation of 112 millimetres and still arrest a 7500-kilogramme vehicle travelling at 30 miles per hour. In addition, we have also devised temporary event security solutions to protect pedestrians against ramming attacks, with no anchoring or excavation required."
ATG has recently been involved in the development of another product that has the potential to be a game changer. The Surface Guard is the first system of its kind and has been designed to protect pedestrians from targeted vehicle attacks, having been shown to successfully arrest a 2500 kilogramme vehicle travelling at 30 miles per hour. Modular in design, and compact and easy to store, the system is lightweight and quick to deploy with no heavy machinery required. The Surface Guard is even quicker to remove and causes no damage to the road surface as no anchoring is required. Conscious of avoiding creating a 'fortress feel', the system has been designed to complement its surroundings and allow pedestrians to flow freely into the designated area. Therefore, the system is aesthetically pleasing, while ensuring that it provides a resilient deterrent.
"Historically, the security psyche was that preventative measures needed to be hidden so as not to cause concern for the general public," Gavin states. "More recently the public's attitudes have shifted and they now, understandably, want to be aware of security measures in order to feel safer in a public environment. As long as these measures do not prohibit movement and access to public areas, obvious measures are no longer unwelcome."
Over the last three years, ATG's board have transformed the way in which the company trades internationally resulting in annual revenues increasing in this time period by 31 per cent. For the 2017 trading year further growth of 36 per cent is expected to be achieved. "In our pursuit of success," Gavin says, "we have taken a number of important steps, including increasing our routes to market through the establishment of further manufacturing under license agreements, relocating experienced and knowledgeable members of staff, and placing greater focus on historically under-performing markets where strategies have been put in place to collaborate with more distributors.
"Furthermore, the board of ATG helped drive forward a brand repositioning initiative to offset the commoditisation of high security equipment in well established markets. The way in which we approach the high security market and adapt to meet customer requirements has been altered, and in doing so we have managed to achieve a much more lucrative positioning strategy." ATG is very proud to be a proponent of British engineering on the global stage. International markets continue to see the British kite mark as being a sign of quality and engineering finesse, and ATG is privileged to be able to promote this to customers around the world.
"In order to achieve continued growth in the years ahead, we have an ambitious strategy which includes the possibility of mergers and acquisitions, entering new export markets and pioneering product innovation," Gavin enthuses. "Continued expansion in Europe is one of our key sales objectives over the next year and this will be achieved by working with new distributors in France and Germany that are able to represent the ATG brand well.
"At the same time, the development of new products will open up additional export markets to the company and help ATG to re-visit mature markets with new innovations. The security market and the environment in which it operates is changing rapidly, therefore it will be something that we need to monitor carefully in the coming months in order to ensure that we remain ahead of the competition, where we belong."
ATG Access (AGT)
Products: Bollards, road blockers and vehicle barrier systems