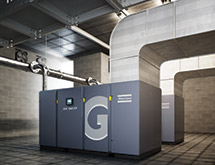 Atlas Copco Compressors LLC
For more than 140 years, Atlas Copco has delivered value for customers through innovation. Ever since the company first set up shop in Sweden as a provider of railway products, Atlas Copco has led the way in developing products that meet and anticipate the needs of its customers. That tradition of innovation continues to this day, and is evident in the company's work as one of the leading providers of compressors in North America. John Brookshire, president of the company's compressor brand in the United States, says the company continues to work hard to fulfill any and all of its customers' needs.
"I think that people buy Atlas Copco because of our innovative products," Brookshire says. "We are a customer-focused organization, and we work at that very hard."
As one of the leading providers of compressors in the United States, Atlas Copco serves a broad cross-section of the nation's industrial base. The largest users of the company's compressors are production facilities, but its products can be found in the oil and gas, petrochemical, general manufacturing, automotive, electronic and aerospace industries. "All customers large and small are important to us. Our customer base is basically the industrial base of the United States, everyone who needs compressed air," Brookshire says. "That's a great place to be from a supplier point of view."
Beyond the actual compressor products Atlas Copco supplies, however, Brookshire says the company provides additional value to its customers by focusing on helping them get the highest return on their investments. By being an equally strong service provider, Atlas Copco supplies the aftermarket needs that help its customers get what they are looking for. "They're forward-thinking companies that want to buy the product that's best over the entire lifecycle," Brookshire says.
Knowledge and Expertise
One of the biggest drivers of Atlas Copco's success has been its ability to develop innovative new products, and Brookshire says that is evident in the company's compressor products. He says the company is one of the few suppliers to boast of having every type of compressor technology under its roof, meaning it has a broad base of expertise from which it can draw when it develops a new product. This also means Atlas Copco is capable of exploring every option for a customers' specific needs.
Atlas Copco certainly puts that knowledge and expertise to good use, as well, as the company is constantly cycling through its products and refreshing its technology on a regular basis. "We redesign products every five years," Brookshire says, noting that the majority of the company's sales in the compressor market come from products that are less than four years old.
Always Improving
Even if it only makes incremental improvements to its product line, Brookshire adds, Atlas Copco never stops working to ensure that its compressors are the most advanced on the market. "Sometimes we make giant strides, sometimes we make small steps," he says.
Recently, for example, Atlas Copco introduced its new series of variable speed drive (VSD) compressors, which feature a rethinking of how the company's compressors are packaged. Brookshire says that VSD technology had been around for a while but had never been applied to compressors quite like this before Atlas Copco introduced the line about 18 months ago. By automatically changing their output to meet the demand for air with precision in an industrial application, and with the in-house engineered patent pending design of this new VSD inverter, the compressors offer greater energy efficiency as well as greater performance. Brookshire says the company produces its own VSD drives and motors designed specifically for its compressors.
A recent acquisition also opened up an opportunity for Atlas Copco to innovate with VSD again. Brookshire explains that the acquisition of a vacuum pump company allowed Atlas Copco to apply its VSD technology to rotary screw vacuum in new and innovative ways, and the company remains the only supplier to offer that combination in this market.
Brookshire says Atlas Copco continues to innovate on the service side of the business, as well. Recently, the company introduced its SmartLink technology, which provides remote monitoring for its compressors. According to Brookshire, compressors now feature a SIM card – like the ones used to store cell phone data – that connects it to a central monitoring platform at Atlas Copco. With this technology in place, Brookshire says, the company has been able to identify malfunctioning equipment in a customer's facility before even the customer was aware of the problem. It can also monitor energy consumption and suggestions can be made to help the customer become more efficient.
The Right People
Going forward, Brookshire says having the right people on staff to realize the company's goals will always be Atlas Copco's biggest focus; it is one the company works hard to achieve. He says the company's apprenticeship program is helping the next generation of its workforce get up to speed because they are just as important as the company's technology.
"The products are great, but they are always sold and serviced by people committed to our customers' satisfaction," Brookshire says.