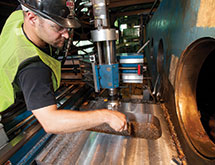 Atlas Machine & Supply Inc.
Some companies achieve growth through acquisitions, but Atlas Machine & Supply Inc. does it by "listening to our customers and developing solutions to meet their needs," President Richie Gimmel says. "As long as they keep having new problems, we'll have new ways to grow."
Based in Louisville, Ky., the firm designs, repairs and remanufactures a wide variety of industrial equipment including air compressors, gearboxes, punch presses, steel mill rolls, rock crushers, construction vehicles, fluid-cooling systems and vacuum pumps. A group of machinists started Atlas in 1907 as a manufacturer of custom freight elevators.
In 1925, ownership passed to the family of its superintendent, Robert N. Gimmel. Under his leadership, "We started working on Model T and Model A engines for Ford," Vice President and General Manager Dennis Hanna explains. "At the time, spare parts and service weren't much of a focus for the automotive manufacturers."
Atlas repaired the engines and manufactured the components. "That lasted into the '50s, until when we started working on construction equipment and getting into heavy industry, which is what we're in now," he says.
Today, Atlas employs a staff of approximately 210. It has machine shops and service centers in Louisville; Cincinnati and Columbus, Ohio; and Indianapolis and Evansville, Ind.  In addition to its machining business, Atlas is an authorized distributor and service provider of Gardner Denver air compressors.
Atlas' customers include steel mills, power plants and heavy equipment manufacturers. "We touch the power generation, oil and gas, heavy equipment, rock crushing, steel and aluminum [markets]," Richie Gimmel says.
The company also serves the automotive industry, working for many of the top brands. "We also do work for a lot of their suppliers," he continues. "Those are often where the products are actually manufactured."
Company Icons
Gimmel credits Atlas' success to the work of his grandfather, Dick Gimmel, who took leadership of Atlas in 1958. "Dick probably had as much to do with building what we are now as much as one person could," the younger Gimmel says.
"He's the real icon of this place," he continues. "A lot of the people that are running the business today were brought up by him. He led the company into what we are today, which is an industrial service firm."
Hanna also credits its staff and its ability to adapt to the ever-changing needs of customers who ask it to keep them running. "We're constantly trying to be what we call 'the industrial fire department,'" he says.
"Most of the calls we get are when they're in a hurry," Hanna continues. "We pride ourselves on our ability to change and adapt."
Gimmel agrees, adding that its employees have the ability to think on their feet. "We've got really good machinists, grinders and welders," he states.
On the Upper End
Atlas strives to be on the upper end of quality and service, Gimmel says. "Given our capabilities and our ability to turn jobs around quickly, we feel like we are the best value for a plant that needs to keep its operations functional."
Hanna agrees. "We can supply a repair part in most cases faster than a customer can source a spare part," he says. "That's actually key to why people come to us. They know we can get them out of a jam in a hurry and get them up and running."
This is especially true of the company's compressed air division, Gimmel says. Not only does Atlas sell and service compressors, "We also do design and optimization," he says.
"We'll go out and do air audits in plants," Gimmel continues. "We'll look at your compressed air system and ways it may be operating inefficiently."
Compressed air is considered a utility for its customers. "So much of the equipment in a manufacturing plant runs off compressed air, customers are unable to run their plants if there is a problem with their system," Gimmel states.
Keeping Industries Running
Atlas has implemented its own quality assurance program, which it designed around ISO principles. "It fits our customers better than a standard quality system," Hanna says.
This includes checks and double checks of every item on a repair report. "We certify the inspection and the quality of the part we repair," he says.
Additionally, "We do have some customer-driven quality programs," Gimmel adds. "Our system is flexible enough to allow work for a company's specific needs."
The company also sharpens its employees' skills. "We do constant training across the board, from the people in the office to the management people on our floor," he says, noting that it provides safety and management training.
The hard work has paid off. "There's never been anything brought to Atlas that we couldn't provide a solution for," Hanna says, noting that he is proud of the company.
"We see those daily accomplishments," he states. "We can be proud of the fact that there's a lot of industries running today because of the efforts of Atlas Machine & Supply."
Gimmel agrees. "I feel a sense of pride working with the people we have here," he says. "It's an honor to represent all of the wonderful people on our team."
Growing its Own
Atlas is coping with the challenge of recruiting skilled workers. "We'll watch the news and see that there's a shortage of jobs in the country, but meanwhile, we can't find the people we need to find," Gimmel says.
"There's a misalignment of the jobs that are available and the skills of the unemployed workforce," he continues. "We can't find people with machining experience. The wages we have to pay these folks also are growing exponentially."
Atlas has proactively reacted to the problem with an accredited apprenticeship program for skilled machinists and compressor technicians, Hanna says. "We grow our own because in the past, the only way to get skilled people was by training them," he says.
"We're also heavily rooted in the vocational schools and colleges around the area," he continues. "We try to get the best talent from those schools. When they're done [with the apprenticeship], they're making [up to] $70,000 a year."
However, this can only take the company so far, since the training process can be time consuming, Gimmel admits. "I think that this problem is going to be a bottleneck for us," he says.
"If you look at the way it's trending, we're going to hit a wall if we're not already there," he says. "So we've got to find some [more] ways to deal with that. We'll have to look at things like a way to increase the output of the people we support via technology.  We are doing this currently through investing in more efficient equipment, adopting lean manufacturing principles and automating our processes where possible."
Family Benefits
Atlas is a family-owned and operated business, which allows it to work "with the long-term in mind," Richie Gimmel says. "We don't have pressure on us to post impressive numbers to shareholders each quarter. We are driven by a sense of stewardship to our employees and customers and we can focus on doing our best to do right by them each day."
With that approach, Atlas has made sure to prepare for the future. "One hundred percent of our profits are reinvested back into it," he says. "Either we buy equipment or do research and development with it.
"The goal of the business isn't to make as many dollars as we can today," Gimmel says. "It is to be a healthy business over the long term."
The family ownership has nurtured loyalty from employees, including Hanna, who has been with Atlas for 35 years. "It's more of a family than a business," he says.
"The owners actually care about the people that work for them," Hanna states. "They cultivate careers and lives. They're interested in people."
Evaluating Opportunities
Atlas will continue providing new innovations to its customers, Gimmel says. "Our growth is going to come from staying tuned into our customers' challenges and working with them as a partner.
"We also have to take a look at expanding the products we distribute and expanding the geographical footprints we have," he says. "I could see some potential acquisitions for us if the right opportunity came along."
The company also might add space to its main headquarters in Louisville, Gimmel adds. "We're getting to a point we're about up against the wall, so we need to be thinking about some expansion of this facility," he says.