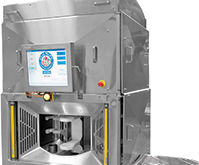 Atlas Pacific Engineering Co. Inc.
For nearly 70 years, Atlas Pacific Engineering Co. Inc. has stayed successful by providing robust machines and treating its customers and employees like family, Roy Molter says. "That's the working model that has succeeded for Atlas," he states. "We're there for our people and maintain strong relationships with our customers."
Molter is the CEO of Atlas Industries, the parent company of Atlas Pacific, a fruit-processing equipment firm based in Pueblo, Colo. The company started operations in the late 1940s as a catalog manufacturer in Emeryville, Calif.
But Atlas Pacific eventually branched out when it began designing and manufacturing machines for peeling, coring and slicing apples and pears, President of Sales and Marketing Robb Morris says. In 1986, the firm acquired Filper Corp., which enabled Atlas Pacific to add peach pitting and Magnuson Corp.'s vegetable processing to its portfolio.
Sixteen years later, the company bought Luthi Machinery Inc., which manufactured can-filling equipment for the tuna and meat industries. In 2005, Atlas Pacific also acquired Brown International, which supplies extractors, finishers, pumps, tanks, sizers and conveyors for the citrus and tropical fruit-processing industries.
Today, Atlas Pacific employs a knowledgeable staff in more than 15 countries worldwide and maintains an extensive  inventory of parts to assure prompt service for its clients. By doing so, it keeps its clients' equipment maintained and operating up to top performance standards, Molter says.
Its customers include large domestic companies, such as Bumble Bee Seafood LLC, Horizon Food Group and Del Monte Foods. "We've been doing business with Del Monte for over 60 years now," Morris adds.
"In a lot of other industries, you would not find the customers willing to award the level of market share they've awarded us," he says. "They embrace the support and know we'll keep the machines performing to top levels."
Quality Focused
Atlas Pacific places great importance on manufacturing quality, Atlas Industries COO Brent Taylor says. The company's processes include the inspections of incoming material, workstations and the "final assembly and shipments," he says.
The company has done such a good job, in fact, that its clients have machines that have been in the field 60 years, Molter says. "Along the way, we do upgrades," he says.
Continuous improvement and Six Sigma have not passed the company by, Molter notes. In the past four years, Atlas Pacific has successfully implemented these approaches, which have become "an integral part of our business," he states.
The first step in the process, Taylor notes, was creating a visual workplace and mapping out processes so employees could understand them. Atlas Pacific's employees were enthusiastic about adapting to these new processes, he asserts.
"[Their] dedication to Atlas is very unique," he states. "It's all about doing it together and understanding that it's critical to the [company's] success."
Taylor is proud of the progress. "We've seen an impact when we look at safety within the facility or cleanliness," he describes. "We've seen great improvements over the years."
The Cutting-Edge
Atlas Pacific's recent innovations include its FC15 Fresh Cut machine, which cores and chunks melons and pineapples. Normally, Molter says, food companies do this process by hand. "It is an upgrade in a new evolution of technology for us and the market," he states.
Unlike most of Atlas Pacific's machines that are mechanically driven, "It's virtually an electro-mechanical machine," he states, noting that the company will be making the transition to servo-driven, electromechanical machines. "The younger generation of maintenance people [is] more familiar with these devices."
The machine, Morris says, is designed for its clients in the fresh-cut market that sell chunked pineapples and melons. "It takes whole pineapples, cantaloupes and honeydews and reduces them to chunks," he explains.
Atlas Pacific started marketing the FC15 late last year. "We anticipate it's going to lead to better things within the fresh-cut market," Morris says. "We have other product offerings planned to complement the chunker."
The company also plans to apply electromechanical systems to these other innovations, Molter says. "We will be moving forward with that type of approach to our design concepts, due to the ease of maintenance and programmability," he says.
"We need our machines to be able to adapt to that flexibility with a reduced changeover time," he says. "That's going to require that we engineer our machines around newer technology."
Something Special
After four years in his role at Atlas Pacific, Molter says he is proud of how the company has maintained "family" relations with its employees and its customers. "I've never seen anything like it," he asserts. "The customer base is very appreciative of what Atlas provides, and obviously, we're very appreciative of what they provide for us."
Taylor agrees. "The first thing that comes to mind is that commitment in relationship that every employee has to each other and to our customers," he says. "It's really special when you see that family within a company like Atlas has."
Atlas Pacific also has long relationships with its suppliers, Molter says. After working in Pueblo for 28 years, "Our supply base is here on the front range of Colorado," he says.
"We don't take a heavy-handed approach to our suppliers like the automotive industry," he says, noting that Atlas Pacific's management includes veterans of that business. "We prefer the relationships with the suppliers, versus the heavy-handed negotiation."
But Atlas Pacific still ensures its vendors perform as expected through its supplier management system, Taylor says. "We'll have repeat supplier audits and we rank [them]," he says, noting that it shares the results with the vendors. "Maintaining that open communication is the key here."
Maintaining Its Legacy
Atlas Pacific needs to keep its finger on the pulse of consumer trends. This was one of the reasons the company decided to develop the FC15 machine.
"People on the go today are buying pre-chunked fruit," Molter says. "It's a society that's on the move [and] wants to eat better. We have thoughts on other types of innovations."
But Atlas Pacific remains dedicated to customers that were responsible for its earlier success. "Those [markets] are still very strong," he says. "We're very proud of [our] history and our intention … is to continue that legacy."