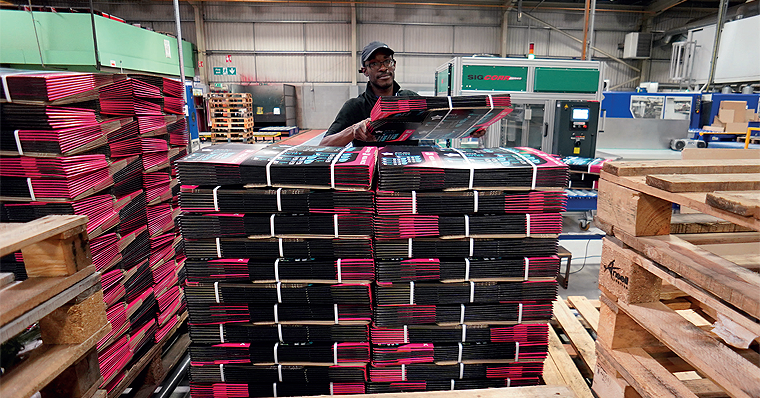 Charting a course for corrugation
Despite the challenges presented by 2020's Covid-19 pandemic, Atlas Packaging, one of the UK's largest independent packaging firms, continues to thrive against the odds
Just like the Titan from Greek mythology with whom the company shares a name, Atlas Packaging has become famous for its formidable strength and endurance.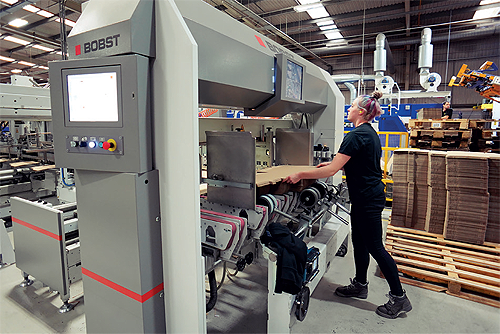 Established as a small box manufacturer in 1983 by current Chairman Adrian Gamble, the firm has fought its way to the top of a crowded industry and is regarded today as one of the UK's largest and most comprehensive packaging businesses.
Already benefitting from a state-of-the-art production facility and award-winning, in-house structural graphic design teams, Atlas continues to invest in new equipment, machinery, and site extensions. Among the company's key investments in recent years has been the purchase of a new warehouse capable of holding up to 4000 pallets dependent on configuration, complete with clean, dry areas to store Atlas' finished goods.
"One of the areas we are focusing on at the moment is technology," explains the company's Sales Director Mark Leverton. "Technology is moving all the time, certainly from a print Ltdperspective, and the demands for improvement are ever-changing. Not a week goes by when we're not working closely with our suppliers on plates, inks, or machinery, to try and get ourselves an extra couple of percentage points. Whether it be new blades to go on the die cutting tool, slight improvements to printing plates, or different elements to our inks, all these things can improve your offering, so we must keep learning and adapting.
"In the last few months, we've introduced our own buying site," Mark adds. "We created some delivery trays, so now people can buy trays from stock and have them delivered next day, whether it be business to business, or business to consumer. We are now looking for more and more creativity in terms of packaging for horticulture and breweries. Ecommerce is another market where people are looking for clever designs, both from a branding perspective and as part of the assembly and time element that goes into that."
Modern manufacturer
Offering one of the industry's broadest product ranges, Atlas' scalable operation serves small startups, all the way through to major household brands. Consequently, the company's North Devon headquarters boasts a large design studio staffed by experienced structural and graphical design teams. This advanced design setup is supported by machinery with the flexibility to produce a variety of box sizes, from very small boxes to large format boxes several meters long.
"If you are a startup business, you can come to Atlas with an idea or concept and we can take it from a scribble on a piece of paper – because typically businesses don't have the resources to involve a design agency or marketing team – and bring the idea or concept to life," Mark says. "Our history has shown we have supplied and continue to supply large wraps for flat pack furniture along with industrial packaging, using machinery typically of a larger size and format. In recent years, we turned our attention to products such as food and drink. Food and drink lends itself to much smaller format boxes, hence why we've got the ability to do small to large. We're into pharmaceutical products too and all in all, there aren't really too many markets that we don't have some sort of involvement in.
"As I mentioned, retail is a big part of our customer base and along with food and drink, we cover horticulture and a variety of ecommerce areas such as packaging for the delivery of flowers from supermarkets. Ecommerce has been coming through stronger and stronger over recent years and virtual stores that can deliver to someone's home are growing in demand. We've adapted our range accordingly and can offer functional plain brown boxes, as well as more decorative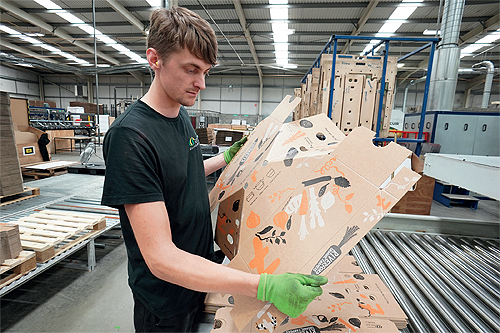 packaging for strong brands who want something to reflect their products."
As a modern corrugated manufacturer, Atlas offers reusable packaging to support worldwide sustainability efforts. The firm has also recently implemented environmental standard ISO14001 within the organization and is conscious of the highly impactful role it can play in supporting the wider green agenda across the coming decade.
"It is not only about following best practices, but also about changing culturally, from the top to the bottom, in terms of encouraging people to be more aware of what we use and the wastage that goes with it," Mark states. "Anything that comes as a waste element within our business is monitored, managed, and if it is not deemed sustainable, we will look to eradicate it. For example, we use water-based flexographic ink, the corrugated board we use is 100 per cent recyclable, and around 80 to 85 per cent of what we produce comes from recycled papers, so it can all be reused. Even our supply chain is becoming more efficient in terms of corrugated board and its manufacture, and any byproducts used throughout the whole process are reused. There are still one or two areas that we are working on, but we are very, very close to having a totally closed loop system."
In a year when companies across the world have been forced to furlough staff or make employees redundant, Atlas has bucked the dominant trend and increased the size of its workforce. A surge in demand in the ecommerce retail sector during the pandemic outweighed the negative impacts of the virus felt by Atlas and, as a result, the firm continued with recruitment.
"We had to respond to the needs of our clients and we worked extremely closely with them to maximize and maintain that demand, including the addition of new members of staff to support that need," Mark reports. "Rather than just bring people in on short-term contracts or via an agency, we tried to recruit staff we can invest in and develop through the long-term. That is our recruitment strategy; we'd rather bring good people in and develop their knowledge and retain that knowledge."
Resilient workforce
Though strong communication and strict adherence to government guidance have helped Atlas make it through the majority of 2020 without incident, Mark is keen to highlight the resilience and professionalism of the company's workforce.
"Ultimately, our people have bought in to everything we've asked, and as things are beginning to settle down, we are really able to appreciate that," Mark asserts. "Our workforce had a big part to play and continue to have a big part to play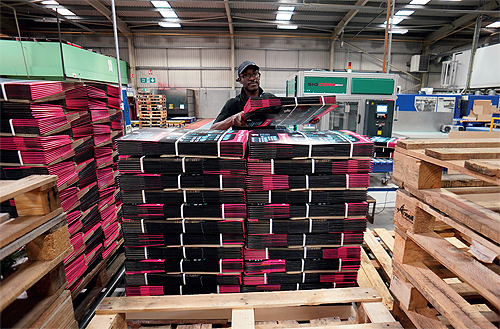 now. We are an independent business and we compete in a marketplace heavily dominated by big multinational, sizable outfits. We can't always compete commercially, but we differentiate ourselves through clever designs and the good set of people around us, whether it be designers that become personable to our customer base and understand their needs, or the well-trained, close-knit team on our shop floor.
Positive impact
"Our appreciation of, and reliance on, good people extends beyond our own workforce and out to our fantastic group of customers and suppliers. They've all been really supportive, willing to embrace our ideas, and change with us. Unless you've got a front to back scenario, these are unpredictable times, but we are really fortunate to have people and businesses who appreciate what we do and we will hopefully continue to reward them and reap the mutual benefits."
As summer draws to a close, Mark and his team are feeling positive about the future. With Quarter Four traditionally a busy period in the packaging industry, all signs suggest that Atlas is in a strong position to finish 2020 with a flourish.
"We've installed a couple of new machines during the pandemic and if we can continue to see a positive impact from our customer base, and in the wider economy, we are confident that Atlas can get back to expanding," Mark declares. "Of course, the growth will need to be organic and we look forward to working with our existing customers, as well as securing work with new businesses. In this current marketplace, having a strong brand is more critical than ever and so we'll be working on creating greater print for brands, whether it be one color or six colors. Also, on the ecommerce side of things, we'll be looking at new ways to improve our offering because that demand is only going to grow."
Atlas Packaging Ltd
Products: Corrugated cardboard packaging
www.atlaspackaging.co.uk