The wow factor
Skilled in designing unique packaging solutions, Atlas Packaging is constantly expanding its manufacturing capabilities by upgrading its equipment with the latest machinery available
Atlas Packaging's creed has always been based on the idea that design and innovation are the key differentiators in a competitive field like the UK packaging industry. Established in 1983, the business has made a name for itself over the years, which has resulted in it winning multiple awards that recognise its capabilities in the sphere. "Throughout our history, we have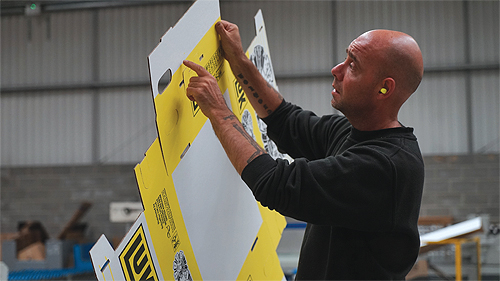 continually focused on innovation and we love nothing more than wowing our customers with our creative solutions," begins Jason Sharman, Managing Director of Atlas Packaging. Today, Jason is one of the five key people who steer the business to ongoing success, alongside Mark Reeve (Commercial Director), Mark Leverton (Sales Director), Vincent McDermott (Manufacturing Director), and Phil Sweetland (Operations Director).
The strong management team is underpinned by a talented design department, which has been credited for the company's excellent performance. "Our designers are constantly exploring ways to come up with effective solutions using the least amount of material possible, and they have proven time and time again that they are very good at Packagingsuggesting novel ways to protect and present our customers' products," Jason praises his colleagues, also highlighting that Atlas Packaging's core values revolve around teamwork, innovation, integrity, and strong leadership, which all contribute to the development of a formidable offering for its clients.
Headquartered in Barnstaple, North Devon, the company's beating heart is its state-of-the-art facility, where it has integrated a vast array of modern manufacturing equipment. "Some of our main suppliers of machinery include Bobst, Emba, Cuir, Latitude, and Asahi," Jason points out. "We have invested heavily in acquiring the machines we need to deliver the quality our customers are looking for. Over the past few years, we have relied on Bobst to provide us with our die-press and gluing machinery, while for our HQPP Flexo, we have used the services of Cuir and Emba. On top of this, we also invest in training to ensure that we maximise our offerings. In October, we will take delivery of a new Bobst speciality gluer, whose cutting-edge features will allow us to provide new pack designs that will certainly prove beneficial to our customers," he reveals.
Atlas Packaging has reached the prestigious status of being one of the nine preferred Asda suppliers within the UK, which reflects the company's strong position in the food and beverages industry. "Inevitably, this is the fastest growing sector for the business, and, thankfully, we see plenty of work coming our way in the geographical area where we are based," Jason comments. "We have consistently targeted likeminded companies that share our values and we are incredibly proud of having a loyal client base, which we serve with our innovations and exceptional customer service."
As established earlier, Atlas Packaging has been the recipient of a number of industry awards. The company's print capabilities were recently recognised by the European Flexographic Industry Association (EFIA) with a Gold award for the use of flexo-print technology for brands/retailers (a HQPP flexo-printed gift box, which houses a 1.8kg Wookey Hole Cave Aged Cheddar for one of its long-term customers, Dorset-based Ford Farm Cheesemakers). In Jason's opinion, the triumph is down to the exemplary teamwork showcased by the design and print teams, in combination with the installation of one of the most advanced
flexo-printing machines in the world – the Rotoflexo. "In 2016, we invested £1.75 million in this bespoke machine, which is the envy of the printing world, because of its capability of printing 3D effects directly onto the corrugated substrate. Taking advantage of its properties, we were able to reach a higher level in our flexo-print proficiency, thus earning ourselves the opportunity to compete with some of the biggest names in the field," Jason remarks.
In August, the company was shortlisted for another two major industry awards. First, it reached the final four in the UK Packaging Awards for best SME business; and then, it was also placed among the finalists in the FlexoTech International Print Awards for best Promotional Print. "I am genuinely delighted that the team are being recognised for their efforts. We like to set ourselves challenges, but even when they lead to exceptional results, we do not always get the plaudits, so when we do, it is an amazing feeling. We talk a lot about teamwork and to be included among the best companies in the sector shows what can be achieved when you have a great team working closely together," Jason observes proudly.
During its long history, Atlas Packaging has had to address requirements of varied nature, which have posed different challenges to test the 49business' skills. One such intriguing project was the development of new corrugated packaging for the transportation of Riverford Organic Farmers' fruit, vegetables, meat, and dairy products. Due to the fact that fresh horticulture produce is often packed in damp environments, structural integrity and stackability for transportation were key. Demonstrating impressive adaptability, Atlas Packaging's design team devised an ideal polycoated box, knowing that it would offer the soundest protection from moisture damage during both packing and delivery/collection. For the fulfilment of the task, the organisation invested in a new bespoke machine to make the boxes and its structural designers introduced new box sizes so the contents could be easily accommodated on one pallet.
Its ambitions growing with every completed project and every happy customer, Atlas Packaging is currently implementing its five-year strategy. "Meeting our objectives will be occupying our brains in the next couple of years, as we are looking to take the business forward. Meanwhile, we will remain focused on training our staff and nourishing integrity and teamwork across the company, as these have been the core qualities, which have enabled our success over time," Jason wraps up, shedding light on the course the business is maintaining in the near future.
Atlas Packaging
Products: Creative packaging solutions