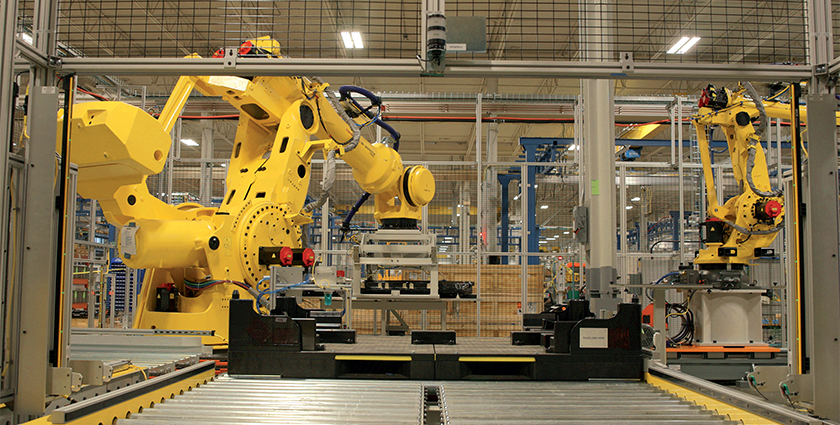 Smart solutions
Since 1978, ATS Automation has offered unparalleled synergy of experience, technology, and scale to advance factory automation for the world's leading manufacturers – now, the ATS Industrial Automation division has its sights on helping companies go green
ATS Automation (ATS) is an industry-leading automation solutions provider to many of the world's most successful businesses. Headquartered in Canada and with over 50 facilities spanning more than 20 countries, the companies that make up the ATS portfolio offer solutions to multiple sectors, including industrial automation, life sciences, food and beverage processing, packaging, as well as process automation. One ATS company in particular, ATS Industrial Automation, an end-to-end automated tools, assembly and test solutions provider, is navigating changing global trends towards green energy and continuing to set itself apart from the competition. In addition, the business has completed multiple projects that demonstrate its expertise in electric vehicles (EVs) battery assembly and test, grid battery production, industrial electronics assembly, e-commerce packaging as well as automation solutions across the entire lifecycle of nuclear power plants from new builds to operations and maintenance, to refurbishment and decommissioning of existing reactors.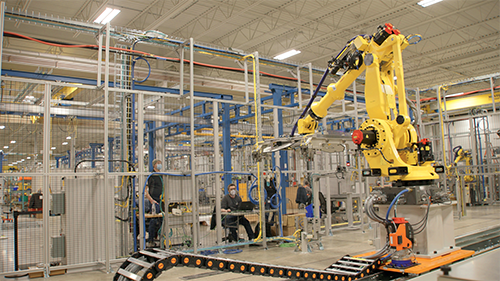 The growth that ATS Industrial Automation is experiencing is fueled by the broader global focus on creating a greener future for the planet. With recent political issues surrounding the supply of oil and gas, combined with a renewed emphasis on reducing global emissions after COP26, world leaders are looking for energy alternatives and strategies to mitigate the effects of climate change. Thanks to the push to move to EVs, that automation market is seeing enormous growth, and to continue to meet the needs of its bluechip client base in that space, ATS is expanding its operations.
Keen to learn more about the changes that are underway at the organization, Manufacturing Today attended ATS Industrials' opening of its new Columbus, Ohio facility with Andrew Hider, CEO of ATS, Udo Panenka, President of ATS Industrial Automation, and Dave Kelly, VP of Sales for Mobility NA. The new 240,000 sq.-ft facility is – together with five other locations – built to support the demand for electric vehicle (EV) batteries, energy grid storage and continue its prominence and innovation in the industry. According to Udo, the driving ambition for ATS Industrial Automation's new production space was to consolidate two smaller facilities and obtain a single, purpose-built location that boasted a contemporary aesthetic with leading capabilities. But the expansion of the facilities has created a ripple effect, introducing broader changes and new approaches across many areas of the business, and extending out to the local community, which will be touched upon later.
The team began with the primary foundational reasons for the project and details about its creation. "About one-and-a-half years ago, we realized that this industry was experiencing profound changes and identified that our customers would need a lot of large-scale automated equipment to support their ambitious growth plans. This gave us a clear target – create enough space and the right environment to support our customers' needs," said Udo.
With the Columbus facility being one of the ATS Industrial Automation sites already staffed with EV battery line experts, ATS is able to benefit from their experience on the breadth and size needed for the expansion. Recognizing that customers' installations continue to scale up, moving from single assembly lines to holistic multiyear programs, the building was created with few obstructions and larger expanses between the beams. To give some idea of size, one of the lines is 150 feet by 1250 feet, the length of four continuous football fields.
"This building enables us to solve our customers' problems," Udo added. Thanks to collaboration spaces, intimate knowledge around what keeps a customer up at night (which ATS calls valuable problems in attractive verticals) is brought in-house. "We want to have our engineers thinking more about the problems they solve and understand what keeps our customers awake at night – we want our team to fall in love with the problem and come up with creative solutions," he added.
The project was more remarkable because it was being constructed throughout the pandemic, and Andrew credited the team for their outstanding contributions towards its completion. "If it weren't for our team and their dedication to reaching their targets, we wouldn't have thrived the way we did. When it comes down to it, it really is a testament to how the team operates and how they work together in a really challenging environment," he said.
This is a topic Udo feels particularly passionate about. "My first time here was after this building was completed. I was blown away by everything the team did, but as a leader, it felt strange to approve this building and follow the progress when we couldn't travel there. In retrospect, I think that the remoteness created empowerment and has served as a reminder for us to push our staff to reach their potential. We need to continue to empower our teams; our people need to drive this. I can tell you: in this case, they came up with some incredible solutions."
The new Columbus, Ohio site was built to accommodate new business, but there is more. ATS Industrial Automation is breaking ground with a second building to allow for more systems, lines, and support the aggressive growth plans of their customers and the industry. As Andrew was thrilled to reveal, the team was able to undertake the ribbon cutting on its completed facility and then 'then walk over and break ground again on a new site!'
The EV battery lines created by ATS Industrial Automation are extraordinary projects, but they are not the only area of focus for this business. Udo took a moment to clarify the other core verticals for ATS Industrial Automation, which totals three different market segments. "One is everything around battery manufacturing, more mobility but also for grid battery storage applications. The second one is nuclear, so we are doing a lot of automated tools for the new build of small modular reactors, operations and maintenance as well as refurbishing existing reactors, and decommissioning reactors. The third is what we call specialty automation, which includes a lot of high-speed applications, product assembly, fuel cell assembly, and testing."
Technology Expansion in the Midwest
This leads us to the question of what makes Ohio, and Columbus in particular, such an attractive place for all these operations? From Udo's perspective, there are two critical elements, as he explained. "On one side, when we look at where our customers are based, we always try for a relatively 'local-to-local' approach. Many of our customers are large OEMs that are undertaking huge business transformations in the US, and we want to be able to support them." Central Ohio's location makes it a convenient site from which to work with many of America's leading manufacturers.
"Additionally, we have critical mass here in the shape of our team, with great technical talent, passion, and excitement around technology and innovation. We need the best automation experts in the world to successfully drive our customers' programs. This presents its own challenges as our customers are evolving their battery designs through the process, and operations may begin as one small line and expand into a huge overall program – for example, General Motors (GM) will need to build one million batteries in the near future. We have the program management skills required to make transformations and changes on this scale."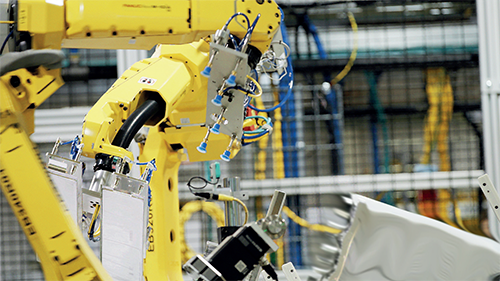 It's clear that Columbus brings a lot to the table, and these benefits are further enhanced given its proximity to Detroit, which allows ATS to draw on the talent pool of that area, and its rich resource of automotive experience.
This directed Udo, Andrew, and Dave onto the topic of people, which they acknowledged as ATS' number one asset. The organization is keen to ensure that its people-oriented culture remains in place, even with its current fast pace of expansion. Recruiting remains a challenge, given the skills shortages the industry is facing, and ATS works hard to promote itself as a desirable employer that is creating hundreds of additional full-time jobs, which are high-tech and rewarding, and the team is making good progress. Udo emphasized the role that ATS and its staff are playing in what is a historic transformation of the automotive industry from fossil fuel to electric power. "ATS offers the chance to get involved with some of the coolest automation projects in the world," he said. He also noted another benefit that has been seen thanks to the new buildings – as strong teams are continuously strengthened and developed, it is easier to leverage proven best practice while introducing new ways of working and thinking to their roles.
Keen to encourage the younger generation to consider a career in automation, ATS Industrial Automation runs an outreach program, engaging with students and being involved with communities. Dave is personally involved in visiting local STEM schools and speaking about the opportunities available, including sponsoring local First Robotic Clubs (FRC) in the area. "We also partnered with a local community college where they are creating programs specifically for our technicians, and this ATS-based curriculum means that when they get here, they can hit the ground running," he shared.
ATS also works hard to ensure that its team includes a diverse range of people with different views and perspectives. ATS is e.g. actively encouraging women into technical and management positions, an area it continuously works to strengthen. "We started from schools and universities, recruiting young ladies into technical jobs, and we are always looking at how we place knowledgeable women into more leadership roles," Udo confirmed.
Priding itself on not only being a great place to work, ATS also understands its continued expansion's effect on the local community through new employment opportunities. This is connected to ATS' own wider green agenda – Community Impact is identified in its Sustainability Report. "There are five areas on which we are focused around Sustainability, with Community being one," said Andrew. "Another is becoming carbon neutral by 2030, which is an ambitious target, but thanks to our ATS Business Model (a continuous improvement focus), it is being broken down into smaller, more measurable segments that can be studied over a period of time. We look at every business within ATS, understand exactly where they are in their journey, and work out target areas to improve. This could be solar panels, renewable energy, or even looking at our emissions from staff's commutes – we need to understand the impact to identify improvement areas." Returning to the Columbus expansion projects, these also include energy-saving features in areas such as lighting. Going forward, maintaining a focus on green building elements is essential to the ATS team.
"Additionally, one of our divisions has launched the ability to help customers reduce their own carbon footprint goals, so not only are we doing it from an ATS perspective so we can be good environmental and corporate citizens, but we are also looking at how we help our customers reduce their carbon footprint as well," Andrew expanded.
"We are always finding ways to support our customers in this as they are on the same green journey we are," agreed Udo. "Some of our solutions, such as SuperTrak CONVEYANCE™, which are linear handling systems, save space and energy, which is very important not only on these huge automotive battery or product assembly lines.
A Proven Leader for Battery Assembly, Testing and Related Services
"It's important to realize the breadth of what we are doing," he continued. "We can easily demonstrate this by looking in more detail at one of our battery assembly lines. We take thousands of battery cells and put them into a module. Those modules make up the larger pack that ends up in the car later. The pack can weight over 2,500 lbs. and be more than two meters long."
"Today's EV car manufacturers are looking to deliver a line that may produce a complete battery pack-per-minute, sometimes referred to as the skateboard," added Dave. "That would mean an ATS Industrial Automation line would need to process 500-1,000 cells a minute. However, there are many variables from chemistry to cell design, for example, if the cells are pouch, cylindrical, or prismatic.
"A cylindrical pack, for example, could have upwards of 6,500 to 10,000 cells in that pack," Dave continued. "That means there could be demand for up to 20,000 welds every minute. The challenge is that each customer's battery design, chemistry, and throughput specifications are different.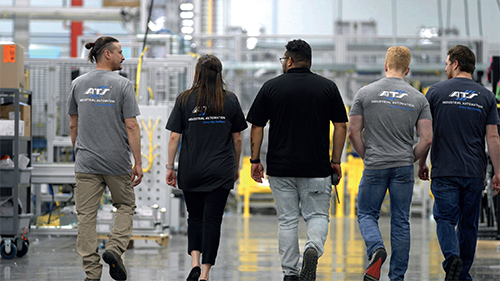 "If one weld is defective, the range of the vehicle could potentially drop by almost two percent. It is all about accuracy and speed. We add high-speed, high-value processes at the cell level and precision processes through assembly and testing. We need to handle the material, assemble a product, and test it. Laser welding and tab formation are strengths of ATS Industrial Automation. Through our knowledge, skills, and processes, we can provide solutions for many different battery applications, EV battery, energy storage, and grid storage, to name a few," he added.
Having described the scale of the lines, the conversation then shifted towards a reality the manufacturing industry is experiencing on every level – delays in lead times. "We are no longer living in a world where someone can wait 20 or more months to get these lines. This entire sector is evolving at an amazing rate, and the consumer adoption of this new technology is spectacular," Udo emphasized. "Time is of the essence, and this is where other technologies such as digitization are coming in, addressing the question of how we can simulate a full line before it's built and start programming when the line only exists on a computer."
Answering these questions requires ATS to be incredibly focused on innovation. "To achieve that as a corporation, we continue to invest at a very significant level. Even through Covid-19, when as human beings, the world felt uncertain, we kept our innovation target in line to ensure we brought products to market that truly help our customers," Andrew expressed.
Udo emphasized how seriously ATS takes its responsibility towards meeting its customers' needs and the changes it is making to deliver what is required. "We are driving a lot of vertical integration, expanding the breadth and depth of what we can do ourselves and making sure we can get a little bit more independent. So, for example, we have recently acquired a conveyor supplier. We have to make the best of a challenging supply chain situation, utilize our size and strength with some of the critical suppliers, and work with them on understanding what is coming in the future."
This willingness to adapt and evolve will be increasingly important going forward, given that the battery technology space is continuously changing – Udo described it as "a moving target." "Battery costs are dropping ten percent every year, and every OEM wants to leverage the latest technology with changes in charging rates, range extension, battery density, and so on. Huge changes are happening, and in the quest for the cheapest or longest life battery, they might forget the design question: 'how do I later on produce this battery easily'?
"So, we have to think about how to design lines today with built-in upgrade capability to accommodate future battery design. ATS Industrial Automation has delivered over 75 battery assemblies and test solutions; we have seen what works and what doesn't. Some customers need an integrator, but more and more are looking for a partner who can help identify design issues before production. Our customers want help to incorporate upgrades, modularity and support these new growth industries. We know what good looks like and can bring that credibility to our solutions."
Growing Its People and Processes
As well as being able to shine a spotlight onto a customer's operation to see where it can offer an improved solution, ATS keeps a laser focus on its own processes too, which includes questioning current ways of working and looking for areas of improvement. "The EV market will be growing significantly over the next 15 years. We are well-positioned to benefit from that expansion, but we have to ask how we make our business scalable," said Udo. "We need to become much smarter, ask questions about where and how we build, include digitization in a totally different way, and understand and optimize the process every single day."
A great example of how ATS is scaling in alignment with its customers' growth is the relationship that it has with General Motors (GM), which Udo describes as a "highly valued relationship." "They are ramping up their battery production rapidly, and we match up well in terms of our ability to respond to their timelines and the global reach we have," agreed Dave.
"I don't think there are many other players that could support such a challenging program," continued Udo. "I think there is alignment between our companies on our passion and drive to create the best solution, as well as attitudes and collaboration, also fueled by the ATS Lean Business Model ABM. Their Ultium battery is a very modern concept, and I think that it fits well with our appetite for innovation in new technology. We share synergies around complex program management and continuous improvement, and we go in, and brainstorm and problem solve."
The Future is Bright
It is clear that ATS Automation has grown past being simply an automation equipment supplier and is now truly a partner of its customers on their journeys. Having more than doubled the company in the last five years, it has maintained a focus on preserving its culture and ensuring that it is not just a great place to work but also a significant contributor to the broader community. Before concluding, ATS' valuable contribution to America's fight against coronavirus deserves to be noted – its specialized life sciences capabilities were called upon to expedite the production of medical equipment, including filtering facepiece respirators, ventilator components, an automated bio-decontamination system, test kits, and hygiene product filling. These projects called for fast response and unprecedented delivery times. "It proved to everyone what can be done. If you unleash people and let them run, you see what can be accomplished, and that is pretty fascinating," said Andrew.
As we approached the end of our interview, the ATS Industrial Automation team's enthusiasm for the future remains inspiring, with Udo describing the coming years as 'exciting.' "If you are not enjoying what is happening at the moment and the opportunities this brings for people, then you are in the wrong industry!" he exclaimed.
"We have learned many lessons around different areas over the past 20 years, and our teams continue to adapt and get better," ended Andrew. "I would say we are just in that stride now, and we still have a lot of work to keep that journey going."
ATS Automation
www.atsautomation.com
Services: An automation solutions provider