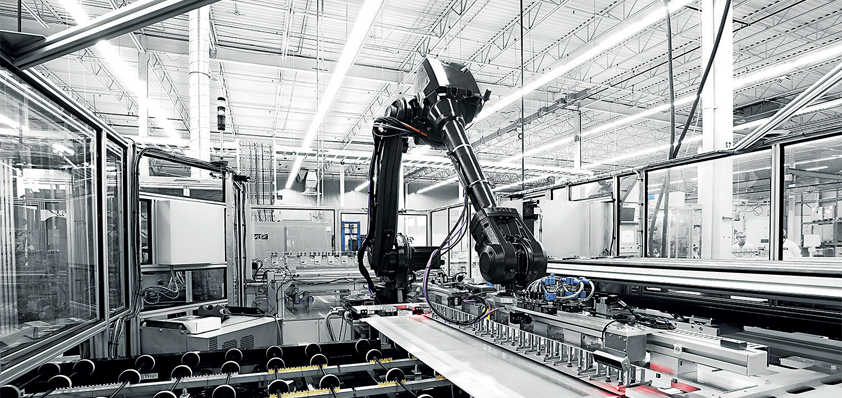 A positive impact
ATS Automation's manufacturing systems and service solutions can be found in markets such as life sciences, transportation, consumer products, food and beverage, and energy
With over four decades of experience, and a reputation as an innovative problem-solver, ATS Automation is proud to declare many of the world's most successful companies as its customers. Operating through a decentralized business model and serving customers via a strong portfolio of brands, ATS Automation delivers a range of solutions and products under ATS Industrial Automation, ATS Life Sciences, CFT, Comecer, Process Automation Solutions, IWK, Marco, SuperTrak, and Illuminate.
Describing itself as an 'industry-leading automation solutions provider' the business can draw on an extensive knowledge base as well as global capabilities in the delivery of its solutions. In fact, the scale of the company is very impressive. Andrew Hider, CEO of ATS Automation, gave some statistics that illustrate its size and coverage: "We now employ approximately 4,200 people at 20 manufacturing facilities and over 50 offices in North America, Europe, Southeast Asia, and China," he began. "We also have a strong track record of acquisition and integration, and with the recently completed acquisition of CFT S p.A, this will take our employee count to over 5,000, and further grow the number of facilities as well."
Diving more deeply into its services, Andrew explained that the business offers solutions for process automation (enterprise manufacturing and factory automation); life sciences systems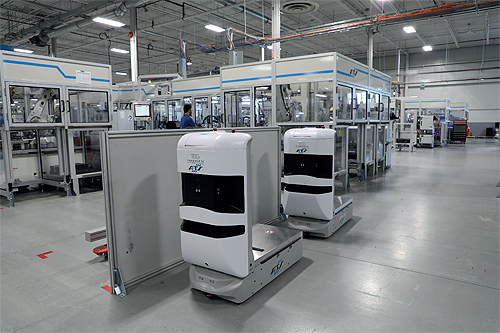 and solutions for assembly and test; industrial automation automated tools, assembly, and test systems; packaging and processing, automated food and beverage packaging solutions as well as filling and case packing systems; and leading products and machine components as well as digital services. On the Industrial Automation side, ATS Automation provides automated tools, assembly, and test solutions for:
EV-Mobility – Mainly battery module and pack assembly, also used for buses, trucks, grid batteries, and many other applications and a fuel cell assembly and test systems.
Nuclear reactor operations, refurbishment, and decommissioning.
E-Commerce packaging/warehouse automation.
Industrial electronic products assembly
Many other applications where automation matters.
"In all these applications, there is a lot at stake for our customers," said Andrew. "Being one day late, with a project or a system being down for a day, can easily cost them $1 million plus."
Over the last few years, ATS Automation has pivoted its business towards the life sciences space. Now, approximately half of its revenue derives from there, with the balance coming from transportation (with a focus on EV-Mobility), consumer, and nuclear. "The life sciences market offers a good fit for what we do best – complex solutions with great emphasis on quality, speed to market, and ability to service the product over its life cycle," said Andrew.
Udo Panenka, President, ATS Industrial Automation, added that the business sees similar characteristics in other end markets. "This is especially true within battery assembly and testing for electric cars and other e-mobility/battery applications, with the investment tsunami in batteries and electric vehicles by automakers," he said. "Furthermore, the nuclear industry is seeing some tailwind with many aging reactors and the planned reactor decommissioning in North America and Europe. However, we also see growth in smaller module reactors."
The food and beverage sector is also on ATS Automation's radar, and the acquisition of CFT that Andrew already referred to will provide it with a platform in the fresh produce processing and packaging equipment market. "CFT is a global supplier and strongly positioned in attractive niches including fresh produce sorting, processing, and packaging," explained Andrew. "It adds complementary technologies that can be combined to create unique market offerings by us and our companies, such as access to multiple elements of the value chain, creating cross-selling opportunities, and synergies through technology sharing and joint project development."
CFT's addition to the ATS Automation family will allow it to access new opportunities and pursue growth globally; it will also add diversity to its portfolio. More expansion is planned, with a brand-new site in Columbus already underway. "Here, we are more than doubling our footprint to create room for the growing demand for battery assembly solutions," noted Udo.
This extension at Columbus is not the only facility development happening at ATS Automation – in 2020, it re-opened Building #3 in Cambridge, Ontario. "This added over 122,000 square feet of space to the existing building, including 67,000 square feet of Life Sciences manufacturing space," said Andrew. "It also included a 19,000 square-foot innovation centre, where we focus on advancing some of our key product lines and seek to anticipate our customers' future needs. The expansion has allowed us to ramp up capacity and continue to improve our manufacturing processes, as well as increase our productivity and agility."
"Having a dedicated space for innovation is crucial in this industry," added Udo. "We are creating an inspiring environment and building processes to move the needle even further. Lean processes have led to better innovations, enabling improved solutions for our customers. With this renewed focus, we were able to file seven new patents in one of our Industrial Automation businesses in one quarter."
As Udo emphasized, innovation plays a huge part in the company's success, and historically it has always been prioritized in order to stay one step ahead of the competition. "This started with SuperTrak, an ATS Automation smart conveyance system launched 20 years ago, which has been refined over the years," noted Andrew. "Unlike traditional conveyance systems that are generally synchronous with little flexibility, SuperTrak provides value by incorporating a number of features into one platform, allowing a higher level of performance and productivity than that of traditional conveyance. Today SuperTrak is used by many of the Fortune 500 companies around the world, and it's a leader in smart conveyance."
"Our partnership with GM for their Ultium modular battery assembly is a great proof point of how SuperTrak can benefit a customer," continued Udo. "It both increased throughput while reducing footprint, resulting in a 50 percent increase in floor efficiency. Furthermore, reduced energy consumption is becoming a key factor, where SuperTrak enables more environmentally-friendly solutions."
Andrew then turned his attention to Illuminate, ATS Automation's factory optimization Industrial Internet of Things (IIoT) platform solution. "It uses real-time machine performance data to increase throughput, improve uptime, decrease cost and boost quality on the factory floor – enabling agile data-to-decision, in minutes," he explained. "We launched Illuminate in April 2019, with the idea of building something that is industry accessible; we built the predecessor technology in 2012 and used it internally to debug and optimize our integration projects. We identified a need in the market for an IIoT solution built by machine builders for machine builders."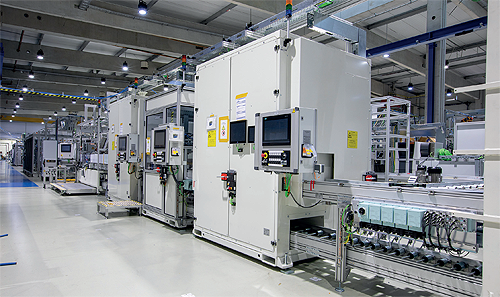 "What sets Illuminate apart from other products in the market is its simplicity when it comes to delivering actionable insights," Udo said. "Combined with our domain and subject matter expertise, and given our automation and integration background, we can ramp up complex systems quickly and improve operations throughout the entire lifecycle of an automated tool, machine, or line. Our teams consist of experts in their field, from PhDs in welding to PhDs in nuclear; we have created a remarkable and knowledgeable group that can solve virtually any problem given to them. In addition, we have a dedicated testing facility that provides us a way to demonstrate what success looks like for our customers.
"We also increasingly leverage digital twin solutions to simulate critical parts of a line and ensure that it delivers the expected output, and we reduce lead times by using our ability to undertake PLC programming while still building the line. We can also improve customer training in critical environments like nuclear so that our customers can operate our tools safely and efficiently."
Having mentioned both the Ultium battery work with GM and also the potential for the nuclear sector, Udo noted that this is part of ATS Automation's strategy to focus on attractive verticals with underlying growth dynamics. He further expanded on how ATS Industrial Automation interacts with clients and demonstrates the array of solutions that it can provide. He began with details about its nuclear decommissioning program with Holtec International. "We have a strong track-record of automated systems for dismantling reactors, but our work with Holtec requires building and testing specialized equipment that will be critical to the efficient and safe decommissioning of their retired nuclear plants in the United States. Nuclear is moving from refurbishment to decommissioning and driving our geographical expansion," he said.
"Our work with GM on the Ultium battery showcases how we can work with rapidly evolving technology, high-quality requirements, and compressed production schedules. The result here was a bespoke solution very specific to this client, and one that leveraged the diversity of skills, expertise, and products that we can offer."
While ATS Automation operates a decentralized model, with businesses ranging from EV to life sciences, all businesses share a common operating model, the ATS Business Model (ABM). Andrew elaborated about the ABM in general, which was introduced in 2017: "All companies within the ATS Automation family are united by the ABM, which is the collection of lean tools and approaches that we use to drive continuous improvement and guides us in achieving our goals," he said. "We have three central values to the company and are reflected in the lean ABM – People, Process, and Performance. Together, these values deliver a winning team committed to applying continuous improvement and delivering value for our customers, shareholders, and employees. The ABM provides our people with critical problem-solving tools and a template for eliminating waste and driving process improvement in all areas of responsibility. It also empowers personnel, improves customer satisfaction, and enhances our returns."
This philosophy is applied in every part of the business, but as Udo explained, project management is of particular importance, especially when it comes to EV battery assembly, and the ABM tool is very beneficial in this area. "These projects are typically very challenging, as the solutions can be pretty complex (one EV battery can have 6,500 cells, which equal 13,000 welds, and if one weld is defective, the range of the car can drop by almost two percent). Simultaneously, while we build these challenging solutions, the battery's final design is often still modified until weeks before the launch, but the launch date of a new vehicle will never get moved. We have applied ABM to improve our project management processes to successfully execute such challenging projects and deliver the right quality on time and budget. Value stream mapping and a fully integrated daily visual management combined with comprehensive problem-solving processes make sure that our customers can rely on us."
In fact, the three values of People, Process and Performance are deeply embedded in the operations at ATS Automation. The fact that People is the first tenet in the list gives an indication of the value that it places on its employees – something that came to the fore in 2020 with the arrival of Covid-19. "We had to make a rapid pivot as the realities of the virus became apparent," Andrew admitted. "We realized that the key to our success would come from the continued support and dedication of our people, and that we all had a role to play in maintaining a safe and healthy work environment.
"The pandemic brought a range of unprecedented challenges to how we operate. Our first priority was to ensure our employees' health and mental wellness and support them. We established an executive steering committee, which oversaw enterprise-wide prioritizations and approvals.
"Through coordinated effort and clear communication, we quickly mobilized a response that enabled our people to return to work, either remotely or in reconfigured workspaces that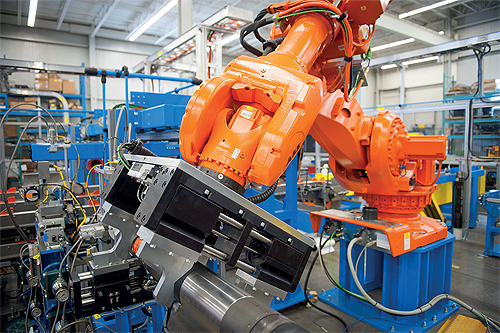 supported physical distancing. We were also able to distribute 20,500 face covers to employees and their families.
"Employees were kept informed through weekly updates and targeted bulletins that helped them make the shift to a new world of work. We have integrated and transitioned our pandemic response into our day-to-day operations with the release of the Forward Together Playbook – a guide to supporting global teams and maintaining workplace wellbeing.
"In turn, our employees played a crucial role in assisting a number of ATS Automation customers in pivoting their manufacturing output to produce important products such as ventilators, respirators, and Covid-19 test kits."
The ATS Automation team's willingness to go the extra mile is reflected in some of the more creative solutions that they invented to circumvent the challenges that were put in their path. "Critical customer projects had still to be completed on time despite coronavirus and travel restrictions, making life pretty complicated," said Udo. "I am so grateful for the teams' flexibility, and we were able to develop some innovative solutions – for example, to complete a project on time in Poland, we turned a customer site into a quarantine zone, brought 15 trailers to a site where our people lived and made arrangements for some key team members to stay for an extended period of time on-site to avoid any travel."
"Our employees really stepped up to meet customers' demands, and our ability to work smarter by reusing engineering concepts and designs allowed us to compress project timelines," added Andrew. "With some employees onsite and others working remotely, we still worked hard to maintain alignment, togetherness, and a shared vision as we worked through the challenges of the past year. While the current environment is far from normal, I am extremely pleased with the progress we've made over the last year to re-orient our operations to this 'new normal'."
The organisation's caring focus is not limited to inside its own four walls, either – it plays an active role in the communities in which it operates, too. "We were founded in Cambridge in 1978, and the city remains our corporate headquarters," said Andrew. "The community's support played an important role in enabling ATS Automation to establish a growing global presence. Our commitment to the Cambridge area, and our people's efforts to build social capital and contribute to their own communities, guides our giving efforts everywhere we operate.
"In the last year, we have participated in over 39 events throughout the world and contributed over $250,000 in community support and charitable donations. We also supported ten local communities through participation in fundraising events for important causes."
Alongside people, ATS Automation prides itself on its focus on sustainable operations, and Corporate Social Responsibility (CSR). It also embraces the environment as part of its shared purpose statement: Creating solutions that positively impact lives around the world. "While helping to make our clients' processes more efficient across a range of applications, the work we do in markets like solar, nuclear energy, and electric vehicles contributes to a more sustainable world," said Andrew. "We are committed to ensuring the same is true for all of our operations and activities."
Waste and energy are particular areas of interest, and significant gains have been made. "Packaging makes up a large portion of the waste associated with our activities, and we had an organization-wide audit where we set a target of diverting at least 80 percent of the waste we generate from landfills. Our end result was 82 percent diversion, and through continued alignment with our supply chain partners, we believe we can raise that number further," highlighted Andrew.
"The majority of our operations are already energy efficient, and in recent years we have made widespread changes to boost our efficiency, such as installing motion-sensitive switches and using LED lighting. We also produced nearly 235,000 kWh by photovoltaic rooftop systems and are looking to increase the number of installations. Our European operations are now using as much as 65 percent renewable energy, and we are exploring opportunities to increase renewable sources globally," he continued.
With the coronavirus pandemic hopefully retreating, Andrew feels that ATS Automation can look at 2021 with cautious optimism. "While we continue to operate in a Covid-19 environment which impacts customer demand and our operating efficiency (due to physical distancing and travel restrictions), we have adapted our business to this new normal, and our recent financial results corroborate that," he said. "We have weathered the pandemic storm better than most machinery manufacturing companies given our meaningful exposure to the life sciences market, which has remained resilient. Our unique mix of skills, technologies, and end-markets has allowed us to be successful amidst a challenging environment by focusing on solving customer problems, and we continue to see opportunities in most of our end markets."
Looking further ahead to the future, and both Andrew and Udo are confident that there are still great achievements to be made at the business. "In three to five years, we expect to be further ahead in our continuous improvement journey and an even stronger technology partner to our customers," said Andrew. "Through strategic acquisitions, we are scaling up our presence in new and adjacent verticals to broaden our offerings in attractive end-markets. On the operational front, the ABM, our continuous improvement playbook, continues to surface value creation opportunities across all our business activities, from manufacturing to sales. We are excited about the future of ATS Automation, and the prospect of building a great company."
ATS Automation
Services: Industry-leading automation solutions provider
www.atsautomation.com