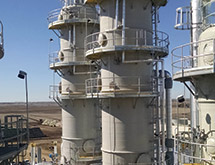 Providing fiberglass products to many industries and communities throughout the nation and beyond, Augusta Fiberglass specializes in custom fiber-reinforced plastic (FRP) equipment for the power generation, pulp and paper, chemical processing and wastewater treatment industries. Its products can be found in power plants, nuclear facilities, wastewater facilities and throughout the chemical industry where caustic and corrosive chemicals are used or stored.
Augusta Fiberglass has built thousands of standard, large- and small-diameter tanks and vessels of all shapes and sizes. August Fiberglass has provided the power industry with more than 11 miles of stack liners having internal diameters measuring 18 to 38 feet as well as seven of the world's largest fiberglass vessels measuring 119 feet in diameter. With its years of experience, the company can meet any fiberglass need regardless of shape or size, including tanks, duct, scrubbers, stacks, stack liners and other fiberglass equipment. In addition, its sister company, B&D Plastics, provides dual laminate systems.
"Our target market is the world," CEO John Boyd says. "We maintain our marketshare by continuing to meet the stringent ASME RTP-1 Standards and by continuing to produce quality products in a safe, on time environment. We also focus on skill and innovation as evidenced by our engineering team, which consists of the finest composite engineers in the world with decades of fiberglass design and fabrication experience."
Focus on Service
Augusta's engineering team regularly performs finite element analysis for customers and can handle the most complex, sophisticated fiberglass equipment for any industry. By using computer-controlled winders and state-of-the-art chopper guns, Augusta's customers can feel confident that all products will be built to the highest standard of the industry.
"Our fabricators and chopper gun operators are carefully and fully trained to produce laminates and equipment that meet our customers' and the industry's highest standards," Boyd says.
A key part of Augusta's ability to succeed is its belief in maintaining close, collaborative relationships with resin manufacturers. This allows Augusta Fiberglass to confirm and have confidence in its choice of materials used. Skillful engineering, including finite element analysis when appropriate, ensures that equipment supplied throughout the world can withstand seismic and atmospheric conditions at the place of service.
Another critical element of its operations is the ability to maintain a safe work environment for its highly skilled employees. "Our investment in safety programs includes many hours of training on safety for each employee," Boyd says.
Quality is an additional major priority for Augusta, as is timely delivery of equipment built to spec. "The old-fashioned American belief in hard work for good pay forms the core of our effort," Boyd says. "We have a workforce that includes third-generation employees and three workers who have been with the company from its birth."
Investing in Growth
Among the company's key investments in recent years was the acquisition of B&D Plastics, a leader in the dual laminate industry. By bringing B&D's plant in Ocean Springs, Miss., into its portfolio, Augusta Fiberglass can offer a full complement of corrosion-resistant equipment. Expansions at the Ocean Springs facility allow the company to fabricate fiberglass-reinforced equipment along with the dual laminates that have long been a B&D core competency.
"The newly acquired waterfront dock allows Augusta Fiberglass easy access to the Gulf of Mexico," Boyd says. "Using ocean-going barges, we can ship large projects anywhere in the world. Most recently, a multimillion-dollar duct project was shipped from Ocean Springs to Florida. That project was delivered on time and to spec, accident-free."
Augusta's investment in dual laminates is critical to the future of the company and the industry. By expanding the dual laminate facility, Augusta and B&D can meet today's challenges through leading-edge technology because Boyd says B&D's engineers are the most knowledgeable and skilled in the dual laminate industry.
"Our investment in inventive engineering programs has led to the development of unique, pace-setting, patented equipment," Boyd says. "Our home in Blackville, S.C., has been expanded with new 25,000-square-foot buildings, underground gas service and a second physical location near the main plant. We also have 22 rough terrain cranes and a sister location in Denmark, S.C., with 100,017-square-feet of office and manufacturing space under one roof."
Keeping a watchful eye on the trends impacting its business will help Augusta Fiberglass achieve its growth goals for 2015 and beyond. Boyd believes that the future looks very good for the company because it has invested in leading-edge equipment and has earned a reputation for providing best-in-class products and solutions to its many customers.
Boyd says many engineering firms look to Augusta as one of their top-choice suppliers. By continuing to insist upon quality workmanship and safe practices, the company can pursue growth as demand increases. Boyd says growth in existing energy supply efforts along with the search for new energy sources opens a number of opportunities for Augusta's industry, as does the need to provide power and service to an ever-expanding American landscape.
Augusta understands that the continuing review and intelligent use of American natural resources, including coal, are increasingly important. As America and the entire world make choices related to power, Augusta will adapt and supply whatever is needed. Activity taking place both inside and outside of America's borders represent opportunities for Augusta Fiberglass, which has plans for expansion at home and in Central and South America.
"Our priorities remain the same, as our goal is to continue to grow while creating the highest-quality fiberglass equipment in a safe, quality-oriented environment," Boyd says. "On time, to spec, and safe are our bywords. We gladly accept the challenge of maintaining the high standard we have set for ourselves. Our planned expansion west of the Mississippi continues, as does our continuing use of improvements in state-of-the-art chemistry, laminate design and testing."