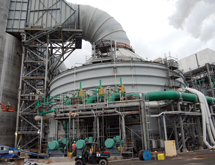 Augusta Fiberglass built and patented what might be the world's largest fiberglass fabrication for the power generation industry to rid the air of harsh chemicals and carbon dioxide emitted from plant operations. The company specializes in custom fiber-reinforced plastic (FRP) equipment for the power generation, pulp and paper, chemical processing and wastewater treatment industries.
The Blackville, S.C.– based company manufactured seven Jet Bubbler Reactors that are up to 119 feet in internal diameter and weigh 600,000 pounds each, CEO John Boyd says. Augusta Fiberglass' innovative mindset helps identify, develop and implement unique methods of FRP construction for use in the fabrication of many large-diameter vessels. "These Jet Bubbler Reactors weren't built in the shop – they were built in several different plant locations for different companies in the field," Boyd adds.
The company's field service division, which provides on-site plant maintenance to replace or repair piping, reactors and vessels, was part of the creation of the reactors. "We have trained crews that go out and do this work in the field all over the U.S. and Canada," Boyd says. "The division is a vital arm of the company. The unique part of our service is how successful we have been with it and the great volume of work that we do in the division."
Quality Guaranteed
Augusta Fiberglass received the American Society of Mechanical Engineers (ASME) reinforced thermoset plastic (RTP– 1) Certificate of Authorization in 1995, which only 11 FRP fabricators in the world currently hold. The company has continued to hold the RTP – 1 authorization and plans to keep it long into the future by meeting or exceeding ASME standards. "You don't keep that certification unless you have superb quality," Boyd says. "The ASME do unannounced audits and come at least once per year so you have to be on your toes at all times."
The company's quality control personnel monitor the manufacturing of the FRP equipment to maintain production of high-quality products. Augusta Fiberglass' engineers, drafting team and quality control staff are qualified and experienced in FRP construction and have seen FRP used in virtually every environment and situation possible. Because of this expertise and experience, the engineers can use state-of-the-art techniques – including finite element analysis – to deal with special service or design problems.
Augusta Fiberglass production is performed in two shifts six days per week. Every employee is trained in safety and job requirements when hired. "Supervisors verse them in safety, quality and train them," Boyd explains. "New hires work with an experienced employee until they are deemed competent to do their work. Safety comes first, right alongside customer service."
The company stands apart from its competitors because of its employees' dedication and job satisfaction. "We have outstanding people with many years of experience, many go back to the early days when we started the company," he adds. "I also have a lot of second-generation people working here. We take a great amount of pride in quality, safety and production."
Augusta Fiberglass is actively pursuing opportunities to open manufacturing facilities in South America, particularly in Chile. In the United States, Boyd expanded the operation by acquiring B&D Plastics in Ocean Springs, Miss. B&D is a dual laminate fabrication facility that can produce products suitable for chemicals that other laminates can not handle.
Maintaining quality while that expansion goes forward is a challenge, Boyd admits, but it is one that Augusta Fiberglass welcomes. He is careful to include the opinions of team members and puts together committees on a regular basis to analyze projects and challenges. Decisions are made only after thorough discussion and all members of the team are given an opportunity to express their opinions. "Everyone can have a voice," Boyd says. "That's only fair when they have to live by the decisions."
Moving Forward
Augusta Fiberglass acquired B&D Plastics to ensure the company will be able to meet the needs of treating highly corrosive chemicals that FRP cannot handle. "Polyvinyl chloride, Teflon or other thermoplastics are put around the mold and overlaid with fiberglass for strength," Boyd explains. "These materials have a resistance to the harsh chemicals that sometimes fiberglass alone does not have."
B&D's location provides easy access to waterways so Augusta Fiberglass can increase its use of barges to ship its products out. Along with the growth in the United States, the company is pursuing a new operations center in Chile to take advantage of new opportunities and rely on its loyal contacts in the area. "We enjoy what we do and we have a desire to grow," Boyd says.
Boyd and his wife, Caroline, founded Augusta Fiberglass in the early 1970s with their old pickup truck filled with fiberglass supplies and a $900 purchase order. The customer was impressed with the quality of work and increased the scope of the project leading to a $90,000 job.
Today, the company's vessels and equipment can be found in plants and facilities all over the world from Singapore to Saudi Arabia and Mexico to Canada. "We started as a small company and have grown leaps and bounds every year since," Boyd says. "Meeting and exceeding the customer's needs is the business model that has led Augusta Fiberglass to become a virtually debt-free company with annual revenues often exceeding $100 million."