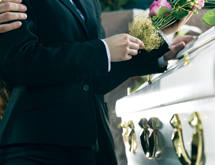 It is never easy to deal with the loss of a loved one, but Aurora Casket Co. Inc. uses is nearly 125 years of experience to make that experience easier, helping funeral homes offer the best products and services, as well as keeping them competitive in their markets. In fact, with its dedication to service, Aurora Casket continues to create new ways to improve its customers' businesses, while also caring for the needs of the dead and their families.
Based in Aurora, Ind., Aurora Casket is the largest privately owned funeral service supplier in the United States. The company operates five manufacturing facilities in the United States and Canada, and provides a full range of burial, cremation, memorial and technology products to funeral home clients. Aurora's products include caskets, cremation caskets, urns, keepsakes and cremation jewelry, as well as stationery goods, bronze cemetery markers, business management software, websites and professional development training. The company offers metal casket production, and its subsidiaries provide the manufacturing of hardwood caskets, cremation urns and stationery. In 2012, Aurora Casket became a subsidiary of New York-based private equity firm Kohlberg & Co.
"With exclusive access to products, programs and services designed to help [funeral directors] stand apart from their competitors, the Aurora Advantage helps position their firms for long-term growth," Aurora Casket says. "Funeral homes nationwide have gained more control of the future of their businesses. The Aurora Advantage is about its customers, and giving them peace of mind in today's uncertain funeral service environment."
Innovative Craftsmanship
Aurora Casket is committed to the highest standards of quality in its casket manufacturing operation, and understands this is a purchase made during a difficult time. The company guarantees that all of its caskets are made in America, and every one features ComfortFit Styling, the largest standard casket width available and a wide variety of materials and interior fabrics.
The company notes that its metal caskets are manufactured at its headquarters, and its engineers and craftspeople are committed to continuous innovation and improvement. Aurora Casket's technology is continuously evolving and it always is evaluating and implementing new processes to ensure it maintains high standards of quality. For example, the company says its hardware technicians are equipped with special tools used by the automotive industry, which allow them to guarantee the solid construction of every casket.
"Our commitment to innovation is balanced by our focus on tradition," the company says. "In all manufacturing industries, many hands-on practices have been automated. Aurora, however, is the only manufacturing facility in the country where skilled metalworkers still brush caskets by hand. Expert seamstresses still stitch casket interiors by hand. At our hardwood casket facility in Piney Flats, Tenn., two-man teams of experienced carpenters assemble each casket. Every hardwood casket is given the same attention that a woodworker would give to a piece of fine furniture – each is sanded, stained, buffed and polished by hand."
Enhanced Offerings
The origins of Aurora Casket date back to 1890, but the company continues to lead the funeral industry with new solutions and services, either developed internally or offered through various partnerships. Last year, for example, Aurora Casket partnered with A Simple Thank You to offer the new Aurora Essentials Digital Registry.
It is a long-held practice of mourners and funeral guests to mark their support of grieving families by signing a guest registry, but the Aurora Essentials Digital Registry takes this tradition into the digital age. The Aurora solution replaces the pen-and-paper guestbook with a free iPad app that captures guest names, addresses and email addresses. This information can be printed into a memorial guestbook, as well as acknowledgement cards and envelopes.
Chris Gordon, founder of A Simple Thank You, created this solution after a personal funeral experience, Aurora Casket explains. "When my wife passed away, I wanted to acknowledge and thank the guests who offered support to me and our family, but when I sat down to write the notes and address the envelopes, it was tremendously difficult," Gordon said in a statement. "Not only did the emotion of every memory come rushing back, simply trying to read the signatures of the register book and find address was a chore. I knew there was a better way."
Last year, Aurora Casket also partnered with funeralOne to provide personalization, web design and aftercare services to funeral professionals. With this partnership, the company says, Aurora customers can enhance their marketing efforts with the first website designed to educate families about the true value of a funeral service.
"Aurora is focused on delivering solutions that help our funeral home customers create healing moments for their families and funeral guests," said Marty Strohofer, vice president of marketing and product development at Aurora, in a statement. "The innovative team at funeralOne is focused on enhancing the online guest experience and improving the way funeral homes engage with families."
Additionally, with this new solution, funeral homes can incorporate The Sympathy Store, a turnkey e-commerce solution allowing them to offer flowers and other sympathy gifts.
"funeralOne and Aurora share a common mission – to help funeral professionals educate families and create healing moments," said Joe Jackson, CEO and founder of funeralOne.