Out in the light
Carried by entrepreneurial spirit, Aurora Lighting has been quick to embrace the Internet of Things (IoT) in lighting concept through its highly successful and ever-developing AOne control system
Independent research has concluded that Aurora Lighting is now the most recognised lighting brand in the UK. Quite a feat, one shall agree, for a company that was star ted by a handful of enthusiasts only 20 years ago. Grown in the best traditions of entrepreneurship, the privately-owned business has proven agile enough to adapt to the seismic changes that have taken place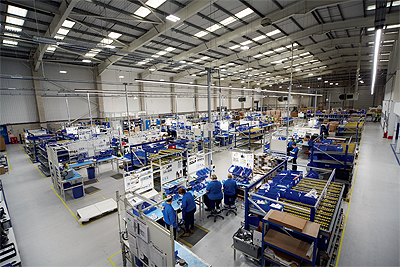 across the lighting industry in the first decade of the 21st century.
"By 2008-2009, it became obvious that LED was going to be the light source of choice, which caught a lot of the companies in the field by surprise, because, up to that point, their factories were all set up for the production of traditional halogen lighting," begins Aurora's Director of Product Development, Darren Casey. "Our business, too, started as a halogen specialist and we had our own tough decisions to make, but because we were smaller, privately-owned, and very entrepreneurial, we were able to pivot to become an LED lighting manufacturer relatively quickly."
One aspect that has not changed since the halogen days, as Darren calls the early years of Aurora's history, is the product types that capture the customer's attention most. "We have built our business on the development of our fire-rated downlights category. These products are now a lot more advanced from a technological point of view, having originally been a rather simple can with an MR16 or GU10 lamp inside, and they remain our most popular line. Presently, our fire-rated downlights take the form of an integrated LED system with built-in fire protection and they are incredibly sought-after in the UK, due to the fire regulations we have in place here," he discusses.
In recent times, Aurora has also been among the pioneers of exploring and subsequently integrating IoT in its products. Its Trade division has developed the most comprehensive range of smart lighting both in the UK and in Europe, which features fire-rated downlights, lamps, switches, sockets, remote controls, and many others. Aurora's Projects division has developed a smar t commercial solution that can be tailored to an organisation's individual requirements, resulting in greater energy savings, optimised space utilisation and an enhanced work environment.
In 2017, Aurora Trade launched its innovative AOne system, which allows home and small business owners to take full control of their premises from anywhere in the world via their mobile phone. The solution works with Gooee, SmartThings and EchoPlus and can be voice controlled with the leading smart home platforms: Amazon Alexa and Google Assistant. It enables smart control of any of the over 1000 products in Aurora's range, proving to be the most advanced technology of its kind.
"It is a very lighting-centric system and while there are many solutions that enhance home automation, we believe that no one does lighting better than us, simply because we know what people want from lighting control," Darren maintains. "AOne was designed to primarily serve the residential sector and was introduced specifically for our Trade division, but as we continue to grow the range, we would like to develop products for commercial environments, too. At the moment, we are not aware of any other company in the UK that has in-house development teams like we do. The tendency is for our competitors to buy ready-made systems from abroad, while we develop our own. Over the past two years we've had to integrate a new team of software, firmware and app developers with no prior experience of manufacturing into a traditional engineering team.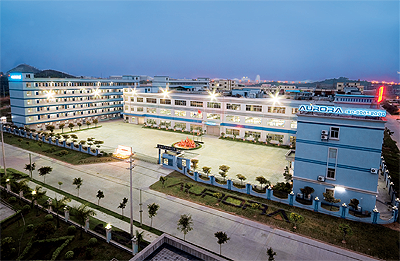 We've therefore had to modify our working practices and processes to incorporate agile development methodology alongside our hardware development processes to allow the teams to work together effectively.
"This will make it a bit more challenging for us in the market, but at the end of the day, we end up with products that our customers want and ones we are really pleased with, so we are not going to change our approach."
Ensuring that it has complete control over the manufacturing of its products has been a key consideration for Aurora. The company runs a total of three manufacturing facilities – one in the UK and two in China – each of which is playing a different function. "Generally speaking, we have a lot of our products tooled in China, which we then assemble to order in the UK for our Projects division," Darren explains. "The factory in Dongguan is where most of the R&D is done and it has been set up for some small-scale production. In contrast, the Ji'an site has been geared for high-volume production. Most importantly, we are able to manufacture the vast majority of the components required to make our products. This holds true particularly for the downlights category, where we can manufacture every single item in the range from end to end. To us, this is of utmost importance, because it allows us to oversee every step of the process and guarantee that the products that make up our core business are of the highest calibre.
"Even on the rare occasions when we have to source components from external manufacturers, we apply extra vigilance to make sure that they meet our self-imposed quality standards. It falls upon our in-house QC team that travel around the country and inspect every single shipment that arrives from China, to confirm that only the best materials enter the factories," Darren continues.
The first 20 years of its existence bore witness to the active marketing and growth of the Aurora brand. Being on the threshold of its third decade, the company is willing to maintain its hard-earned position at the forefront of the lighting market by continuing to move in line with emerging technologies. Darren adds in conclusion: "IoT is going to be a major focus area for us in the coming years. In addition, we will direct some significant resources in expanding our Projects division further. We supply international brands like McDonald's through it, which is one particularly important account for us that we are growing globally, so deepening our relationship with them is one of the top priorities on our agenda."
Aurora Lighting
Products: LED lighting and technology