Adventure awaits
Taking great pride in every aspect of building innovative and modern motorhomes, Auto-Sleepers has developed a reputation for excellence in its chosen field
Auto-Sleepers Ltd history began in 1961, when the Trevelyan family were searching for a touring holiday with a difference. Using their resources, they built their own motorhome based on a Morris J2 van, which then took them to the South of France for their holidays. Gaining valuable lessons from the prototype, the family incorporated design refinements into a second model,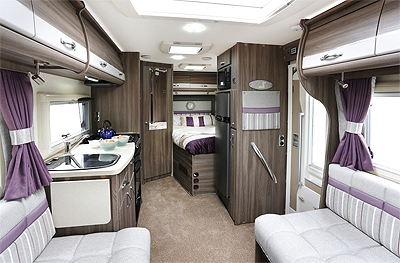 which attracted the attention of Henlys of Bristol. From the first order of five more models, Auto-Sleepers was born and today continues as a family-orientated firm that is staffed by people who are passionate about high quality, premium motorhomes.
Based in Willersey in the Cotswolds, the company uses its 54 years of experience to meet the needs of customers who are seeking the very best in British-built motorhomes. Taking great pride in hand-craftsmanship and design expertise, it is clear that a huge deal of time, care and effort goes into the development of each Auto-Sleepers motorhome; the furniture, fittings and fitments are of the highest quality, with a modern and stylish look that is coupled with innovation. Furthermore, because the company's designers use and live with its motorhomes, there is an increased understanding of what works to make the best possible use of interior space. Thanks to these strengths, Auto-Sleepers has developed a coveted reputation in the market for producing 'Motorhomes of Excellence'.
"Auto-Sleeper Group is currently owned by the Trigano Group in a shareholding with Geoff Scott and Mike Crouch, the CEO and Managing Director of the group respectively, which also includes the UK's largest dealer network in Marquis Motorhomes and Caravans, who operate from 12 dealerships nationwide. Marquis Motorhomes and Caravans are not only our biggest customer, but also the biggest customer for many of our competitors, which sees the group responsible for almost 20 per cent of the new motorhome registrations in the UK," says Dave Williams, Sales Director at Auto- Sleepers Ltd.
Taking great pride in every aspect from design to build, the company manufactures on the Peugeot Boxer, Mercedes Sprinter and Fiat Ducato chassis to produce aspirational motorhomes and van conversions. Auto-Sleeper vehicles are renowned for peerless refinement, combining class leading specifications with thermal insulation for year-round use, and engine upgrades as standard specification, plus they strive to meet or even exceed the demands of the premium motorhome market and set the benchmark for others to be measured against.
"We are currently working closely with Peugeot to expand into the camper sector with a conversion based on their Traveller chassis, which is due to be launched at the NEC Caravan, Camping and Motorhome Show in February 2018. The new camper measures 5.3 metres in length and remains under two metres in height, making it perfect to combine as an everyday car during the week whilst being a superb, fully specified camper at the weekend. The market for dual-purpose vehicles is going from strength to strength with Mercedes, Ford and Volkswagen all promoting similar vehicles, so this represents a great opportunity for both Auto-Sleepers and Peugeot," explains Dave.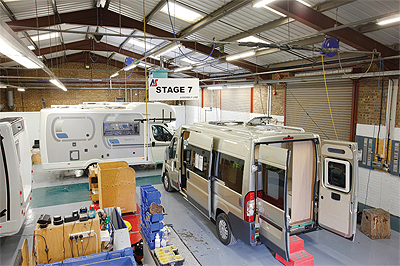 The level of care that goes into the finest of details and an ongoing focus on responding to market trends are just two of the reasons Auto-Sleepers has enjoyed double digit sales growth for the last five years, as well as receiving a number of awards. Recent notable wins include two 'Owner Satisfaction Awards' in 2017, as Dave comments: "The owner satisfaction awards involve the independent surveying of motorhome owners, which are then assessed and collated to identify the winners, making them the most sought after of awards in our industry. We also do well when organisations such as the Caravan and Motorhome Club undertake surveys, with Auto-Sleeper regularly named as a brand their members aspire to own in the future."
In addition to building and designing luxurious motorhomes and van conversions, the company also delivers impeccable aftersales services; this includes replacement parts, caravan servicing, accident repair or mechanical MOTs. "Our service centre further strengthens our unique approach to business as customers who purchase an Auto-Sleeper product through any of our dealers is welcome to bring their motorhome back to the factory for their annual service checks or any warranty work," says Dave.
By offering an invaluable service and refusing to rest on its laurels when it comes to innovative products and quality, Auto-Sleepers looks set to remain at the forefront of the motorhomes market for many years to come. "We are at our existing capacity, but have plans in place to invest £500,000 during the next 12 months to increase our manufacturing capacity by 20 per cent to meet the increasing demand for our motorhomes. With a desire to keep raising the bar, listening to our customers serves us well and provides solid foundations for sustainable growth," Dave concludes.
Auto-Sleepers Ltd
Products: Manufacture and sell motorhomes and van conversions