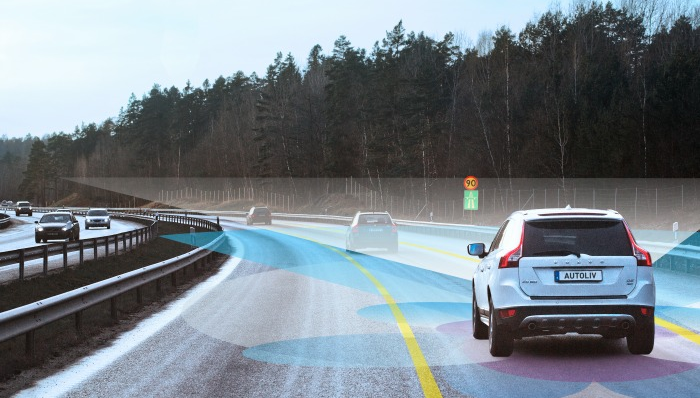 Autoliv Inc. manufactures automobile parts, but the company's real focus is to ensure occupant safety, Steve Brohm says. "We're doing this because we want to save more lives," he asserts. "That's the common thread that comes all the way from the top down to the floors of the company."
Brohm is the vice president of quality for the electronics group of the Stockholm, Sweden-based company. The company manufactures airbags, seatbelts, steering wheels and safety electronics, including radar, night vision and camera vision systems. Founder Lennart Linblad started Autoliv in 1953 as a car and tractor repair shop.
The company launched its first seatbelt three years later, and became the first to introduce the two- and three-point seat belt system and airbags for front and side impacts. In addition, Autoliv was the first to launch pyrotechnic belt pretensioners and pedestrian protection systems.
Today, Autoliv says it stands as the leader in its niche, with products that save 30,000 lives annually and prevent 10 times as many injuries. "Autoliv pretty much provides something to every [automotive] OEM," Brohm says, noting that it has nurtured a culture that values innovation for the purpose of saving more lives.
"That's a pretty cool thing to work on," he says. "If you talk to any of the people here, they're pretty pumped about that."
Communications Manager Tom Hajkus agrees, recalling an instance when the company gave a media tour at its facility in Utah. "A guy in the back of the crowd [stepped away] and talked to a worker folding airbags and asked, 'What do you do?'"
The worker replied that he saves lives. "It's fairly unique," Hajkus says, noting that Autoliv has gained a reputation for being trustworthy among the Big Three in automotive manufacturers as well as other suppliers. "The trust factor makes us one of those companies that has been around and know our stuff."
Reading the Market
Autoliv has adapted well to changes within its market, including the 2008 economic crash, Brohm says. "History shows that Autoliv was pretty [successful] in adapting to that in a fast or agile way," he recalls. "Coming out of that, Autoliv was more prepared and [ready] to take action."
When another recession comes, Autoliv will again be prepared, Brohm predicts. "The industry is obviously cyclical," he says. "It ebbs and it flows. There will be something like that again. Autoliv has been good at reading the market, understanding and adapting."
Recently, the company has adapted to the development of self-driving cars in its market. "That is something that is pretty important to Autoliv," he says. "If you look at the data for accidents and fatalities around the globe, it is highly due to human error, human judgment or distractions."
Self-driving cars could eliminate those factors, Brohm says. "It's seen by Autoliv as a primary path towards saving more lives," he says. "That is what is shaping the industry right now."
An example of Autoliv's relentless pursuit to save more lives is found in its recent announcement to partner with Volvo Car Corp. to develop software for automated vehicles, Brohm says.
"This partnership will speed up the pace of developing technology to enable self-driving vehicles for the marketplace," he says. "It's good for Volvo in that it speeds up their development cycle, and it's good for Autoliv that we have access to Volvo's vehicle development expertise."
A recent example of Autoliv's automated driving technology being incorporated into a production vehicle can be found in the Mercedes-Benz E-Class vehicle, which launched at the end of 2015. "Mercedes is proud of that vehicle and Autoliv is proud to be able to make that happen," Brohm says.
Promoting Quality
Manufacturing quality is a top priority for Autoliv, but the company does not maintain it through programs or by performing close inspections alone. "It's very much about the mindset in the culture and the people who make up the organization," Brohm says.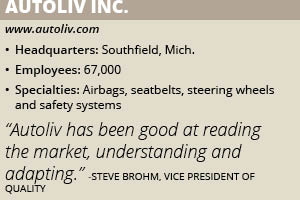 Autoliv has promoted this mindset through programs such as its "Zero Defect" initiative, Brohm says. "Rather than thinking about PPMs or defects per million, we hold ourselves to a standard of zero defects delivered through operations to our customers," he explains.
"We've had some rather revolutionary examples of success," he says, noting that some production lines had poor performance when they were measured in PPM. "We take a workshop approach with the production team responsible for each production line to align the team's focus on identifying the obstacles to zero defect and overcoming those obstacles.
Surprisingly, this approach does not typically result in the need for large capital investment or implementation of sophisticated new tools in its production lines during this process. "It's [more] about the people who know the product best," Brohm says. "They know what the physical barriers are that are nagging the production line on a daily basis. They typically have clever insights and ideas to address the root causes of defectivity once understood."
Through this process, Autoliv's team identifies the top problems that lead to defects and corrects them, but in ways "so they never come back and affect us again," Brohm says. "That gives us more energy and enthusiasm to go even further.
"We aspire for the day where all our production lines produce zero defects on a daily basis," he says, noting that this has required some retraining of employees to the PPM mindset. "It's really more about training of the concepts and exposure to how it can be effective to take a different way of thinking to our daily activities."
Autoliv has seen strong results from the Zero Defects initiative, Brohm says. Previously, the company had several production lines that could not operate in a 24-hour period without producing a defect. Now, "We have many examples of production lines delivering zero defects in electronics, seat belts and airbags," he says.
Being Better
Brohm joined Autoliv in 2002 and has enjoyed his time with the company. "Some days are very long and some days are really challenging," he admits, but asserts that the fact that the company keeps people safe makes it satisfying.
"Our CEO [Jan Carlson] is incredibly focused on saving more lives," Brohm says, noting that his passion is shared throughout the entire company. "I've worked for a few companies, but I've never worked for a company that pulls that [cultural] fabric together across the globe the way that Autoliv does."
Brohm is pleased with the improvements Autoliv has made on the manufacturing side. "What I'm most proud of is the ability in our organization on any given day to view the reality of today and contrast it to where you were a year ago," he says. "You can see physical signs of improvement.
"You never stop improving if you identify things that can be improved," Brohm says. "There's 230 working days in a year. If each of us improve just one thing every day for a year, you end the year having improved 230 things. This concept becomes truly powerful as you multiply this effect by the number of Autoliv employees wordwide."
This represents the "essence" of continuous improvement, he asserts. "That's what we strive to achieve," Brohm continues. "We're great, but we want to be better."
He predicts a strong future for Autoliv. "I see continued growth as we strive to show our customers the value that we bring with our agility and our innovation," he says. "[We also] have the possibility to accomplish our mission, which is saving more lives."
Safely and Sustainably
Autoliv Inc. focuses on saving the environment with its products. "From innovation to disposal, we consider the potential environmental impact when we design our products and processes," the company says.
"In various ways, raw materials, components, manufacturing, use and end-of-life considerations impact our thinking and final products specifications," Autoliv says. "This [includes] low-weight safety systems, use of alternative energy in our products and improved fuel efficiency."
Autoliv follows its "One Product One Process" (1P1P) philosophy in this goal, which "drives our global standardization of products and processes for improved customer value, profitability and product robustness," it says. "1P1P also supports our sustainability goals by reducing production complexity through decreasing number of variants and processes while minimizing scrap and environmental impact imposed by logistics."
One example, the company notes, is its Ecotech seatbelt webbing 1P1P project, where it reduced the complexity of the webbing type by lowering the number of standard bills of material from 21 to one globally. It also reduced the number of component part numbers from 25 to two.
"This also helped our supplier consolidation efforts, moving from seven to four yarn suppliers," the company says. "This reduction of complexity supports our goal of improving the sustainability of our products."
Autoliv's associates embrace this vision globally. "Our products work at the heart of the vehicle, constantly looking ahead and around assisting drivers to reach their destinations safely and sustainably," it says.