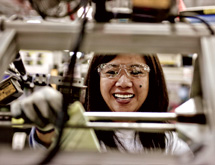 The focus of Autoliv's business is centered on one thing: saving lives. Describing itself as a "safety technology company," Autoliv uses innovation in its products to save 25,000 lives every year and prevent 10 times as many injuries. Regarding automotive occupant safety, the company was the first to introduce the two- and three-point seat belt system, as well as airbags for side impacts. Autoliv also was the first to launch pyrotechnic belt pretensioners and pedestrian protection systems. With an unparalleled focus on quality, Autoliv has become the market leader in automotive safety.
"We tie everything we do back to saving lives," explains Steve Fredin, President, Autoliv Americas. "It's an easy message to sell."
Autoliv is the world's largest automotive safety supplier, serving all of the leading car manufacturers in the world. The company develops, manufactures and markets airbags, seatbelts, steering wheels, passive safety electronics and active safety systems, as well as anti-whiplash systems, pedestrian protection systems and integrated child seats. Its global market share is approximately 35 percent in passive safety – seatbelts, airbags and steering wheels – and about 20 percent in active safety, which involves radar, night vision and camera systems.
Its American operations are based in Auburn Hills, Mich., but the global base of the company is in Stockholm, Sweden, where it was founded 60 years ago. In total, Autoliv has more than 80 facilities in 29 countries, as well as 17 technical centers and 20 crash test tracks, more than any other automotive safety supplier. The company has more than 51,000 employees globally, global sales of $8.3 billion and an operating income of $803 million. Autoliv estimates that annually it produces:
110 million airbags
139 million seatbelts
13 million steering wheels
14 million restraint electronics
1.6 million active safety products
"We are the worldwide market leader and do significantly more business than the company that is No. 2 in the market," Fredin says. "Our excellence is attributable to our people,  our global footprint, and our technology – everyone is focused on our ability to save more lives. That is what we do best and all that we focus on – there are no other non-related business activities for us."
Quality in Five Dimensions
Autoliv may be the market leader, but its dedication to saving lives drives it forward to always create new products, systems and technologies, as well as enhance the products it already offers and continuously improve its own operations.
"A couple of years ago, some big companies experienced public disasters," Fredin says. "Toyota had major issues with its floor mats and gas pedals, and BP had the Gulf Coast disaster, and their credibility really came into question. This drove us to start our Q5 program, which is quality in five dimensions: customer, growth, supplier, product and behavior.
"This is what drives our zero-defect culture," he continues. "Although we are the market leader, our products don't get a second chance if they don't work. Our corporate target is three defects per million, and that  must consider how the products are designed, the process robustness, and what our suppliers are providing to us."
Now two years into this Q5 journey, Autoliv is focused more on proactive countermeasures in its daily business, which drives  "defect prevention," Fredin says. He explains that there is ongoing work to achieve zero defects, and its strategy to reach this goal has four key steps:
>Design robust products – Autoliv's product development system ensures that all new products pass five mandatory checkpoints: 1) project planning; 2) concept definition; 3) product and process development; 4) product and process validation; and 5) product launch. The company explains this allows it to proactively prevent problems and deliver only the best designs to the market.
>Buy flawless components – By involving its suppliers early in projects and training them to meet its standards, Autoliv can ensure robust component designs and processes. This step prevents bad parts being produced by its suppliers and reaching Autoliv's manufacturing lines.
>Manufacture flawless products – Through the Autoliv Production System (APS), the company's employees work according to the continuous improvement philosophy. About 70 percent of the company's employees are direct manufacturing workers, and they are trained to react to anomalies and to understand the critical connection between themselves and Autoliv's lifesaving products.
>Verify conformity of products – Through the Autoliv Quality System (AQS), the company verifies flawless quality by using mistake-proofing methods such as poka-yoke, in-line inspections, and cameras and sensors. Autoliv also maintains an advanced produce traceability system.
"We are focused on product quality in our tech centers, in our factories and throughout our supply base," Fredin stresses. "There is more Six Sigma work in our designs and all of our efforts are shared globally so best practices are implemented throughout the company. Our goal is to drive defects down to zero and we have many opportunities to do that, the challenge is to make it sustainable in a dynamic industry."
Proactive Improvements
Autoliv has manufacturing facilities in all of the regions it serves, giving it the best global presence in its industry, Fredin says. The company also is the most vertically integrated automotive safety system supplier with in-house manufacturing for all key components. Its manufacturing is organized by concentrating component production in a few locations and keeping assembly plants close to its customers. Final products are typically delivered just-in-time – sometimes several times a day – to OEM plants.
For some customers, Autoliv has established sequence centers inside or very close to customers' manufacturing plants. These are final assembly centers that feed Autoliv's products into the vehicle assembly line in the right order. The Autoliv sequence center receives a new order almost every minute and within two to five hours – depending on the product – the order is executed and the product is delivered.
Additionally, Autoliv's production lines and equipment are often developed and manufactured by the company itself. This helps to ensure standardization and high quality in its processes, and to maintain proprietary production technologies. Even though Autoliv's manufacturing is somewhat automated, Fredin explains the company's employees are integral to the quality process, especially in executing all of the aspects of Q5.
"Q5 requires a lot of training because we are trying to establish  a much deeper quality culture," he says. "We teach all our employees that they have the power to stop the process at the any time. There is full transparency in our operations, and we talk about abnormalities on a daily basis – some are reactive, but most of them are proactive."
"Our production system was based on Toyota's for many years until we created our own – APS in the mid-1990's," he adds. "We have workshops on a continuous basis to drive improvements and, as a result, we have a great culture of continuous improvement. However, we have a long journey to achieve zero defects."
Preventing Crashes
While Autoliv continuously works to improve its own operations, it still strives to enhance customers' vehicles with new designs. Fredin explains that fuel economy and safety are always important to its customers, so Autoliv is working to lower the weight of its products and systems while also adding more functionality to its products. For example, Autoliv is working to make some of its products more adaptable to different-sized occupants.
In January, Autoliv expanded its safety system offering for passengers in the rear seats of cars with the Bag-in-belt, which was developed in cooperation with Daimler and is first offered on the new flagship Mercedes S-class. The Bag-in-belt is a combination of a seat belt and an airbag to further reduce the load on the occupant's torso in a frontal collision.
When the vehicle crash sensors detect a frontal impact, the airbag control unit triggers the deployment of the Bag-in-belt. Similar to an airbag deployment, a gas generator inflates the multi-layered webbing, forcing the integrated stitched seams to rip apart. Autoliv says this results in a three-times larger surface area that better distributes the crash force on the occupant to reduce the risk of injury. The Bag-in-belt is used the same way as a conventional seat belt, the company notes, and received praise in practical trials by Mercedes for being extremely comfortable to wear and for its extra-soft belt strap edge.
Autoliv has delivered more than half a billion airbags for side protection since it invented these devices in 1994. It was designed to reduce injuries and fatalities to an occupant's chest in side-impact collisions.
The company also sees the active safety sector as a major growth area, with products like  night vision, collision warning, stability control, and eventually autonomous braking. Alcohol-sensing products also are important; although they are not regulatory features on cars in the United States, they are for some European markets.
"Active safety products can actually prevent a crash," Fredin says. "We continue to invest in radar and vision systems and their associated algorithms. Products like Night Vision systems can provide warnings to the driver. We're also working on addressing driver distraction and drowsiness with eye-monitoring systems."
The company's proprietary Night Vision system drove the creation of the BMW Dynamic Light Spot pedestrian illumination system, which also was introduced in January. Since pedestrians are four times as likely to be killed or injured by a vehicle in the dark, Autoliv says it developed this active safety feature with BMW.
Dynamic Light Spot brings active safety technology into the vehicle's headlights. Autoliv notes that many nighttime traffic collisions share a common cause – a driver's inability to recognize pedestrians or animals in the roadway due to poor visibility, many times leaving the driver with little time to react. The Dynamic Light Spot addresses this by utilizing sensors and cameras design by Autoliv to actively spotlight pedestrians on the side of a roadway. As a result, motorists can identify potential hazards at a greater distance, leaving more time to navigate around them.
BMW has been incorporating Autoliv's Night Vision systems into its high-end vehicles for several years, but Dynamic Light Spot breaks new ground by physically illuminating people near the roadway. In the past, Night Vision systems provided black-and-white images of the road ahead on the navigation screen or head-up display with warnings of a potential hazard as detected. The BMW Dynamic Light Spot allows drivers to see pedestrians without taking their eyes off the road.
"We have a very strong position in patents and we've achieved a lot of world firsts with our products," Fredin says. "We are primarily an engineering-driven company, and that  is the foundation of our success.  The majority of our customers need suppliers that can work with them on a worldwide basis. Our global footprint and ability to manage complex global customer projects allows Autoliv to simultaneously launch products in multiple global markets."
"To save more lives, we have to continue to grow, and we are growing with our customers," he continues. "We are dedicated to quality, to reaching zero defects and to being a leading global manufacturing company. Our excellence in the area of lean is a big part of our success, and we are going to continue to push this excellence forward."