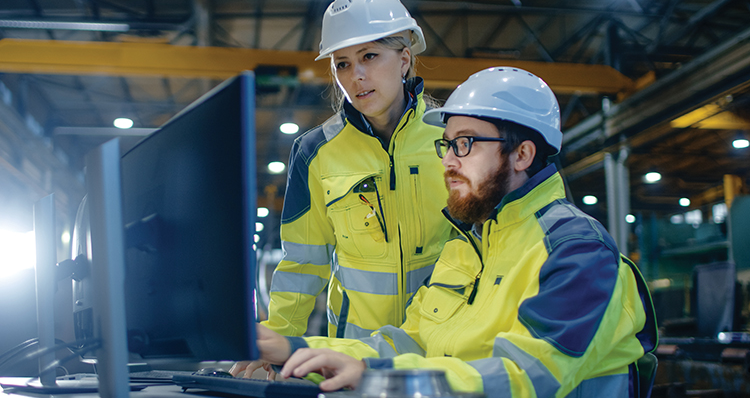 Tony Wallace envisions a world where all professionals get paid what they deserve, work when, where and for whom they choose and have equal access to all work.
While Wallace, CEO and founder of Automate America, spent more than 20 years as a direct employee, an independent contractor, and a supplier and customer to large manufacturing companies, he saw firsthand how difficult it was for manufacturers to find skilled labor, particularly in the automation field. With his extensive background, he decided it was time to step in.
That's where Automate America came into the picture. The online community is billed as "the world's No. 1 online platform for automation professionals."
Automate America serves as a direct link between contract automation professionals and those manufacturers who have long struggled to find skilled labor to work.
"For our customers, Automate America is the solution to their skilled labor shortage problem and the partner that allows them to grow when they can't find the employees to grow," Wallace says. "We are the community that works together and shares resources and opportunities and gives our users a huge advantage over their competition."
Automate America is a platform like Angie' List, Uber and Airbnb that is focused on automation professionals. The Automate America community includes 320 large manufacturing companies that supply contract work to more than 100 engineering firms and 6,000 independent contractors around the world. Manufacturers can post work, set the rates they will pay for that work, search the site for engineers and contractors, then contract them for specific projects.
Manufacturers also don't have to hassle with onboarding or approving the engineering firms or contractors and they don't have to adopt new software. They find who they need and request a person on the site. After that, it is business as usual.
Automate America's customers include industrial automation providers as well as manufacturers in heavily automated industries such as automotive manufacturing, food and beverage processing, chemical processing, packaging and warehousing, medical device manufacturing, consumer goods, oil and gas, plastic injection, small component manufacturers, aerospace and defense and scientific research and development.
"The best way for a service company to serve its customers better is to give them more options of qualified professionals in more geographic areas," Wallace says. "We have created a platform that has done just that."
The platform provides solid benefits to the other side of the equation too. "For engineering firms and independent contractors, we are the marketplace that supplies them with work without the distraction and cost of sales, marketing, vendor onboarding or chasing accounts receivable from large manufacturers. Automate America handles all of that," he adds.
Moving Forward
The Automate America platform is constantly updated with new features and functions. New releases include changes to every area of the marketplace including functionality, user interface, data collection and security.
Besides continuously updating current features, Automate America is also looking to expand its feature offering with things like nodes for training and certification, automation and business support as well as travel. Automate America box
The intent with development is to maintain "the world's No. 1 online marketplace for automation professionals" mantra. This includes continuing to build the community with the world's top professionals across all industries having free and fair access to all the work requested from the world's top companies.
"Our utopian view is for all professionals to have access to all of the work. Data will drive rates and every professional will be paid what they deserve, and every customer will pay what the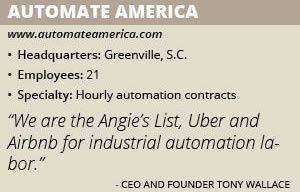 market demands," Wallace says. "Customers will be assured that they are receiving the highest quality professionals available based on historical data, ratings and reviews. Business, travel and service partners will offer discounted services to members and our professionals and customers group benefits will continue to grow with membership.
"We will fully automate the process of posting work, finding the best professionals available and automatically handling the business-to-business processes," he adds. "We will give our users the most efficient and beneficial platform ever developed for business that actually helps them get work done with boots on the ground."
Making an Impact
Automate Americas has built a track record of helping manufacturers around the world gain access to the top automation professionals.
One example includes helping a Michigan-based company who needed engineering support for a system it shipped to the United Arab Emirates. "We found a service partner local to the system install location and avoided visa issues and travel costs, saving the customer thousands," Wallace says.
Another instance was for a company in South Carolina looking for immediate help after its curing oven stopped production. "They created a work request, we sent it to all of the engineers that were available and found a controls engineer that lives 30 minutes from the plant," he adds. "In two hours, we had boots on the ground, and in three hours we had the oven operational."
Those are just a few of the examples of how Automate America has made an immediate impact for customers, contractors and engineering firms. The platform's network has grown from mainly robot and controls engineers to include professionals from other trades. Automate America recently filled requests for CMM programmers and paintless dent repair experts within three days of the requests.
In addition to assisting with contract work, Automate America expanded to help companies looking for direct hire W2 employees through three-month contract-to-hire agreements with no buy-out fee. "Contract them for three months, then hire them for free," Wallace says. "This is starting to gain traction, and customers around the country are choosing this strategy over traditional staffing and headhunter methods that require them to hire the professional right away and pay 20 to 30 percent of the employee's salary in buy out fees."
One of the cornerstones of the Automate America platform is the ability to post work globally on the site free of charge. Wallace said it is an obvious choice over job boards that can charge as much as $10,000 for two job posts just in the United States for a month. "While the industry-leading job boards are taking advantage of their customers' desperation more than ever, we are helping them," Wallace says.
The Roots of Automate America
Wallace began his career in 1999 as a robot programmer for a startup engineering company in Detroit. In 2004, he started Wallace Automation, which contracted hourly robot and PLC programmers to manufacturing and engineering companies.
His wife, Heather, joined the company full-time in 2006 after leaving an engineering position at Valeo. The following year, the company re-branded as Diverse Industries, Inc., and became certified as a woman-owned business after Heather Wallace became its president and majority owner.
By 2008, the company had grown to 15 people when the automation industry in Detroit collapsed. "Most of our contracts went on hold and we almost lost everything, but at the last minute we got a contract with Valiant Machine Tool to install a body shop for BMW in Spartanburg, S.C.," Tony Wallace said.
After assembling a team of 32 professionals from Detroit, the entire team went to Spartanburg to perform programming for the project. BMW Manufacturing Co. later hired Diverse Industries direct, in 2012, gave the company a 2,000-square-foot space inside its manufacturing facility.
In 2014, the company moved out of the space at BMW and rebranded to Diverse Automation.
While not at the site, Diverse maintained its relationship with BMW and even expanded to other manufacturers. Wallace said Diverse became "the standard for BMW interior part machine vision inspections" and as an automation systems company, sold and integrated 10 robots and 123 vision cameras along with many programmable logic controllers (PLCs).
But, with the increasing demands of small integration projects and system work, Wallace decided it was time to do something about it and, in 2015 he began developing the Automate America platform.
Today, the company's sole focus is on building the Automate America community.