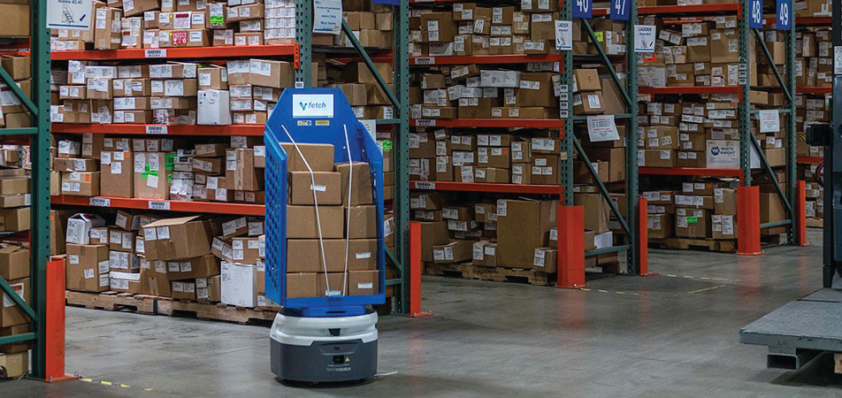 Across Europe's factories and warehouses, operations based on manual process are still surprisingly common. While technologies like Machine to Machine communications (M2M) and Artificial Intelligence (AI) are driving automation of some processes, the reality is that many organisations are still at the start of their Industry 4.0 journey.
But there is growing pressure on businesses to accelerate digital transformation initiatives. Shifting market dynamics are rapidly transforming the commercial environment, and business models predominantly based on manual operations are increasingly unsustainable.
A closer look at logistics
The logistics sector provides a compelling case for the need for change, particularly when it comes to ecommerce fulfilment. Across the continent, ecommerce revenue is expected grow from €306.5m to €424.3m by 2023, an annual growth rate of 8.5 per cent. Meanwhile, ecommerce operations are becoming more complex as businesses try to keep pace with higher consumer expectations related to factors like delivery options and the speed orders are handled.
These trends are pushing up demand for labour as well as the range of skills workers require to fulfil their roles. But with the industry already suffering from significant labour shortages across the continent, 65 per cent of supply chain professionals see hiring skilled workers as their biggest challenge. It is, therefore, no surprise that more and more facilities are turning to technology for the answer.
Developing an integrated technology strategy
It is important to recognise solving the labour problem is not just about adopting more robotics. Solutions demand multifaceted approaches that address key underlying challenges, such as how best to augment overall productivity within distribution centres. Strategies can then be developed that effectively combine workforce resource with the latest advances in technology – such as mobile robotics, vision systems, sensors and voice technology – to cost-effectively maximise productivity across sortation, shipping and receiving.
Automation in warehousing and distribution centres can be problematic if not executed correctly. Ecommerce has seen the rise of the multi-purpose warehouse, where products and packaging are always changing, and a significantly more complex fulfilment process. As a result, the addition of a technology like mobile robots to dynamic environments where staff are also working can make navigation difficult, leading to health and safety concerns.
The latest wave of mobile robots promise to support some of the most labour-intensive areas, taking on burdens of the most physically demanding and injury-prone jobs. Therefore, it is vital businesses find solutions to the issue of integration to best support workers and address staff shortages, while maintaining a safe work environment.
Assessing business needs
The first step is to figure out which technologies offer the best fit for a particular fulfilment centre. Not every facility will require the same level of support when it comes to automation, and today's robots can address a broad array of fulfilment challenges. These range from robotic sorter induction systems that relieve workers from monotonous task, to mobile robots that protect them from hazardous heavy lifting.
After mapping exactly which technology solutions are required, organisations must then focus on workforce issues, such as training or how to attract and retain skilled staff. Automation may be the key to staying competitive, but labour is critical to overall operational performance.
Workers that used to physically move items themselves, may now be in charge of monitoring and troubleshooting several robotic arms as they complete the same task. And staff in some businesses are finding it difficult to keep pace with these changing expectations. To help workers cope, while swiftly and sensibly integrating mobile robots, distribution centres should look to prioritise strategic design and integration initiatives. Moreover, they have to recognise that staff will increasingly require ongoing support and regular retraining to function effectively in a constantly evolving workplace.
It is crucial they get employee support right from the start, as increased use of technology means they now have a new array of peripheral yet equally as critical challenges to solve. These include identifying when the most optimal times to schedule equipment maintenance are to minimise downtime during peak delivery seasons such as back-to-school and Christmas.
Ongoing investment
To effectively mitigate labour shortages, high staff churn and the industry-wide skills gap, it is critical businesses continually invest in productivity technologies to remain competitive. Those organisations leading the way are finding digital technologies have a significant impact on both workforce capability requirements and worker experience, allowing staff to interact with technology as they do in their personal lives. By supporting workers with ongoing training, ensuring their both knowledgeable and invested in the business's transformation, organisations can be confident they are well placed to cope with contemporary labour challenges.
Matt Wicks
Matt Wicks is Chief Robotics Solution Architect at Honeywell Intelligrated. Honeywell Safety and Productivity Solutions (SPS) provides products, software and connected solutions that improve productivity, workplace safety and asset performance for customers across the globe. Honeywell SPS delivers on this promise through industry-leading mobile devices, software, cloud technology and automation solutions, the broadest range of personal protective equipment and gas detection technology, and custom-engineered sensors, switches and controls.
www.honeywell.com