Automotive Components Floby AB
Delivering a premium experience
Working to industry-leading standards of quality and craftsmanship, Automotive Components Floby is responsible for producing automotive parts that are invaluable to its global customer base
Nestled within the heart of Västra Götaland County, Sweden, is the city of Floby. Home to just over 1500 inhabitants, for more than 60 years it has also been the residence of Automotive Components Floby (AC Floby). From its facility here, this Volvo owned business has spent decades manufacturing products for the automotive industry, while at the same time amassing
extensive knowledge of both machining and installation. The result is a company that today produces products such as brake discs, wheel hubs and connecting rods for manufacturers throughout Europe, and beyond, to the highest industry standards of quality precision and environmental impact.
"We take immense pride and huge joy in producing high quality components, made to some of the finest tolerances that can be found anywhere," begins AC Floby's Sales Director, Magnus Johansson. "As a business, we thrive on being challenged to manufacture products with a high degree of complexity and required accuracy. Our customers are the type that demand only the best quality design, finish and delivery performance, and we are thrilled to be able to meet such requirements on a daily basis."
For the vast majority of its existence, AC Floby operated within a specific OEM structure, however, it was only in the last several years that the company has undergone something of a restructure. "Since 2017, we have operated as a subsidiary of Volvo and – just as importantly – have acted as an independent component manufacturer," Magnus explains. "This has helped to expose the business to the wider market, allowing it to develop solutions and support for a wider range of customers than ever before."
AC Floby has adapted its business model in order to accommodate an increasingly global marketplace for vehicles. The company's primary market is Europe, where a high percentage of its production output supplies customers in Sweden, Belgium, France and the UK, but a big step in its move towards having more of an international presence came in late 2018 when it opened its first office in Shanghai. "China is an exciting market with large volumes, and we understand that we need to be present where our customers are in order to offer both service and support at the levels we strive for," Magnus states. "There are also understandable cultural differences between ourselves and our Chinese customers, so this new office provides a vital cultural bridge between us."
Turning to 2019, and Magnus admits that it has been something of a roller-coaster ride for the business. "The start of the year was very much highlighted by some fantastic order volumes and sales trends, and this resulted in us pushing our production capabilities to their limits," he says. "As the year has progressed, these volumes have reduced, however we expect revenues and turnover for this year to come in at a similar rate to those of 2018."
The aforementioned production capabilities which the company so relies upon revolve primarily around machining, surface treatment and installation. The machining element – of which AC Floby can apply to various material grades – encompasses turning, milling, drilling, reaming and grinding, while the company can surface-treat its products to provide adequate corrosion protection, possessing knowledge in the fields of phosphating, electrodeposition and painting. Further to this, it also carries extensive expertise when it comes to fully automated, semi-automated or manual installation of components and systems.
"Ours is a highly-automated operation, both in our machining and assembly areas, which allows us to compete with our competitors, especially those based in Western Europe," Magnus declares. "It is important to remember, however, that a machine without a highly competent operator, or an operator without a first-class machine, is of no use. We require a combination of both in order to succeed, and that is what gives us a real competitive edge in our market."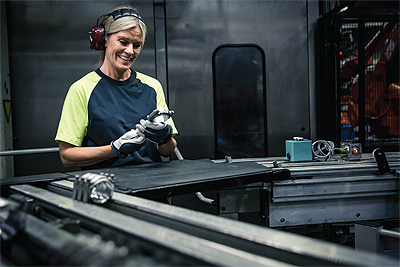 As we approach 2020, Magnus describes the automotive market as being in both a highly interesting and challenging place at present. "There are a number of big changes underway, and companies need to prepare to respond to these accordingly or risk being lost to change in a relatively short space of time," he summarises. "What we at AC Floby are doing is constantly evaluating new trends to order to get as far ahead of the curve as possible. Such trends include those based around the future make up of vehicles themselves, for instance electrification and autonomous driving, which is requiring us to do things like perfect our working with more lightweight materials.
"Then there is the theme of environmental awareness, which is something that we in Sweden have been focusing on for some time now. Changes that we have made on a company level include not only installing energy saving devices such as LED lighting throughout our facility as a means of reducing electricity consumption, but also switching our inbound transportation from road to rail. The latter is helping to reduce our environmental footprint considerably and is having a positive impact in terms of cost savings."
As documented above, AC Floby today finds itself still in the midst of an exciting transformation journey. "Our primary aim is to continue to grow at a steady rate. To do this we will active work towards gaining new customers, building successful, long-lasting relationships with them in the process by reaffirming AC Floby's position as the most attractive supplier of choice," Magnus concludes.
Automotive Components Floby AB
Products: Automotive components