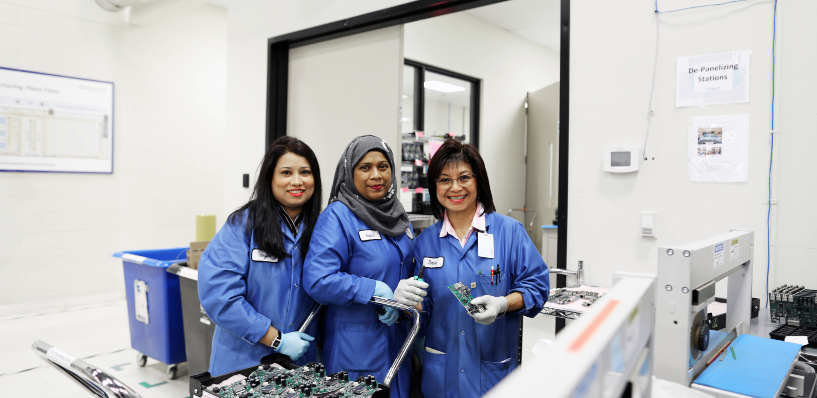 Avigilon Corporation's ongoing innovation makes security more proactive and helps its customers detect, verify and act faster.
Avigilon Corporation began as a pioneer of high-resolution video security systems, helping to shift the industry from low-resolution analog imaging to high definition digital systems. Today, the company's innovation focuses on developing complete security solutions that harness the power of AI and video analytics technology to help security operators detect, verify and act faster.
Avigilon, a Motorola Solutions company, is always thinking about how to make video security easier and more efficient for its customers. The Vancouver, British Columbia-based company specializes in the design, development and manufacturing of solutions in video analytics, cloud, security cameras, video management software and hardware, and access control.
"Avigilon is an industry leader of video security solutions and, together with Motorola Solutions, provides integrated solutions for video security, access control and critical communications," says Manny Gill, vice president of global manufacturing and supply chain. "Powerful image performance, patented bandwidth technology, ease of installation, patented self-learning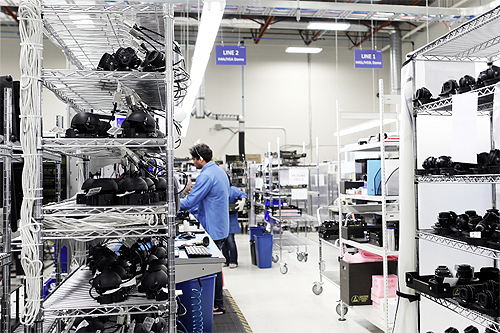 analytics technology, with development and manufacturing facilities in North America and exceptional customer service are some of the areas in which we define excellence for our customers."
Avigilon's solutions have been installed at thousands of customer sites, including safe cities, government, education, transportation, healthcare, public venues, critical infrastructure, correctional, gaming, finance and banking, retail and commercial facilities. The company boasts strong sales teams located in North America, EMEA, LATAM and APAC that are dedicated to selling its products and technology in more than 120 countries.
Core Competencies
Avigilon offers the industry's largest portfolio of high-resolution single-sensor cameras. "Avigilon has been a leading innovator of IP video security since we first entered the market and we were ahead of the innovation curve with high-resolution security cameras with 4K (8 MP) resolution and higher since 2007," Gill explains. "In 2015, Avigilon introduced the industry's first 7K (30 MP) single-sensor camera – the award-winning 7K HD Pro camera."
The company's exceptional HD Pro camera line features resolutions ranging from 4K (8 MP) to 7K (30 MP) with wide area coverage, powerful zoom and embedded self-learning video analytics available on 4K, 4.5K and 5K models to enhance situational awareness and provide superior evidentiary detail during investigations.
Avigilon's AI and video analytics solutions are designed to solve real-world challenges and change the way its customers interact with their security system by helping them detect, verify and act on critical events. "We have uniquely distributed AI technology across our entire solution, helping to focus human attention on what matters most and providing powerful insights for effective decision making," Gill says.
The performance of end-to-end high-resolution systems requires efficient bandwidth management technology, and Avigilon is at the forefront of innovation in this area. "Avigilon solutions uniquely address bandwidth management across your entire system, from camera to server to user-client," Gill says. "This is accomplished through the combination of award-winning Avigilon Control Center (ACC) software with patented High Definition Stream Management (HDSM), HDSM SmartCodec™ and Idle Scene Mode technologies. Together, these technologies allow the Avigilon system to place minimal burden on network bandwidth and storage needs while maintaining exceptional image quality."
Manufacturing Excellence
Avigilon is noticing a trend in video security manufacturers producing lower end, low cost camera models. "At Avigilon, we are focused on innovation and producing products and technology that meet our customers' needs," Gill says. "Using AI technology with our video management software, we continue to make bold new advancements in our video analytics, helping redefine the way customers think about and interact with their video security systems."
In addition, the company's manufacturing facilities in North America allow it to remain flexible to react quickly and enhance its customer's experience. Avigilon is also able to alleviate some of the surcharges associated with products coming in from overseas manufacturing facilities.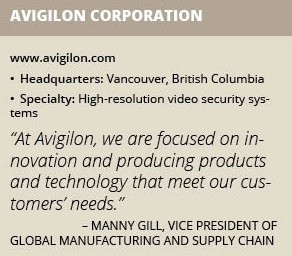 "Avigilon is proud to be a North American manufacturer of trusted security solutions, with Canadian and American expertise and globally sourced materials," Gill says. "Our state-of-the-art facilities in Richmond, British Columbia, and Plano, Texas, ensure quality control and efficiency throughout the manufacturing process. With manufacturing facilities in North America, we are better able to control every aspect of the process to deliver exceptional quality to our customers. Our high standards of manufacturing processes and quality have allowed us to achieve ISO 9001:2015 quality certification."
Quality assurance is an integral part of Avigilon's manufacturing process, which starts at the DFx stage through the supply chain and onto its production floor. "Quality is built into the products right when they are designed, and having our manufacturing facilities right here in North America allows us greater control over production quality," Gill adds.
With the support of Motorola Solutions, Avigilon made significant capital expenditure investments at the beginning of this year. The company upgraded its surface-mount technology lines, as well as implemented intelligent storage capabilities.
Avigilon Blue™
The Avigilon Blue™ cloud service platform provides an easy-to-install, cloud-based video security solution with features and capabilities that allow Avigilon partners to remotely monitor and manage more sites with fewer resources. Partners can easily monitor the health of customers' sites, update configurations and deploy systems updates, all remotely. The platform also enables quick video verification. With easy and secure access to video via the Avigilon Blue mobile app or desktop browser, users can verify video clips instantly on site or remotely.
"The Avigilon Blue platform features patented self-learning video analytics technology that works with almost any IP camera already installed on site, to recognize threats with greater accuracy," Gill says. "IT also features patented bandwidth saving technology – providing users the simplicity of using a standard internet connection, helping keep internet connectivity cost down."
The new platform will appeal to Avigilon partners that seek a recurring monthly revenue opportunity and end-users who enjoy the peace of mind of predictable fees for video security services. The Avigilon Blue platform is available in the United States, Canada, Australia and New Zealand, and coming soon to the United Kingdom.
Next-Generation Solutions
Because Avigilon is always thinking about how to make video security easier and more efficient for its customers, the company continues to invest in producing products and technology that makes security more proactive and helps customers detect, verify and act faster.
The upcoming Avigilon H5A camera line lays the foundation for Avigilon's next-generation of intelligent video solutions. It will offer expanded object classification analytics as well as detailed object detection and tracking in crowded scenes, empowering ACC™ operators to detect, verify and act faster by bringing potentially critical events to the forefront of their attention.
"The Avigilon H5A camera line will bring the next-generation of neutral network-based video analytic technologies and image processor features to market," Gill says. "Manufactured in North America, the H5A camera line will offer Avigilon's most advanced video analytics to date, leveraging ACC software features and AI technology to focus attention on what matters most, providing actionable information to users, and dramatically increase the effectiveness of security systems."